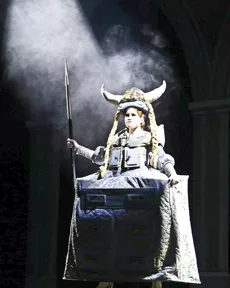 PHOTOS COURTESY OF KELRIK PRODUCTIONS
ZUT ALORS: Madame de la Grande Bouche (Taylor Peters) gets ready to bring the pain on the angry mob.
Beauty and the Beast has always been a favorite movie of mine. This is partly because I was a total bookworm growing up, like my soul sister Belle, and partly because the song "Gaston" was, and always will be, the single greatest thing to ever come out of a Disney princess movie. Don't even try to deny it. You know that it's true.
And now, thanks to Kelrik Productions, the musical adaptation that's based on the Disney movie that's based on the French fairy tale has made its way to the Spanos Theatre in San Luis Obispo.
The play, directed by Erik Austin, follows Belle, the unassuming-yet-beautiful bibliophile who doesn't quite fit in with the people of her provincial town. When her hapless pop gets on the wrong side of a prince, who's been turned into a hideous monster by a sorceress, Belle offers to take his place at the enchanted castle. Then, in a twist that everyone saw coming, she falls in love with her captor. This, to me doesn't seem entirely healthy or advisable, but I digress.
Taking the stage as Belle, is Sarah Reggiardo. And while Reggiardo goes a tad overboard with the twirling in a few scenes here and there, she infuses the character with some spunk and fire that was sorely lacking in the Disney movie. This is a Belle that I can get on board with. She's much more vocal in regards to her disgust with Gaston, and is stronger in her refusal to put up with the petulant tantrums of the Beast (played by Dylan F. Thomas).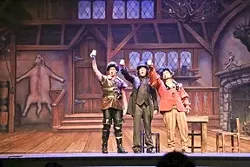 PHOTOS COURTESY OF KELRIK PRODUCTIONS
DEVIL IN DISGUISE: Gaston (Justin Chacon), LeFou (Christian Clarno) and Mounsieur D'Arque (Philip Edwards), toast to their insidious plot.
Thomas, whose coiffure looks like it came directly from Robert Plant's head, doesn't quite achieve the guttural roar that's needed for the character. Instead, he merely bellows out his lines. Because of some technical issues with the microphone, his voice is muffled and it's hard to understand him. But you forget all of that once he opens his mouth to sing, because this guy's got some serious pipes. His solo number, "If I Can't Love Her," sung in front of a starry sky, surprises and stuns. You can hear all of the emotional turmoil and misery from the years spent in isolation in his voice.
On the whole, the cast was perfectly up to par. But, the two who really stood out were Lumière and Gaston, played by the aforementioned Erik Austin and Jason Chacon respectively.
Austin's throaty French accent, part Maurice Chevalier and part Pepé Le Pew, while amusing, was difficult to understand at some parts. But his hilarious prancing walk and swiveling hips made it quite easy to forgive the few garbled lines. In fact, Austin pretty much stole every scene that he was in. His rendition of "Be Our Guest" featured a chorus line of dancing cutlery and ended with a cascade of bubbles coming out of the giant painted champagne bottles.
Chacon, as the arrogant lothario vying for Belle's pretty little hand, swaggers onto the stage clad in all leather and topped with a wig that would make Elvis himself green with envy. His costume is obviously padded in places in order to give the appearance of a rockin' bod. But the effect doesn't quite hit the mark. Instead, it makes him look a bit pudgy. Once again, you can forgive this, if only because of Chacon's adept comedic timing, coupled with his rich baritone of a voice. The song "Me," showcases his comedy chops as he proposes to Belle, carrying her around the stage and flexing his manly muscles.
PHOTOS COURTESY OF KELRIK PRODUCTIONS
THE ART OF LOVE: Lumière (Erik Austin) and Cogsworth (Lester Wilson) coach the Beast (Dylan F. Thomas) in how to woo a lady.
Overall however, it's not the tightest of productions. There were many small technical glitches, such as the music drowning out a few of the actors' voices during the songs, and the microphones being either too loud or not loud enough. Also the pacing of some of the scenes alternated from sluggish to rushed. The climactic confrontation between the Beast and Gaston in particular felt harried, and seemed to reach its inevitable end far too quickly.
Despite this, it was still enjoyable to watch. Yes, it wasn't perfect. Yes, Gaston's wig very nearly slipped off his manly head in one scene. And yes, Belle accidentally swallowed a stray bubble in another. But there were several parts that made up for the trivial mishaps—specifically when you hear Gaston severely butcher the French language during his bull-headed attempt to court his supposed lady love. Or during the siege of the castle, when the wardrobe, Madame de la Grande Bouche (played by Taylor Peters), emerges from the darkness dressed as the spear-wielding Brunhilde from Ride of the Valkyries.
Additionally, the set design was gorgeous, and the choreography inventive. With a larger ensemble, and venue, it would have been quite a spectacular sight to see the flatware dancers can-can their little selves about the stage. It's also easy to detect that if the cast had more time to prepare (rehearsals began a mere three weeks ago), they would have been more relaxed and at ease.

BE OUR GUEST: The show runs from July 11 to 20. Tickets cost $29.75-$45. For more information about tickets, go to pacslo.org.
Yet all in all, this was an entertaining production, and I heartily enjoyed seeing one of my favorite Disney movies on the stage. And judging from the troupe of families in the audience with little girls dressed as Belle, I'm not the only one who thought so.
Intern Adriana Catanzarite's got a swell cleft in her chin. You can contact Adriana Catanzarite via Arts Editor Jessica Peña at jpena@newtimesslo.com.