How many stories can a single oak tree hold? When you slice into its core and count the rings, do you unleash its essence? Once crafted into a barrel and loaded with whiskey or gin, does that story transfer to the bottle?
Wooden warmth permeates the KROBĀR Craft Distillery tasting room. It's in the shellacked, antique bar top and the natural woodgrain embellishments. It's in the American oak whiskey barrels that occupy the space like rowdy friends ordering up another round.
PHOTO BY DYLAN HONEA-BAUMANN
BARKEEP: KROBĀR Craft Distillery co-owner Stephen Kroener mans the tasting room, nestled behind Grey Wolf Wines.
Before Stephen Kroener was ever a winemaker or distiller, he was a woodworker, a builder.
And so, Kroener approached the opening of KROBĀR Distillery with co-owner and fellow winemaker/distiller Joe Barton like he would any construction job: conceptualize, design, build.
Despite juggling many balls—both are family men, Kroener has dealt with the relocation of his Silver Horse Winery tasting room and the selling of its 80-acre vineyard, Barton's been revamping his own Grey Wolf Winery tasting room, and all the while, both have untangled big wads of governmental red tape—the duo have finally reached the finish line.
Seven years after coming up with the idea to start a distillery (naturally, after a night of way too much wine), KROBĀR Craft Distillery is now as real and tangible as the bottles of wine-grape-based whiskey, gin, brandy, and bitters that now glimmer behind the bar. You can come here to taste, buy, or simply chew the fat. Before you ask, KROBĀR is a mesh of the guys' last names. As fifty-fifty partners, Kroener likes to say that they split the business "between the "O and the B."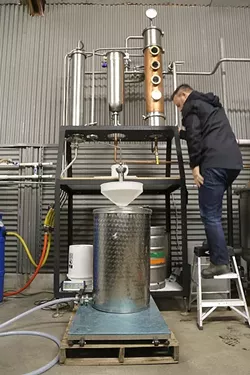 PHOTO BY DYLAN HONEA-BAUMANN
ALL IN A DAY'S WORK: With a combined 40 years of winemaking experience, Stephen Kroener (pictured) and distillery co-owner Joe Barton know a thing or two about manipulating wine grapes into high-proof spirits.
"It's the passion that keeps you going through it all," Kroener said during a recent interview at the newly opened tasting room, located off Highway 46 West neighboring Tooth and Nail Winery. "The idea of 'creating' has always just been my passion. Especially studying architectural design and construction management, I just love to create things. I'm a second-generation winemaker, and both of us have dabbled with brandy in the past. Now, we've taken our passions to a new medium."
Nestled up against Barton's Grey Wolf Winery tasting room and Kroener's newly relocated Silver Horse tasting room, the distillery represents a blank canvas and new adventure. Located just a few steps away from Jeffry's Catering—where big baskets of hot Philly cheesesteak mac and cheese are known to pop out from Barton's kitchen window—KROBĀR is just one more feature in an already very sexy attraction on scenic Highway 46 West.
"When we decided to build KROBĀR in this location, we knew we were looking at a place with food, wine, and plenty of other wineries down the road," Kroener said. "It was just the perfect storm as everything came together."
That storm actually began brewing in the mid '90s. Kroener and Barton met as 20-somethings: Kroener's dad relocated from Southern California to "retire to the good life" and open up Silver Horse Winery in northeast Paso Robles (Kroener, who became winemaker for the family business, likes to chuckle at the fact that his dad ended up doing far more work running the vineyard). Meanwhile, Barton's family started Grey Wolf Cellars in the little 46 West cottage that has now become a stylish tasting room complete with turntable and classic vinyl. Naturally, Barton picked up the winemaking torch, too.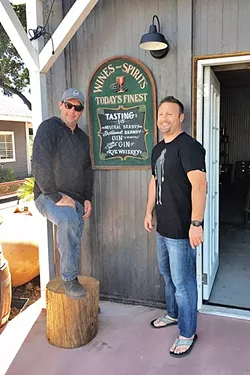 PHOTO BY HAYLEY THOMAS
BUDDIES: From left: Joe Barton of Grey Wolf Winery and Barton Family Wines and Stephen Kroener of Silver Horse Winery have come together to open KROBĀR Craft Distillery in Paso Robles.
"Everyone was starting and everyone was excited about what was going on," Kroener said. "The Paso Robles Wine Country Alliance was just getting rolling. It was engaging. It was fun. We could never imagine that it would become what it is today."
Through the subsequent wine boom, the guys remained tight. When they get together today, they have a way of turning into happy-go-lucky goofballs. In a way, the distillery takes them back to their youth: back to riding the wave of a new industry, blazing a path and seeing where it leads.
"We've been in the winemaking industry for 40 years combined, so we bring a lot to the distillery," Kroener said. "Our whole goal was to create products we can throw into wood, but not just your traditional rye whiskey or brandy barrels. We wanted to mix things up."
The only thing the guys like playing with more than their copper still is their collection of unique barrels. They've got barrels as small as 5 gallons and as big as 53 gallons. In those barrels sits a plethora of booze: everything from distilled single varietal grapes (muscat, alberiño) to grenache-syrah-mourvedre blends. While some distillers capture the wine "bled off" from the winemaking process for their booze, the KROBĀR guys have been known to go out and purchase top-notch wine grapes to be used explicitly for their craft. Talking to Kroener, it's obvious that he loves finding a new purpose for an old barrel.
PHOTO BY DYLAN HONEA-BAUMANN
DRINK AND BE MERRY: From left, KROBĀR Craft Distillery Rye Whiskey, Single-barrel Gin, Botanical Gin, and Neutral Brandy.
"We use some whiskey barrels, some wine barrels. It's all mostly American oak with some French oak, but each is different, depending on the toasting of the wood," he said. "Before we put any product out there to the public, we did three years of hard research. Our at-home bars rival any cocktail bar in this county."
They're not kidding. At home, Kroener's got at least 500 bottles of booze sitting around, from exotic brandy to super high-concentrated bourbons and whiskeys that sizzle the tongue.
When it comes to standing out, it pays to know the field.
"We are definitely New American, especially in our gins, which are very contemporary," Kroener said. "These are recipes we developed from a ton of trial and error. We have close to 110 gin, botanical brandy, and barrel-aged gin recipes alone. We want to make traditional style spirits, but we take the traditional and make it non-traditional."
Kroener loves turning gin haters into gin lovers—an occurrence that happens on a regular basis. Thanks to the guys' fruity, floral twist on the status quo, I, myself, have been converted.
SMOOTH DRINKIN': KROBĀR Craft Distillery is located at 2174 Highway 46 West in Paso Robles. For more information, call 467-9363 or visit

krobardistillery.com

. For more on the booming Paso Robles distillery scene, go to

pasoroblesdistillerytrail.com

.
In Paso Robles, where wild blends and renegade winemakers are the norm, Kroener and Barton aren't looking to play it safe. And, if you ask me, neither should you. Try something unexpected. Get your hands on a fresh flavor at the forefront of a new Paso Robles dream. You may just shock yourself. You will enjoy yourself.
"We didn't want to do anything London Dry. We like the classics, but do a repeat of what's already been done?" Kroener said. "We're in Paso Robles. We're proud to be different. We're proud to be craft."
Hayley Thomas is wondering where one keeps 500 bottles of booze? She can be reached at hthomas@newtimesslo.com or @flavorslo on instragram.