"They want to destroy me."
Lynn Compton, San Luis Obispo County's 4th District supervisor, repeated that assertion, or a slight variation of it, a total of 11 times during an interview with New Times on March 8 outside her campaign office on Tefft Street in Nipomo.
By "they," Compton means her two colleagues and adversaries, 3rd District Supervisor Adam Hill and 2nd District Supervisor Bruce Gibson, who she claims have unfairly attacked her for months as part of a campaign to get her voted off the Board of Supervisors this June.
"It's a game," Compton said, "where whatever the end result is, it's OK however you get there. If you destroy, burn, slash, maim, injure—it doesn't matter as long you get your way. ... Every day on Adam Hill's Facebook page, it's lies about me. I mean, targeting me. And then you ask us to get together at a board meeting and get along. That's hard to do when there are lies every day trying to destroy you."
The depth of the division on the SLO County Board of Supervisors is evident in Compton's words. Both behind the scenes and in the board chambers, county supervisors are often split 3-2 along partisan lines, with Compton, 1st District Supervisor John Peschong, and 5th District Supervisor Debbie Arnold in a conservative camp and Hill and Gibson in a liberal or progressive camp. Disagreements on the dais can quickly go from civil to uncivil, mirroring the discourse seen between Republicans and Democrats in national politics. Tempers flare; hopes for compromise crumble; and as a result, board decisions can be made under duress, with leftover angst that lingers on social media and the opinion pages of local news outlets.
For the first time since the current conservative majority took power in 2016, one of its members—Compton—is up for re-election.
Compton faces a challenger in Jimmy Paulding, a 32-year-old attorney and Arroyo Grande native. Paulding believes change is sorely needed on "the do-nothing board," as he calls it, to shake the partisan divide and move the county forward.
"It's partisan gridlock at its best," Paulding said of the current board. "You have a breakdown in communication, you have a breakdown in trust, and it leads to an inability to get anything done. ... The national divide in our country and the parallels at the local level are one of the reasons I'm running. I want to bring people together."
Voters in Arroyo Grande, Nipomo, Oceano, and other rural South County areas will ultimately decide on June 5 who's a better fit on the board. Since there are only two candidates, the primary election will decide the winner. The race has drawn interest and financial contributions from across the county, and Compton's and Paulding's views on the issues reveal their distinct differences as candidates.
Meet the candidates
It's 7:30 p.m. on a Tuesday night in February, and Jimmy Paulding is in the trenches of campaigning.
Photo By Jayson Mellom
4th District Supervisor candidate Jimmy Paulding.
He's in Oceano hosting a community workshop in the Oceano Community Services District meeting room. After introducing himself, Paulding splits the room of about 20 people into small groups. Each participant has a worksheet in front of them with a list: "Infrastructure needs," "Addressing homelessness," "Parks and recreation needs," "Economic development." Paulding wants the groups to discuss two issues for each topic as well as two solutions, and then talk about their results.
When sharing his ideas with the groups, Paulding makes references to specific SLO County planning documents (an Oceano revitalization plan) as well as policy ideas he's studied (ways to measure and address homelessness by tracking the costs to county services), to steer the conversation and show voters that he's done his homework.
The Oceano workshop and its format are indicative of Paulding himself: analytical, detail oriented, and community focused. They're also traits that align with his career and education thus far.
After graduating from Arroyo Grande High School, Paulding majored in city and regional planning at Cal Poly and interned in the city of Arroyo Grande's Community Development Department. After college, he worked at a construction firm as a planner and later as a project manager assigned to government infrastructure projects. More recently, Paulding graduated from the Santa Barbara College of Law and passed the bar exam last year. Today, he works for design firm Arcadis North America analyzing construction claims and resolving disputes.
"One of the reasons I was interested in law school was to eventually have a career in mediation or arbitration," Paulding told New Times. "I've experienced working with mediators in the construction realm, and it fascinated me. I've always had that skill set to bring people together and develop compromise positions. ... I really do want to mediate the [Board of Supervisors]."
Paulding said he felt galvanized to enter local politics after the 2016 elections. He's a Democrat and has the endorsement of the Democratic Party of SLO County but said he believes the Board of Supervisors should be a nonpartisan body.
"I want to be inclusive and bring everybody on board," Paulding said. "I don't care if you are a Democrat or a Republican or if you decline to state. If you want to support rational decision making in government, then support me."
• • •
Before Lynn Compton was elected county supervisor in 2014, her first political office, she was busy running her family's Santa Maria-based ag supply company and raising her two young girls in Nipomo. Four years later, Compton still owns the business, and she's still raising her daughters. They're teenagers now though, which means they bring more drama to her life than the Board of Supervisors does, Compton quipped.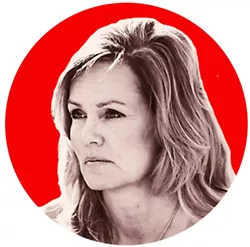 Photo By Jayson Mellom
4th District Supervisor Lynn Compton.
An Indiana native with deep roots in agriculture, Compton, who also has a law degree, sees her role as a county supervisor pretty simply: to represent conservative government values and help her constituents navigate government bureaucracy. Compton described herself as a "libertarian on a lot of issues," believing in smaller government and lower taxes. It's an outlook she feels is reflective of the people of her district, and it's earned her the endorsement of the local Republican Party.
"I feel like I represent South County's values and beliefs," Compton said. "I'm very fiscally conservative. ... I don't think government should be in our lives on a lot of things."
Compton's list of first-term accomplishments on her campaign website reflects that philosophy. She touts helping to defeat Measure J in 2016, the half-percent sales tax measure that would've funded transportation projects; pushing for streamlined permitting processes for homebuilders; and fighting for Proposition 13, which sets caps on property taxes. Compton also lists efforts like leading the push for a new county animal shelter (a project currently delayed by opposition from North County cities) and securing more funding for parks in South County through public facility fees that she alleges were misallocated.
While Compton that acknowledged that she leans on her conservative beliefs as a supervisor, she said her identity as a Republican is really just "a small part of the job."
"I don't think it matters if you're a Republican or Democrat coming to the board," Compton said. "I think there's a bigger deal made of it. But I do think it shapes how I view things."
Dunes, oil, and housing
When it comes to the issues, Compton and Paulding are on the opposite sides of just about everything, from how to handle the dust emanating from the Oceano Dunes to affordable housing policies.
When it comes to the Oceano Dunes State Vehicular Recreation Park and the contentious issue of dust pollution, Compton wants to see the county sell its property holdings in the park, which it leases to the state. Meanwhile, Paulding says the county should leverage its stake in the game to demand mitigation measures that will reduce the dust-associated health risks to locals.
"Why are we in this fight?" Compton asked. "Why do we have all this liability? We're spending millions of dollars in attorney fees. The county should not be in this fight. This is the state's deal. It's [Gov.] Jerry Brown's park."
While a recent dust mitigation plan approved by the Coastal Commission will close 20 to 40 acres of the park to implement new mitigation measures, Paulding thinks about five to 10 times that amount of acreage needs to close to enact meaningful mitigation based on the studies he's read, he said. He pledged to be an advocate for that on the SLO County Air Pollution Control District, and criticized Compton for offering what he called "red herrings" and "excuses" on the issue.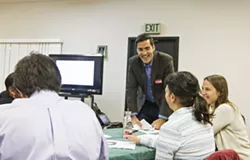 Photo By Jayson Mellom
GRASSROOTS CAMPAIGNING Fourth District Supervisor candidate Jimmy Paulding chats with constituents attending an Oceano community workshop on Feb. 20.
"Until you commit to wanting to develop a win-win solution, you haven't done justice by the people. That's what Lynn Compton has done," Paulding said. "She's come up with a list of excuses to do nothing, to the detriment of the people."
Compton countered that the science evaluating the park's share of the dust problem was uncertain and said more studies should be done before "shutting down a $225 million operation." She also accused Supervisors Hill and Gibson of politicizing the dunes issue to harm her.
"Do I believe that Adam and Bruce totally use this as a political tool to try to destroy me? One-hundred percent," Compton said.
Dust pollution is only one of the environmental issues Paulding has chided Compton for. He rebuked the supervisor, and the entire board, for declining to go on record in opposition to President Donald Trump's offshore oil drilling expansion plan, while a year earlier it opposed a Northern Chumash national marine sanctuary application.
"Who does she represent?" Paulding asked.
Paulding believes the county should also continue studying the potential for Community Choice Energy (CCE), a public electricity model that allows local governments to become renewable energy providers. The Board of Supervisors abandoned CCE talks in January.
Compton said she felt that further exploring the program would be wasteful after an initial feasibility study showed poor financial prospects. She described it as another "bomb" thrown to the board by "the left."
"I feel like the left just keeps throwing these bombs. Whatever it is, du jour, and bring it to the board and then they make it a big political deal," Compton said. "Looking at [Community Choice Energy] logically, it didn't make financial sense to do it."
Approaches to development and housing is another area where Compton and Paulding disagree. Compton is opposed to the Inclusionary Housing Ordinance, a policy that requires developers to build a certain number of deed-restricted affordable units in a project, or pay an in-lieu fee to support other affordable housing projects. Paulding is in favor of it and was especially critical of the board's decision in November 2017 to reject a bi-partisan restructuring of the fees that would've lowered the cost for smaller units while charging more for larger developments.
"They just left the existing [ordinance] in the books with all the holes in it and argued against the merits of the whole ordinance," Paulding said. "What's their plan moving forward? Are they going to repeal it?"
"I was prepared to repeal it," Compton said, explaining that she sees the developer fee as a tax on homebuyers. "I do not believe in 'taking from Peter to pay Paul' and just robbing from people that can barely afford a house and giving it to people that maybe shouldn't [own one yet]."
Compton recalled a recent viewpoint published in The Tribune by SLO resident James Sofranko in the wake of the board's inclusionary housing discussion. Sofranko, a Cal Poly grad and career counselor for at-risk youth, wrote: "Like thousands of other renters here on the Central Coast, I have struggled to find an affordable place to live for as long as I've called this place my home. Despite working full time during the week and holding a second job on the weekends, every time I write my rent check I'm reminded how expensive it is to live here and just how close I am to not being able to afford it."
Compton had a blunt response for him.
"You picked a profession that's not a highly paid profession, social services," she said. "You picked that profession, you come out of Cal Poly, and we owe you a house? No, sorry, kiddo. Doesn't work that way."
Compton said she prefers to look at zoning and incentives to stimulate affordable and workforce housing production. Paulding said he wants to see the county get creative on encouraging more granny units and tiny homes, looking to other cities that have made more progress on housing.
"Under state law [Senate Bill 35], we are now in a position where if we don't comply with the state's mandated housing goals for counties, developers can actually bypass local government control and get approvals from the state," Paulding said. "What that means is we need to take this seriously."
Deep pockets, mystery donor
In 2017, Compton raised $162,326 for her re-election campaign while Paulding raised $47,752. Compton loaned herself $113,300, and received $2,242 in non-monetary contributions. Paulding has $0 in loans, but received $12,460 in non-monetary donations.
Compton's opponents have taken issue with her deep campaign pockets, which include sizeable contributions from the development, construction, and agricultural industries all over the county. But Compton's quick to point out that her average donation is about $400, from 400 total contributors. She also cited instances where she voted against the interests of her top donors in her 2014 supervisorial run.
"If someone gives you $5,000 and they call you on your personal cell, you're going to take their call," Compton said. "Does it mean I'm going to vote for you on something? No."
Photo By Jayson Mellom
PROTECTING A SEAT SLO County 4th District Supervisor Lynn Compton is vying for a second term on the Board of Supervisors this June. She's campaigning on her principles of limited government and lower taxes and for preserving a conservative board majority.
Compton also went on the offensive, calling out a recent spree of fundraising that's netted Paulding's campaign $100,000. On his website and Facebook page in February, Paulding rallied his supporters to make donations, saying that if he raised $50,000 by March 1, two donors would match it, one donating $40,000 and the other will donate $10,000. Paulding declined to share the donors' names with New Times.
"In time, these donors will be made public," Paulding said. "There are specific reasons for the kind of change they want to see in our county government."
Compton blasted Paulding for not being transparent with his coffers while he criticizes her finances.
"He's not telling us who these people are right now and the next reporting period is not until the end of April, which is right before the ballots come out," Compton said. "Do not tell me that's legitimate."
'Politically aligned'
The big picture political consequences of the 4th District supervisor race are clear. If Compton gets re-elected, the conservative board majority of Compton, Peschong, and Arnold will continue steering county policy for at least the next two years.
Compton admits that the three supervisors are "politically aligned on things." She also acknowledged that she, Peschong, and Arnold are friends. Working in the ag industry, Compton said she and Arnold, whose family runs a cattle and grape operation in Pozo, are especially close.
"I've known Debbie and John for 20 years. We're friends. It's no secret," Compton said.
But Compton maintained that her decisions as a supervisor don't boil down to allegiances, but rather "what I think is best in my heart." Many of those decisions line up with Arnold's and Peschong's votes, she said, because of their shared views about limited government and "some commonality with our districts and with the people, our rural base, and things like that."
At the same time, Compton challenged the suggestion that the three are always in agreement, pointing to her votes opposite Arnold denying the Philips 66 rail spur extension project and her denial of the Laetitia ag cluster housing development.
"I feel like I've looked at things and weighed the pros and cons of everything," Compton said. "I made decisions that in my heart I felt were the right thing to do for my district, and I let the chips fall where they may."
While a vote for Compton may equal a vote for more of the conservative board majority, what does a vote for Paulding mean? Compton believes it's a vote for a new, liberal board majority.
"If Jimmy got on the board, it would be 3 to 2 the other way," Compton said. "And there's no way he can say that's not the case. He's not an independent thinker. The progressives are 100 percent behind him. So everybody has to understand that."
Paulding disagreed with that assessment. He said he hadn't met Supervisors Hill or Gibson before announcing his run for office, and he believes he is an independent thinker.
"To say I have these allegiances, when in fact it's Compton that clearly has the allegiances with John, Debbie, and COLAB [the Coalition of Labor, Agriculture, and Business], to me is disingenuous and not true," Paulding said.
If Compton's re-elected, will she make improving relations on the Board of Supervisors one of her second-term goals?
"How do you try to improve things and negotiate with people who want to destroy you?" Compton asked. Δ
Staff Writer Peter Johnson can be reached at pjohnson@newtimesslo.com.