Virginia Woolf famously noted that to be a writer, one needed money and "a room of one's own," a place for creativity and contemplation. Musicians need that too. You can't woodshed if you don't have a wooden shed, converted garage, or a little insulated warehouse space, right?
Having a home recording studio isn't exactly a new trend, but it is an increasingly popular and somewhat more affordable one. Costs for computer recording software like Garageband, Mixcraft, and LMMS have dropped, in some cases, to free; mixers and compressors are more affordable; and setting up your own studio can eliminate the need for expensive commercial recording studio fees. New Times visited a few musicians from throughout the county who have made—or are making—the plunge into do-it-yourself recording studios.
NorthWall Studios
"This was my garage," Jon Bartel said. "It was all open framing, so I insulated and drywalled it, and built in an attic so I'd still have a little storage."
Bartel, a Cal Poly English lecturer, bought his North County house in 2008 and built his studio August of 2015. He's a member of the rock band American Dirt as well as The Creston Line, a country band whose song "Great Depression" is in the running for this year's New Times Music Awards.
PHOTO BY JAYSON MELLOM
CREATION JUNKIE : Jon Bartel of the rock band American Dirt and the country act The Creston Line treats his home recording studio as therapy.
One wall of his two-room space features an intricate mosaic of homey reclaimed wood with the words "NorthWall Studios" stenciled on top. Yes, it happens to be the building's north wall.
"I really went to town on [that wall] with some pallets and wood from two workbenches that were built in the garage when we bought the house, so I wanted to work that into the design. I used to build motorcycles in here," Bartel said somewhat wistfully.
He also used to have his music stuff set up in his guest bedroom, and he negotiated the garage remodel with his wife under the promise that he'd never clutter the guest room with his music stuff again. He also sadly parted with his motorcycle. These are life's little tradeoffs.
The space is mostly for his personal music endeavors.
"I'm the kind of person who if I'm not creating I become an asshole," he admitted. "I get weird and shaky. The other day I went back and remixed a track that had already been professionally mixed by [engineer and Sutton Sound Studio owner] Rick Sutton. It ended up sounding awful compared to Rick's mix, but it gave me some practice."
Though he built it as a place for him to practice, write songs, and record his music, Bartel soon found a lot of musician friends who wanted to use the space and his burgeoning engineering skills.
"I recorded [local singer-songwriter] Jenny Ashley's EP in here. I like to do that for some people. I also recorded the Shawn Clark Family Band in here. They added vocals and acoustic guitars at his place."
Bartel knows his home studio has limitations such as sound bleed. A lot of professional studios have isolation rooms so bands can play simultaneously but each instrument is recorded separately and can be more cleanly mixed, but learning to use his room has become like learning to play another instrument. There's an art to it.
"I've learned how to use it. It's not always easy to make a band sound big in a room the size of an average bedroom," he admitted.
Like a ship, Bartel has designed the room so there's a place for everything and everything must be in its place. His computer and mixing board face the south wall, on the other side of which is another recording room with a two-way intercom system to communicate. It's as close to an isolation room as he could get. The north wall is lined with instruments and amps, a drum kit in one corner. It's got a great vibe—comfortable and welcoming. It's easy to see why so many people want Bartel to record them in there.
"I've recorded a ton of people in here. As far as gear goes, I had a couple buddies who helped me decide what I needed, and I'm lucky to have a lot of friends who have let me borrow equipment. The room's good for acoustic stuff, but my goal is to see how much rock I can get out of here. Another limitation, space-wise, is that people have to understand we're going to sit in here and sweat our asses off. It's going to feel like rock 'n' roll no matter what kind of music we're making."
Hey, that's the price of soundproofing, and air conditioning is expensive!
The collective
Shawn Hafley and Patrick Hayes have been friends for years. Both longtime musicians, between the two of them, they figured they had enough equipment to create a decent recording studio. But neither had space in his home to create what they envisioned: two insulated practice rooms and a big recording studio with a sound booth and a couple of isolation rooms. They decided to think big and pool their resources.
Tucked in an out-of-the-way warehouse in SLO Town's railroad district, Hafley and Hayes have been framing-up and insulating their dream space, which when complete should muffle the sound. They've probably overdone it a bit. If there's an earthquake, the tin warehouse may fall down, but I have a feeling their three rooms will remain standing. The framing is beefy to say the least.
"We really went to town on the electrical, too," Hafley said. "All the lights are on separate breakers, so if you're running a 1,000-watt bass amp and you manage to blow a breaker, you won't all of a sudden be in the dark."
PHOTO BY JAYSON MELLOM
COLLABORATORS: Former Red Lights member Shawn Hafley (left) and Dead Volts frontman Patrick Hayes have joined forces to create a new studio in a SLO Town warehouse.
Hafley used to manage a set of practice rooms and a recording studio on Buckley Road that was then called Citizen Sound, but almost six years ago, the building's owners decided to put a relative in charge.
"I ran it for seven years and recorded a lot of albums in there over the years," Hafley recalled. "When they took over I pleaded with them. 'You don't understand, this is my life. It's what I do.' Ever since, I vowed to open up a new place."
Instead, Hafley opened Flanders Bicycle, the popular bike shop on Santa Barbara Street near the train tracks. The business has consumed a lot of Hafley's time, but when he discovered the vacant warehouse, he decided the time was right.
Obviously this is a bit more ambitious than a home recording studio, but it's not a commercial endeavor. Hafley and Hayes want a place to practice and work on their own projects. Hayes fronts Dead Volts and is the owner-operator of Twang N Bang Records and its similarly named annual Labor Day weekend music festival, and Hafley, a former member of the Red Lights, has jobs scoring films.
Having this new space will be "a way to stay creative and record," Hafley explained. Just being able to have equipment set up and ready streamlines the process.
"When you have stuff in storage, it might take you an hour and a half to get it out and set up, and by then your inspiration is gone," Hafley said.
Likewise, Hayes, who recorded the first Dead Volts record as well as the most recent Hayley and the Crushers record, has become sought after as an engineer, and he hopes he'll be able to record for friends in the new space.
Both these guys have skills, and they know a lot of fellow musicians who might want to join in their collective.
"Dead Volts have really been making the rounds, touring all over the place and really grinding it out, so Pat has met a lot of bands and brought a lot of people to town for his Twang N Bang shows," Hafley explained. "Now a lot of these people want Pat to record them and do their records."
"We'll be halfway between a private studio and commercial," Hayes added. "We're not open to everyone. It's going to be curated."
"And we're never going to do a recording project for the money," Hafley asserted.
"If you're punching a clock on a project you're not interested in, it's deadening," Hayes admitted.
"Bands will be, 'Was that a good take?' And you're like, 'Yes, great, let's move along.' We're not interested in that," Hafley added.
The Creston Line, Jon Bartel's band, wants Hayes to record their next album, which seems weird since Bartel has his own home recording studio, but sometimes having your own studio can lead to being overly obsessive, and you end up "tinkering" a recording to death.
"You lay down the bass and drums, and you think, wow, that sounds great, then you lay down the guitar and fiddle, and now you think, wow, that bass sounds like shit now. Then the fiddle needs to be redone. You end up going in circles," Hayes explained.
Hafley and Hayes are really in it for the camaraderie and collaboration, and they both savor the idea of having a place to experiment.
"It's nice to have the ability to explore," Hayes said, "to be able to come in and work on a song for six hours and not spend any money."
"The collaboration aspect is great, to have someone in the control room giving you feedback," Hafley said. "Pat and I work pretty good together and have an idea about how collaborative we can be with our own and each other's projects."
Like each DIY recording person I spoke with, however, keeping their equipment safe is a major concern. Home and commercial studios have been cleaned out by thieves before.
"We'll have surveillance and alarms, but hopefully we'll build it in a way that will be secure," Hafley said. "I never had a break-in on Buckley Road, but it wasn't from lack of trying. We'd see pry marks on the doors."
When It Hits Records
When it comes to home studios, Dan Curcio's South County garage conversion is damn sweet. In the middle of a suburban neighborhood, Curcio and his friend and builder Chris Doe took great pains and went to no small expense to make the room truly soundproof.
"It's pretty great," Curcio said. "We play pretty damn loud in here and you can't hear it from outside."
If you're a musician, Curcio's set-up is basically the ultimate man cave, right down to the couch, big screen projector TV, and beer fridge.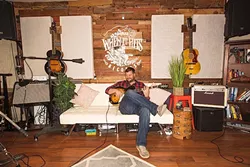 PHOTO BY JAYSON MELLOM
MAN CAVE DELUXE: Moonshiner Collective frontman Dan Curcio kicks back in his plush South County home recording studio.
Curcio's first band, Longview, started when he was still at Cal Poly. It eventually morphed into Still Time, which went on a couple national tours. Most recently he's performed as Moonshiner Collective with a revolving set of musicians and collaborators, but lately the talented singer-songwriter has been concentrating on working up a sort of one-man-band solo act. He's got some great foot percussion to accompany his guitar and voice, and he was inspired by a recent opening gig he had for East Coast one-man-band hero Suitcase Junket.
Curcio loves the freedom his studio gives him to explore, and though he's sunk a lot of money into his space, it will pay off. As someone who's recorded a lot of albums in professional studios, he knows the dreaded feeling of watching the clock and seeing the dollar signs add up when you're trying to be creative.
"You don't get something right and it's like, 'Oh great, this is going to cost me another hundred bucks,'" Curcio lamented. "Sometimes things take a couple of hours [to work out] and sometimes a week. And sometimes inspiration hits in the middle of the night so it's good to have a place to go."
The tricky part for Curcio is running back and forth from his mixing board to his instrument, so sometimes he just turns it to record and lets it run. That's the beauty of digital recording—you're not burning tape.
"I'm not a tech guy," he admits, but he knows some tech guys who have helped him set up his system. "All that old analog gear, the vintage compressors and reverb units and limiters, you can re-create a lot of those sounds now with the right plug-ins. This Apollo Universal Audio unit right here, it creates a nice, warm, analog sound. It makes it pretty easy."
His room also has sound-deadening baffles that improve the recording results by keeping the room as "dead," or as bleed-free as possible.
Like all the DIY recording musicians I spoke to, for Curcio it comes down to having a space to explore and experiment.
"It's fun. What I enjoy the most is having the time and place to create. When you're paying for recording at a commercial studio and you want to throw spaghetti at the wall for awhile and see what sticks, that's some mother fucking expensive spaghetti!"
Glen Starkey is New Times' senior staff writer. Contact him at gstarkey@newtimesslo.com.