Whoa, Nelly! There're few who can belt out the blues, soul, and R&B like Kaye Bohler, who used to live around here until she moved to the Bay Area and broke our hearts.
Mix one part Aretha Franklin, one part Tina Turner, and two parts sass, and you've got Kaye Bohler. Her latest CD, Like a Flower, was named one of the best of 2011 in Downbeat Magazine, which said, "Bohler stands firmly in the blues tradition and yet can turn on a dime into soul sophistication."
Bohler arrived in SLO after spending her early 20s on the Vegas circuit, but after a few years, her wanderlust took over and she departed northward. Her 30-year career has taken her all over the western United States as a festival and concert performer.
"You can study the blues, but the real delivery comes out of living the blues and translating that authentically through music," she said.
Her band features Richard Palmer on keys, Victor Revere on bass, Kelly Back on guitar, and John Paul on drums, plus her celebrated horn section with Rick Faliciano on trombone, Richard Fenno on sax, and John Hensley on trumpet.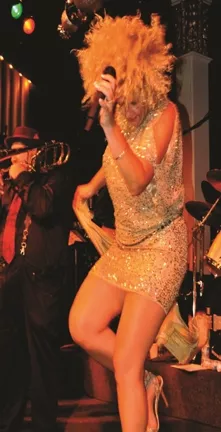 PHOTO COURTESY OF KAYE BOHLER
BRASSY! : Blues, soul, and R&B singer Kaye Bohler plays the SLO Blues Society show on May 11 at the SLO Vets Hall.
Though she's made occasional forays back to SLO over the years, she hasn't played a SLO Blues Society show for a decade—but that's about to change on Saturday, May 11, when she plays the SLO Vets Hall (8 p.m.; 21-and-older; $20 at the door).
She's got four CDs under her belt (and a fifth in the works), fire in the belly, and a enough charisma to knock you out of your dance shoes!
Come at 7:30 p.m. for some free dance lessons before opening act Code Blues plays at 8 p.m.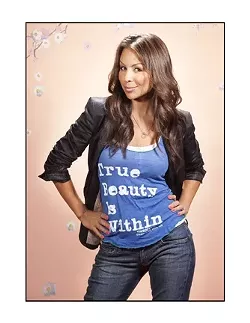 PHOTO COURTESY OF ANJELAH JOHNSON
IS THAT YOU, QUI QUI? : Stand-up comedienne, actor, and former cheerleader Anjelah Johnson plays the PAC on May 10.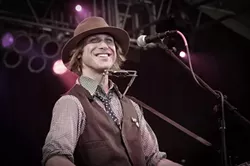 PHOTO COURTESY OF TODD SNIDER
WAY WITH WORDS : Todd Snider brings his hilarious narrative country songs to SLO Brew on May 9.
Give me an A!
Give me a J!
If you were wondering if there's life after professional cheerleading, just ask former Oakland Raiderette Anjelah Johnson, who appears this Friday, May 10, in the Performing Arts Center in a stand-up comedy show co-produced by Otter Productions and Cal Poly Arts (7:30 p.m.; all ages; $30 to $40; call 756-4849).
Johnson was named Rookie of the Year and even performed in Super Bowl XXXVII, after which she moved to L.A. to pursue an acting career. Her viral video Nail Salon made her an Internet sensation, which led to stand-up comedy.
Soon she joined the cast of MADtv as a series regular, which spawned another internet sensation "Bon Qui Qui"—a disgruntled fast food employee with no filter. Recently, Anjelah recorded and released a full-length rap song and music video as Bon Qui Qui with more tracks in the works.
PHOTO COURTESY OF AWOLNATION
RECREATE : On May 16, electronic artist Awolnation headlines a five-band show at Cal Poly's Rec Center, which is newly reopened after a six-year renovation.
In 2010, Johnson starred in Our Family Wedding alongside Carlos Mencia, Regina King, and Oscar winner Forest Whitaker. She also appeared in Alvin and the Chipmunks: The Squeakquel alongside Jason Lee.
Most recently she landed a co-starring role in About a Boy, NBC's new series based on the book and subsequent 2002 film starring Hugh Grant and Nicholas Hoult, centering on the relationship between a man-child named Will (Bent's David Walton) and the young boy who moves in next door. Johnson will play Laurie, the overbearing wife of Will's best friend. The cast also includes Minnie Driver as the young boy's eccentric, recently divorced mother, Fiona.
Check out her stuff on YouTube … hilarious!
Brew me a river
Good old Todd Snider, the dude Rolling Stone hailed as "America's sharpest storyteller," returns to SLO Brew on Thursday, May 9 (doors at 7:30 p.m.; 21-and-older; $22 presale or $25 at the door), for a night of countrified narrative songs guaranteed to have you rolling on the dance floor.
Snider is touring in support of his 12th album, last year's Agnostic Hymns & Stoner Fables, which contains gems such as "In the Beginning," a tale of greed, envy, hucksterism, and mass delusion about cavemen who decide they should kill the richest among them and divide up his possessions, but when they start to set upon him, he says, "Hey, wait a minute, fellas. I wouldn't kill me just now. You can see that I've got more than any of you have ever got; wouldn't you first as least know how?" Then he proceeds to tell them about God and being humble, heaven and hell, and says, "So unless you want suffering and heartache, unless you want trouble and fear, you better find some kind of way to humble yourself. May I suggest helping me clean up around here?" The song ends with this: "And with that we rolled into the future. And ain't it a son of a bitch to think that we still need religion to keep the poor from killing the rich?"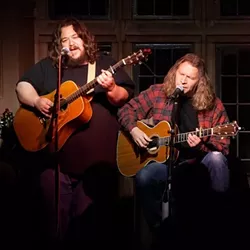 PHOTO COURTESY OF BERKLEY HART
DYNAMIC DUO : Música Del Río House Concerts plays host to Berkley Hart in Atascadero on May 10.
The album also weaves tales of crooked bankers, the joys of recreational drug use, and fun with bar fights. To call Snider witty is a gross understatement. He also recently completed a feature film (with singer-songwriter Elizabeth Cook) titled East Nashville Tonight, which premiered at the Nashville film festival last month, and he's working on a book, set for release in 2014. Amanda Shires will open the show.
On Friday, May 10 (7:30 p.m.; 21-and-older; $14 presale or $16 at the door), the Brew will be host to The California Honeydrops and their horn-driven sounds, with Lee Koch opening. The Honeydrops mix blues, gospel, second line New Orleans Jazz, and early R&B into an infectiously joyous sound. This is good stuff!
On Saturday, May 11, check out Red Dirt artists Cody Canada & The Departed (doors at 7 p.m.; 21-and-older; $13 presale or $15 at the door), with Rose's Pawn Shop opening. Canada spent 15 years as front man for Cross Canadian Ragweed.
On Sunday, May 12, reggae act Pepper is coming, but the show is sold out. Boohoo for you.
Return of the Rec!
After being closed for six years, the Event Center at Cal Poly, part of the Rec Center Complex, is open for concerts again! On Thursday, May 16, Otter Productions and New Rock 107.3 present "No Big Deal," a radio show with five bands: Awolnation, Fitz and the Tantrums, Wavves, Robert Delong, and Iamdynamite.
The 3,400-person indoor venue has been host to many memorable shows, including Barenaked Ladies (1996), Ben Harper (1999), Blink 182 (1999), Bob Dylan (1996 and 2000), "Bob Marley Day" (2001) with Shaggy and Ky-Mani Marley, Incubus (2000), Jack Johnson (2002), Jimmy Eat World (2002), "MTV Campus Invasion" (1998) with Third Eye Blind and Eve 6, and more.
Doors open at 6 p.m., and tickets are available at all Vallitix locations, by phone at 1-888-825-5484, or on-line at vallitix.com. Here's to the next generation of Rec Center shows!
More music …
On Thursday, May 9, Shine Café in Morro Bay presents the Hay Dudes for their dinner and a show night. Mike, Kenny, and Wally will serve up their bluegrass-flavored versions of old-time tunes, classic country, some fine instrumentals, and a surprise or two in the mix. Enjoy dinner and the music from 7 to 9 p.m. There are only 35 seats, so call for reservations right now: 771-8344.
A bunch of singer-songwriters will pay tribute to Bob Dylan on Thursday, May 9, at the SLO Down Pub. Hear Ventura's Sus Corez, L.A.'s Jack Kovacs, Kern River troubadour Lost Hills, local trio Side Effects, Brad Kyle of the Dr. Danger Band, Sebastian Luna of the Skeleton Crew, Holly Ann Phillips, Rob Kimball, Aaron Porter, and Steve Key—all covering classic Dylan tunes (6:30 p.m.; all ages; free).
This week at Luna Red, you can check out the awesome band that played my wedding, The Tipsy Gypsies, on Thursday, May 9, from 9 to 11 p.m. Next Thursday, May 16, see The Mother Corn Shuckers. There are sweet drink and food specials too!
Head out to wine country on Friday, May 10, at 5:30 p.m. to see Strato and Truth About Seafood rock out at Pomar Junction during a benefit show to combat shark finning, the wasteful and barbaric practice of catching sharks, cutting off their fins, and tossing the bodies back into the ocean to bleed out. Called "Waves of Change," the event features $2,000 in raffle prizes, including a road bike donated by Art's Cyclery. Admission is $16 and includes a complimentary wine tasting. Boni's Tacos will be available for purchase, or bring a picnic.
If you dig Tom Petty, Neil Young, and folk-rock with country, bluegrass, reggae, and blues influences, check out Wicked Saints, playing Friday, May 10, from 8 to 11 p.m. in the Paso Robles Brewing Co. The band's slogan is "Raw organic music with NO artificial sweeteners. It's GOOD for you!" "Our slogan isn't completely true," admits Wicked Saints lead singer Paul McCarty, who hails from New Orleans. "Some is slightly toxic." Get your Americana, swampy Louisiana grooves, and reggae-styled pop/blues fix right here!
Música Del Río House Concerts (466-6941) presents Berkley Hart in Atascadero on Friday, May 10, at 8 p.m. "Berkley Hart have found something that works," said concert organizer Fred Munroe. "We've seen and heard them live three times over the past few years at showcase events for presenters like us and for their musical peers. We're glad they have finally found their way to Música Del Río. The combination of Kerrville Folk Festival award winner Jeff Berkley and standout wordsmith Calman Hart creates a pairing that has become one of the premier acoustic duos touring the country today." Tickets are $20. Call for reservations and directions.
One of SLO County's favorite touring artists is rolling through the area again. Amy Obenski is touring in support of her new album Catch the Wind. "I'm really stoked about these shows I'll be doing with Steve Uccello on bass, one in Atascadero and one in Lompoc," said Amy, who usually tours solo. Her new album was spawned from her first trip to Europe in 2011, when she went on a musical sojourn from London to Amsterdam, Brussels, Paris, and eventually to Nantes, France, where she first met her musical soul mates. "It's like falling in love with a group of musicians," she said. "We work perfectly together … despite me needing to learn French." Her French band is called The Carbone Band, and she'll soon return to Europe for a three-month tour with them. For now, see her on Friday, May 10, at the Haven Wine Bar at 7 p.m., or if you happen to find yourself in Lompoc on Saturday, May 11, she'll be at D'Vine Wine Bar at 7 p.m.
Erin & The Project plays Saturday, May 11, at Alegria Wine & Ware (4 p.m.; 21-and-older; free). According to their bio, "Erin is the melody, Paul is the rhythm, and The Project is the combining of the two. Erin Ezekiel (vocals/keys), and Paul Ezekiel (drums/percussion) create a blend of soul, blues, jazz, R&B, and rock into an original sound they call 'soul-ternative.'" Cynthia Hathaway, Albert Sanudo, and L.A.'s Jack Kovacs will also play.
Ragged Company plays Steynberg Gallery on Saturday, May 11 (7:30 p.m.; all ages; $10 at the door). I just checked out a couple of cover songs the duo—Cindy Myers and Tim Pacheco—posted on YouTube, and I've got to say they sound great together. The vocal harmonies on the Louvin Brothers' "Scared of the Blues" are sweet as sorghum, and on "If I Needed You" by Townes Van Zandt, their guitar repartee is excellent. They also have originals. If you like crisply delivered Americana sound, check them out!
The ever popular St. Petersburg Men's Ensemble, a classically trained vocal quartet from Russia, will present a cappella concerts of Russian Orthodox and Western European sacred music and Russian folk songs on Monday, May 13, at 7 p.m. at Mission San Miguel Arcangel and Friday, May 17, at 7 p.m. at St. Stephen's Episcopal Church in SLO. A $15 donation is requested. For more info, call Olga at 543-2261.
San Diego rock alternative band The Plastic Revolution plays Frog and Peach on Wednesday, May 15, with L.A. indie rock band thatwasthen. The Plastic Revolution features lead singer Jake Skolnick, lead guitarist Nick Brownlee, bassist Eddie Phanichkul, violinist Regina Brown, and drummer Nick Turner. Yeah, and alt-rock violin. Coolness. ∆
Keep up with Glen Starkey via twitter at twitter.com/glenstarkey, friend him at facebook.com/glenstarkey or myspace.com/glenstarkey, or contact him at gstarkey@newtimesslo.com.