PHOTO COURTESY OF THE LOVIN' SPOONFUL
STILL LOVIN'! : The 1960s super group Lovin' Spoonful plays an intimate show at SLO Brew on Jan. 26.
The Lovin' Spoonful's hits still sound fresh and fun to me today. "Do You Believe in Magic," "Summer in the City," "Nashville Cats"—these are timeless classics created by a band whose history isn't rock'n'roll's ugliest story, but it's no fairytale either.
Everything started out so well. It was 1965 in New York City when Long Island rockers Steve Boone (bass) and Joe Butler (drums) were recruited by Greenwich Village folkies John Sebastian (autoharp, harmonica, lead vocals) and Zal Yanovsky (lead guitar, vocals) to form the Lovin' Spoonful. Sebastian and Yanovsky were formerly members of the Mugwumps, with future Mamas and Papas members Cass Elliot and Denny Doherty, but as the Lovin' Spoonful, Sebastian's very first song, "Do You Believe in Magic," quickly hit the top 10, as did his follow-up "You Didn't Have to be so Nice." Over the next couple years, more hits followed: "Daydream," "Did You Ever Have to Make Up Your Mind?" "Rain on the Roof," Darlin' Be Home Soon," and "Six O'Clock." The band's music also appeared in two movies of the period, Francis Ford Coppola's You're a Big Boy Now and Woody Allen's What's Up, Tiger Lily?
Then all hell broke loose.
Boone and Yanovsky were arrested for marijuana in Berkeley, and as the story goes, to help their case they set up an acquaintance who was subsequently busted for drugs. The story got out and the band's fans started to boycott their records and concerts. Yanovsky left the group "to pursue a solo career," according to the band's current bio, but come on, the guy was embarrassed and the band was basically over. Jerry Yester (guitar) replaced Yanovsky, but after one more album, chief songwriter John Sebastian really did leave to pursue a solo career in 1967.
Butler formed a new version of the band in '68, releasing Revelation: Revolution '69, which tanked. He moved on to doing Broadway plays (Hair, Mahogany) and films (Born to Win, One Trick Pony). Yester recorded an album with his wife and formed a band called Rosebud. Yanovsky returned to Canada and opened a restaurant. Boone ran a recording studio located on a 135-foot houseboat until it sank in 1977.
Though the original band reformed in 1980 to perform "Do You Believe in Magic" in Paul Simon's film One Trick Pony, the band was basically dead until Boone, Butler, and Yester reformed the band in 1991 with John Marrella (drums) and Jerry's daughter Lena (keys). In 2000, the original band was inducted into the Rock and Roll Hall of Fame.
I guess the question is, without Sebastian, is this current version of the Lovin' Spoonful authentic enough? I'm saying yes. For the past two decades, the current incarnation has been entertaining fans worldwide, and if they weren't up to the task, they'd have faded away by now.
See the Lovin' Spoonful at SLO Brew on Wednesday, Jan. 26 (6:30 p.m.; 21-and-older; $26 presale or $28 at the door). Local '60s rock act Unfinished Business will open the show.
And while we're on the subject of SLO Brew, here's the rest of their line-up this week:
On Thursday, Jan. 20, check out El Ten Eleven with Superhumanoids and The Swan Thief (7 p.m.; all ages; $8). El Ten Eleven is a drum 'n' bass duo from L.A. armed with only their respective instruments and some looping gear. If you've heard their recordings, you may be surprised how perfectly they can recapture their big sound live. Superhumanoids will deliver some dreamy pop with '60s harmonies, garage rock tonality, and slick new wave electronics. The Swan Thief is a shoe gazer's delight.
On Friday, Jan. 21, check out power pop and indie/emo rockers Hellogoodbye with Gold Motel (6:30 p.m.; all ages; $15). According to their bio, Hellogoodbye seems to "take as much influence from modern pop-punk as they do from the original Nintendo sound bleeps that held children captive in the late '80s. Formed by high school friends in 2002, the group's playful brand of indie power pop is infused with sugary sweetness, catchy dance beats, and enough energy to tire a group of five-year-olds." According to the Gold Motel, "It's always summer, the bags are always packed, and the car is always running. Beneath tight pop hooks and warm melodies, Gold Motel's songs are infused with joyous exuberance as well as sweet melancholy. The 10 tracks on Gold Motel's debut album Summer House are snapshots of dreaming, transient youth in constant motion—driving down desert highways, watching fireworks from the boardwalk, wandering the city in an endless summer, but in the end always searching for the safety of home, friends, and love."
PHOTO COURTESY OF DIEGO'S UMBRELLA
CRAZY LIKE A FOX! : Only Diego's Umbrella would mash-up flamenco and rock into an experimental mélange so tasty you could top it with whipped cream and eat it, Jan. 22 at SLO Brew.
On Saturday, Jan. 22, experimental flamenco rockers Diego's Umbrella return with 40 Watt Hype and the Wedding Industrial Complex (7:30 p.m.; 21-and-older; $7 presale or $9 at the door). Influenced heavily by flamenco, klezmer, and Latin music, Diego's Umbrella has introduced the world to a new kind of popular music: Mexicali Gypsy Pirate Rock, with sounds reminiscent to that of Gogol Bordello, Flogging Molly, Devotchka, and The Clash. Take that, complacency!

PHOTO COURTESY OF EVIE LADIN
STOMP AND STRUM : The Evie Ladin Band plays old time music at its best, with Ladin's banjo playing and stepdancing, on Jan. 22 at the Red Barn.
Old-time fun!
Banjo player, stepdancer, singer-songwriter, and square dance caller Evie Ladin knows a thing or two about traditional American cultural arts. Though she grew up on the Eastern seaboard, she now calls the Bay Area home, but she's also traveled the world spreading the traditional arts. For instance, while visiting Nigeria, she showed people her clogging and body percussion, opening the doors to myriad creative collaborations. She's also the driving force behind the bluegrass outfit the Stairwell Sisters, who have appeared at the Red Barn Community Music Series, where she'll appear as The Evie Ladin Band on Saturday, Jan. 22, at 7 p.m. ($10 at the door; come at 6 p.m. and join the potluck supper).
Her band is composed of "remarkably talented and quirky interpreters of new and old music," according to the show's promoter. "They tease out gorgeous beds of new trad music that support her ripe, catchy stories, and deep interpretations of old songs. The new music inspires Evie's rhythmic dancing that in live performance is a demonstrative, delightfully gorgeous storm."
"I know what good stringband music sounds like, but I also listen to a lot of world music, old and new country, indie rock, soul—music scenes that often don't overlap that much," Ladin said about her new album. "In making the album, the music that was old-time had to be real old-time, but I also needed to let songs stretch toward a pop aesthetic, a more contemporary aesthetic. The mix of the two can be very exciting."
PHOTO COURTESY OF LADYSMITH BLACK MAMBAZO
OUT OF AFRICA : South Africa's cultural musical ambassadors and premier male a cappella ensemble, Ladysmith Black Mambazo, return to the Performing Arts Center's Cohan Center on Jan. 22.
South African stars!
Without Paul Simon, it's possible we'd never know Ladysmith Black Mambazo, whose collaboration with Simon on his Grammy-winning Graceland album propelled this amazing African vocal group to worldwide prominence. On the other hand, it's hard to imagine this talented ensemble languishing in obscurity, with or without Simon's help.
"It isn't merely the grace and power of their dancing or the beauty of their singing that rivets the attention, but the sheer joy and love that emanates from their being," Simon said about the group.
Now Cal Poly Arts is excited to bring South Africa's cultural musical ambassadors and premier male a cappella ensemble back to the Performing Arts Center's Cohan Cente on Saturday, Jan. 22, at 8 p.m.
The eight members of Ladysmith Black Mambazo have enjoyed a career that's spanned nearly 30 years, 40 albums, and more than six million record sales. In addition to Simon, they've recorded with Stevie Wonder, Dolly Parton, Ben Harper, and George Clinton. On their own, they're equally impressive. In fact, their first U.S. solo album, Shaka Zulu, won the Grammy Award for Best Traditional Folk Album. Eight Grammy nominations have followed.
Patrons are invited to attend a free pre-concert lecture presented by Music Department Faculty Member Ken Habib at 7 p.m. in the Performing Arts Center's Philips Recital Hall. Student and adult tickets for the performance range from $16 to $38 (756-2787).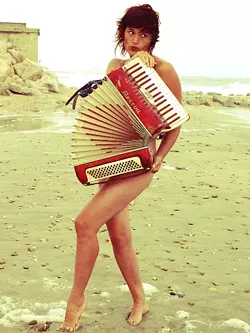 PHOTO COURTESY OF JETTY SWART
ACCORDION CABARET : French cabaret artist Jetty Swart plays Steve Key's Songwriters at Play showcase on Jan. 23 at Sculpterra Winery.
And now for someone complete different
Steve Key's Songwriters at Play showcases should keep short-attention-spanned fans happy as they feature one principal performer and up to eight other singer-songwriters playing short sets. You'll never get bored!
First up is Jetty Swart at Sculpterra Winery on Sunday, Jan. 23 (1 to 4 p.m.). Swart, who pronounces her first name "Yeti," hails from Montpellier, France, and delivers accordion-driven cabaret tunes sung mostly in French. She calls her music "a punk-style gypsy party where Nina Hagen, Edith Piaf, and Kurt Weill meet."
PHOTO COURTESY OF GALE MCNEELEY
HE'LL BRING BROADWAY TO YOU : Showman extraordinaire Gale McNeeley brings his Broadway-inspired shtick to the Steynberg Gallery on Jan. 25 as part of Steve Key's Songwriters at Play showcase.
On Tuesday, Jan. 25 (6:30 to 9:30 p.m.; $5), the Steynberg Gallery welcomes back Gale McNeeley, who'll bring Broadway to SLO with his whimsical performance. Calling himself an "actor, singer, and professional clown," he pays tribute to the great writers of the theater, such as Yip Harburg, lyricist of "Brother Can You Spare a Dime" and the songs from The Wizard of Oz and Finian's Rainbow. Pianist Betty Faas accompanies McNeeley.
Finally, check out The Willows when they play The Porch on Thursday, Jan. 27 (6:30 to 9:30 p.m.). According to promoters, "You could categorize The Willows as psychedelic blues folk. Or maybe alternative rock. All four of them like the Beatles. They are hometown heroes, Cal Poly kids with lots of energy and inventiveness. Expect a lot of jamming, instrument-switching, harmonizing, and sonic sampling—an original blend inspired by Robert Johnson, R.L. Burnside, The Black Keys, and The Allman Brothers.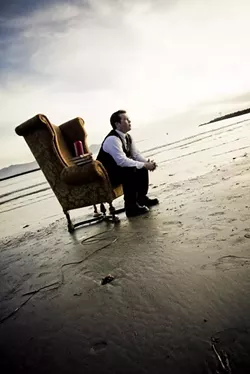 PHOTO COURTESY OF THE LOVELESS ESTATE
JANGLE ON : With harmony vocals and jangly guitars, The Loveless Estate delivers upbeat indie pop rock on Jan. 20 at The Pour House.
More music …
On Thursday, Jan. 20, check out Real Love Records recording artists The Loveless Estate and Oh My Land when they play The Pour House in Paso Robles at 8:30 p.m. The Loveless Estate is a harmony-rich, jangle guitar, indie pop act that's a whole lot of fun. Oh My Land is a brand-spanking-new folk act recently formed in SLO Town.
PHOTO BY DUFF FERGUSON
HONKY : Grant Langston will bring his tongue-in-cheek honky-tonk music to the Frog and Peach on Jan. 20.
L.A.-based tongue-in-cheek honky-tonker Grant Langston hits Frog and Peach on Thursday, Jan. 20, for a stomping good time. Often compared to Robbie Fulks, Langston has recorded five albums, most recently Stand Up Man, which garnered radio play all over the United States, U.K., Germany, and The Netherlands.
"Growing up where I did [Alabama], I was force-fed a steady diet of very slick Nashville stuff," he said in his bio. "As a result, I hated country music, or at least thought I hated it until I heard the real deal—Johnny Cash and Willie Nelson and Dwight Yokum and Merle Haggard. I didn't want to make music that was formulaic. I wanted to step outside that and have lyrics that are sassy and written from a modern perspective. I wanted to be free to throw in a Led Zep riff if I wanted to, to poke some fun at the genre, but at the same time pay homage to that style."
Back in 2007 when the Performing Arts Center's Cohan Center debuted the enormous, remarkable, world-class Forbes Pipe Organ, James Welch was one of the premier organists in Cal Poly Arts' Forbes Pipe Organ Recital Series. On Friday, Jan. 21, at 8 p.m., Dr. Welch returns to perform a "Best of Bach" program for the Cal Poly Arts season, featuring Johann Sebastian Bach's greatest organ masterworks: Toccata, Adagio and Fugue in C Major, BWV 564; Sonata in E-flat Major, BWV 525; Concerto in G Major; Toccata and Fugue in D minor, BWV 565; Toccata in F Major, BWV 540; Three Chorale Preludes; and Passacaglia and Fugue in C minor, BWV 582. Student and adult tickets for the performance range from $13 to $24 (756-2787).
On Saturday, Jan. 22, The Amazing Stupifyers will bring their big-town blues sound to The Fuel Dock in Morro Bay from 3 to 6 p.m. and 8 to 11 p.m. Expect harmonica boppin' and guitar rockin'.
According to Cal Poly Arts, "A cantata, a motet, and an orchestral suite—all by J. S. Bach—will be performed Saturday, Jan. 22, at 8 p.m. in Mission San Luis Obispo de Tolosa. Cal Poly student musicians in the Early Music Ensemble will be joined by Cal Poly faculty and professionals from San Luis Obispo, Santa Barbara and Los Angeles." Early Music Ensemble Conductor Thomas Davies and Cal Poly Symphony Conductor David Arrivée will control the baton. Tickets cost $12 for the public and $8 for seniors and students (756-2787).
On Saturday, Jan. 22, Mongo's hosts The China Cats: Tribute to the Grateful Dead at 9 p.m. ($10 cover). The Modesto Bee calls them "The Bay Area's leading Grateful Dead tribute band." Grateful Dead manager Rock Scully said, "I had a fine time and enjoyed the music very much."
Hampton Inn and Suites in Paso Robles presents The Nathan McEuen Trio on Saturday, Jan. 22, at 7 p.m. ($15; 226-9988). Currently in his 15th year of performing, he has logged more than 2,000 live concerts, hundreds of radio performances, and dozens of television appearances worldwide, including the American Idol Season 8 finale (with The Steve Martin Band), The Tonight Show with Jay Leno (with Hanna-McEuen), and The Grand Ole Opry. Joining Nathan on stage will be Chuck Hailes on standup bass and 18-year-old Scott Gates, who was featured playing mandolin on Kenny Loggins' latest CD, All Join In. Seating is limited, and reservations are recommended.
St. Benedict's Church in Los Osos will hold an afternoon of expressionistic and romantic works performed by violinist Paul Severtson, cellist Jean Schumway, and pianist Louise King beginning at 3 p.m. on Sunday, Jan. 23. Performing together as a trio for the first time, they'll play three nocturnes by Ernest Bloch, "who critics rank among the most distinguished composers in the neo-Classic and neo-Romantic idiom of early 20th Century music," according to organizers. Also on the program will be more familiar works by Brahms and Mendelssohn. A donation of $10 is suggested.
On Sunday, Jan. 23, m.BODY Yoga & Massage celebrates its one year anniversary with an afternoon of mystical acoustic music with recording artist Masood Ali Khan, whose tracks from The Yoga Sessions were recently featured in the New York Times and Yoga Journal play lists. Cayucos resident Johnee Gange and L.A.'s PremaSoul will also perform. The doors open at 4 p.m., and a $15 donation is suggested. Reservations are recommended (952-5220).
PHOTO COURTESY OF VICKI GENFAN
SLAP-TAP! : Virtuoso guitarist and singer-songwriter Vicki Genfan brings her amazing slap-tap technique to a show at Painted Sky Studios on Jan. 23.
The Painted Sky Concert series will hold an evening of remarkable acoustic music with Vicki Genfan and Jill Knight on Sunday, Jan. 23, at 7:30 p.m. in Painted Sky Studios in Cambria. Genfan is a virtuoso guitarist and masterful singer-songwriter whose material draws from folk, jazz, pop, soul, and world music. She won first place in the prestigious Guitar Player Magazine's "Guitar Superstar" Competition in 2008, thanks in part to her use of 29 alternate tunings and the percussive technique she calls slap-tap. As for Knight, she's one of the very best singer-songwriters you'll ever hear, and she happens to call the Central Coast home. Tickets cost $15 (927-8330).
The SLO Little Theatre is getting into the music biz. They plan to host a live concert at least once a month. "We just got a ginormous grant that will replace all of our audio equipment for plays and musicals and allow us to purchase separate audio equipment for local and visiting bands to use," said Managing Artistic Director Kevin Harris. "Our first show is next Sunday, Jan. 23, at 7 p.m." First up are Sparrows Gate, The Finches, and Jameson Swanagon. The cover's $8 at the door.
On Sunday, Jan. 23, at 9 p.m., check out Julie Neumark & The Highlifes when they hit Frog and Peach in support of their debut album, Dimestore Halo. Her dark and intoxicating songs seem to belie her idyllic childhood: "My upbringing was picture-perfect," she said, "from family vacations to having parents who were happily married for 33 years. Every house in my part of town was basically the same. Kids were everywhere, playing kick-the-can in the cul-de-sac. Because everything was so nice, I put pressure on myself to be perfect, to stay within the lines and not break any rules. It wasn't until I finally got out of town that I started to discover myself. I've dug deeper and found my voice. And I've found how to express my feelings and thoughts in ways I never thought I could before." Then stay for Steel Toed Slippers at 10 p.m. According to their bio, "Steel Toed Slippers first came together in November of 2006 when two high school students started jamming in Humboldt County, Calif.. Guitarist Will Nicoll and drummer Matt Moss sought out local college music-major Bobby Amirkhan to play bass, and the trio was complete. Over the next year, Steel Toed Slippers would play in virtually every venue in the area and run a two-week tour down to Los Angeles. The young group would go on to become finalists in a national Battle of the Bands, broadcast live on CBS."
Linnaea's Café hosts Bay Area singer-songwriter David Jones on Wednesday, Jan. 26, with fellow San Francisco singer-songwriter Kelly McFarling. Jones tours in support of Shadows & Gardens, his fifth independent release. With a "smoky, soulful voice [that] carries pleasantly dark lyrics over melodic tunes ranging from deliberate, catchy folk to literate acoustic rock," expect an evening of introspective, thoughtful folk music.
Fankhauser nominated for a Grammy!
South County resident Merrell Fankhauser was recently nominated for a Grammy due to his inclusion on the Grammy-nominated compilation set Where the Action Is: L.A. Nuggets 1965-1968. Fankhauser's "Tomorrow's Girl" was included in the set, which is nominated in the Best Historical Album category.
"After 47 years in the music business, this is quite a thrill," Fankhauser said. "It just proves that if you wait around long enough doing the thing you love, good things will happen."
Fankhauser recorded the song in 1967 with his band Merrell and The Exiles, and it was later released on his album Fapardokly. It's now one of the most sought-after '60s albums.
Fankhauser—who recently signed with the British label, Gonzo Records UK—has recorded hundreds of songs over the years and has collaborated with rock luminaries such as Harry Nilsson, Nicky Hopkins, drummers Jim Gordon and Ed Cassidy, singers Dean Torrence and Peter Noone, and the legendary Willie Nelson.
"Merrell's music is timeless," said Gonzo Records President Rob Ayling. "We're very excited about having him on our label."
To commemorate the Grammy nomination, Gonzo Records will release Fankhauser's Return to Mu, a deluxe CD/DVD set of exotic tropical rock songs, in February. Gonzo also plans to release several more of Fankhauser's CDs in 2011.
"I'm glad to still be able to do what I do," Fankhauser said. "Recording and playing music is my life. It's an honor to be part of the Grammys and a nice boost of inspiration to keep on going."
A call for bands!
The City of Paso Robles Department of Library and Recreation Services and the REC Foundation are currently accepting band packets for the 2011 Concerts in the Park series through Friday, Feb. 4. All bands should submit a packet including a demo CD, band biography, and a photo. If bands have submitted in previous years, simply e-mail njoynt@prcity.com to be reconsidered without a new packet.
Band packets can be dropped off or mailed to Nancy Joynt, City of Paso Robles, Centennial Park, 600 Nickerson Drive, Paso Robles, 93446.
Concerts will be held Fridays, 5:30 to 7:30 p.m., June 24 through August 26 at the downtown City Park gazebo. For more information, contact Joynt at 237-4741 or njoynt@prcity.com.
Keep up with Glen Starkey via twitter at twitter.com/glenstarkey, friend him at Myspace.com/glenstarkey, or contact him at gstarkey@newtimesslo.com.