The Girl With the Pearl Earring isn't giving up any secrets, and she's a bit smug about it. We know that Dutch 17th century painter Johannes Vermeer painted her wet blue eyes, cryptic earring, and coyly parted lips—but that's about it. Centuries after her death, she continues to smolder with irresistible mystery.
Scholars are still debating the identity of this enigmatic lady (was she Vermeer's daughter? A maid? A love interest?). Art historians continue to pull out their hair over the meaning behind the girl's uncharacteristically flashy earring, which seems to shine with more intensity with each passing decade.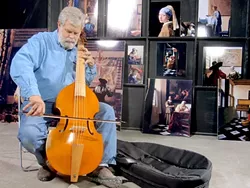 PHOTO BY NATALIE JENISON, COURTESY OF SONY PICTURES CLASSICS
RECONSTRUCTING HISTORY: Tim Jenison reconstructs every object in Vermeer's 'The Piano Lesson'—including the viola da gamba (pictured)—by hand in an effort to find out just how 17th century Dutch painter Johannes Vermeer created his masterpieces.
Upstart Tim Jenison has his own burning Vermeer question to contend with—one that keeps him up at night, every night. He says: Forget the girl. How did Vermeer paint so photo realistically some 150 years before the invention of photography?
Hmm. Good question.
Tim's Vermeer, the documentary detailing Jenison's downright dogged attempt to decode Vermeer's technique, will show on Sept. 30 at the Spanos Theatre followed by a Q-and-A with Jenison. Produced by the ever-prodding Penn Jillette and Raymon Teller of Penn & Teller: Bullshit!, the film suggests that Vermeer may have employed the help of low tech tricks and mirrors to create his intricate masterpieces.
Note: Jenison is so not a painter. He's an energetic computer graphics guy-turned-inventor who isn't afraid to break out the scientific method with gusto.
In the film's trailer, soft-spoken, bespectacled Jenison points to another iconic Vermeer, The Piano Lesson. He dissects each brush stroke with zeal.
"This painting looks like it came out of a video camera. This fall of light is something that an artist really cannot see," Jenison says. "There must be a way [Vermeer got] the colors accurate with mechanical means. It's possible Vermeer may have been more of a tinkerer, more of a geek. And in that respect, I feel a kinship."
Yes, what Jenison is saying is powerful. Vermeer may have used "technology" to help create his world-renowned pieces. And, just maybe, Jenison can figure out what that technology looked like.
To find out, our hero pulls out all the stops while he puts his life on hold. He creates an exact replica of the room Vermeer used for painting. Then, he creates every item found in Vermeer's The Piano Lesson—the piano, Spanish chair, rug, and viola da gamba—from scratch. He painstakingly reconstructs the history, attempts to apply different painting methods to that history, then does it all over again. There are tears of joy and frustration.
SEE, HEAR, WATCH: Tim's Vermeer with show at Cal Poly's Spanos Theatre on Sept. 30 at 7 p.m. followed by a Q-and-A with Tim Jenison. Guests can also attend an interdisciplinary mash up with Jenison featuring "art vs. science" at KTGY Gallery, Building 21-105 from 10 to 11:30 a.m. and 2:30 to 4 p.m. earlier that day. On Oct. 1, attend "bending the rules of art and science" with Jenison at Kennedy Library Café Lounge. From Sept. 14 through Oct. 3 explore the process work of Jenison and see his 'Claire with the Pearl Earring' painting (showing on Sept. 30) at the Kennedy Library Community Gallery. For more information, call 756-6395. All events are free to the public.
I sat down with Cal Poly Scenic Design Professor Pegi Marshall, who is credited for bringing the film—and Jenison—to the Spanos. I asked if she thought "crazy" applied to the film's subject. Marshall laughed, before replying, "yes, but in a good way."
"There's one point where Tim is trying to paint a very small detail on a painting, and the technique he came up with is not giving him the result he needs. He spent eight hours that day on one inch of painting," Marshall said. "You see Tim's personal struggle, what he came up against, and how he overcame those challenges."
Marshall can understand Jenison's extreme attention to detail to some degree—although she's never tried to create paint out of 17th century materials from scratch (as Jenison did). She did, however, re-create a Civil War-era set dressing in a single night.
"In theatre, when we don't have the materials we need, we have to make them ourselves," Marshall said. "Cal Poly is all about 'learning by doing.' This film is exactly that."
And although Jenison is certainly crazed by his desire to "decode Vermeer"—he even creates his own version of Girl With a Pearl Earring featuring his daughter Claire as the model—he never loses his mind.
"All of us have to be a little crazy to figure out the things that bug us: the how and what," Marshall said. "Tim goes so far with the process. Really, he's simply a human person on a quest for truth."
Hayley Thomas has no idea how paint was made hundreds of years ago, but she wants to find out at hthomas@newtimesslo.com.