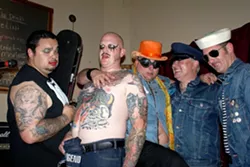 PHOTO COURTESY OF SEXY TIME EXPLOSION
STIRRING IN YOUR PANTS : Sexy Time Explosion brings their gay punk rock to SLO Brew on Feb. 26.
Do you like car crashes, train wrecks, natural disasters, roadside bombings, downed planes, or kids dressed in denim who are ramming each other on Big Wheels while screeching like banshees?
You do? That's sort of weird. Anywho, I bet you'll also like Sexy Time Explosion, a Turbonegro tribute act. Who's Turbonegro? They're the glammy Norwegian punk act that almost called themselves Nazipenis. They were always singing about gay sex (and sometimes Italian food), like in the song "The Age of Pamparius": From the ashes of this golden age of confusion/ the denim recruits came to be/ known as the apocalypse dudes// So you think you had an Opera/ So you think you had a Napoli/ So you think you had a decent pizza/ Well not like this// You got nothing to lose at Pamparius// So you think you had a calzone/ So you thought you could make your own/ So you thought you could take it home/ Well not like this// You got nothing to lose at Pamparius/ gonna wear them happy shoes tonight/ You got nothing to lose at Pamparius/ Gonna bake a motherfucking pizza tonight/ Apocalypse dudes got nothing to lose/ Gonna stomp some teenage ass tonight/ Apocalypse dudes got nothing to lose/ Gonna bake some motherfucking magic tonight.
Truly, no one really knows what was going on in the heads of the members of Turbonegro, but the denim dudes of Sexy Time Explosion are trying to find out by embodying this ridiculous band. They play on Friday, Feb. 26, at SLO Brew (7:30p.m.; 18-and-older; $8) with opening act Klockwyze.
According to Sexy Time frontman Sethzilla, "We're like the Village People of punk rock! Hear songs about denim and erections mixed with rampant drug abuse. Dust off your denim jacket, grab your sailor hat, and put on some boogie shoes; it's show time!"
The horror. The horror.
There's more shenanigans to be had at SLO Brew this week, starting on Thursday, Feb. 24, with ska/punk/reggae act The Supervillains (7:30 p.m.; all ages; $10) with Nada Rasta opening. Plenty of edgy ska and socially conscious reggae.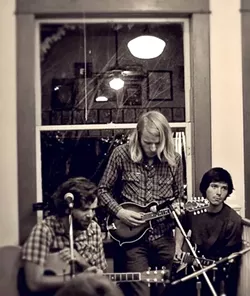 PHOTO COURTESY OF CANDLE
LOSS AND MEMORY : Candle plays an album release party at SLO Brew on March 3.
Things will slow down a bit on Thursday, March 3, when Candle plays an album release party for The River You Drink From Will Drown You, a collection of no depression tunes ranging from somber ballads to hoedown hooters (7:30 p.m.; all ages; $8). Oh My Land, Ryan Delmore, and Box of Shadows open.
"The story behind this album is interesting," said frontman and songwriter Kevin Coons. "After completing a nationwide tour with Candle in summer 2008, I traveled north to Alaska and worked as a Marine Biologist, living for months at a time on commercial fishing boats out of Kodiak and Dutch Harbor. It was some crazy shit. Then I lived in Southern Chile for six months where I worked as an English teacher and traveled all around South America. I returned to Alaska and worked for another four months and then came back to San Luis Obispo and recorded this album with some friends. The songs are largely based upon my travels and its consequences on my personal life, though the themes are much deeper than just that."
The record kicks off with "Like Ghosts," a tender and forlorn tearjerker driven by strings and harmonica. "El Rio Calle-Calle" skips along like a sonic travelogue that interweaves the story of a disintegrating long distance relationship. On this track, female backing vocals create a nice counterpoint to Coons' crooning. One of my favorite tracks is the plodding male/female duet "We Will Never Die," which reminds me of a Little Wings song, but the next big train a-coming track, "My Old Ways," is also a kick, a rollicking barnburner. All told, Coons delivers 10 solid tracks on this highly personal yet wholly accessible new album. This one comes highly recommended!
PHOTO COURTESY OF LAURA MEYER
DARK CORNERS : Laura Meyer sings with remarkable depth and verve on Feb. 24 at Frog and Peach, Feb. 25 at Costa De Oro Winery, and Feb. 26 at Sustenance.
Soulful sensation
It's hard to put your finger on Laura Meyer. On the title track of her new album Been Here Before, she starts off sweetly singing: Been here before/ Got a rope against my neck/ Been here before/ I guess I never left. The tender folk vocals don't prepare you for the striking left turn the album takes next, delivering the hard driving blues of "Motel Room Blues #1." Meyer looks like a sweet little waif, but there're dark corners seething under her ingénue exterior.
Alternating between folk and blues, she's a skinny white chick with soul to burn, and inside are tough-minded songs that simply don't seem like they could have come from her. On "Don't Let Them Collect You," a martial new wave beat delivers an edict about being trapped by exactly the sort of stereotyping I'm engaging in: Don't let them collect you/ Don't let them collect you/ They're just trying to get you/ Put you on their shelf// No one's gonna protect you/ no one's coming to the rescue/ they're just trying to dissect you/ So you better take care for yourself.
Folk and blues rock poet Laura Meyer has a series of three area concerts to choose from: Thursday, Feb. 24, at Frog and Peach (7:30 p.m.); Friday, Feb. 25, at Costa De Oro Winery (5 p.m.; 922-1468) in Santa Maria; and a show on Saturday, Feb. 26, at Sustenance Cooking Studio
(7 p.m.; 543-2186).
More music …
Portland-based funksters Dorado hit Frog and Peach on Thursday, Feb. 24, touring in support of their terrific new album Say What You Mean, a collection that fuses funk, rock, and hip-hop into a groove-ready mix of stunning musicianship that'll have you in a dance fever. "I've had the project going for five years," said frontman Sky Cooper, an Aussie ex-pat. "It's only since this lineup has solidified that the real nature of the beast manifested itself as a kind of hip-hop flavored rhythm section with rock frosting."
PHOTO COURTESY OF SMALL POTATOES
GET 'EM WHILE THEY'RE HOT : Small Potatoes brings their Celtic to cowboy sounds to Sculpterra Winery on Feb. 27.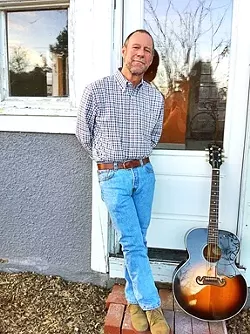 PHOTO COURTESY OF ROB KIMBALL
MORE THAN A DJ : Perhaps best known as KCBX's "Pickin Up the Tempo" DJ, Rob Kimball is also a talented 12-string guitar and banjo player. See him March 3 at The Porch.
On Thursday, Feb. 24, The Porch features Chuck Cheesman and his "hopeful, loving, and funny songs," during the Songwriters at Play showcase (6:30 p.m.; all ages; free). Then on Sunday, Feb. 27, Sculpterra Winery's showcase features charming Chicago-based folk duo Small Potatoes (1 p.m.; all ages; free). On Tuesday, March 1, the showcases continue at Steynberg Gallery with Reese Galido, singer for Santa Barbara roots reggae act The Kicks (6:30 p.m.; all ages; $5). Finally, KCBX "Pickin Up The Tempo" DJ and 12-string guitarist and banjoist Little Rob Kimball hits The Porch on Thursday, March 3, (6:30 p.m.; all ages; free) to deliver some folk, country, and blues. All of Steve Key's Songwriters at Play showcases feature other performers playing short four-song sets.
Grand Lake, who's releasing a new EP on Hippies Are Dead Records next month, is doing an installation at Compact on Friday, Feb. 25, from 6 to 9 p.m. "Basically, the EP Leaves Ellipse is going to be released digitally, so we wanted to do an installation where people can experience the album physically, like going to a band's website, but in a physical space," explained Caleb Nichols. "People who attend can listen to the new EP, watch video content, view the album art, and pick up a chapbook that contains the album's lyrics and a download code." The band also plays Saturday, Feb. 26 (7 p.m.; all ages; $5), at Sally Loo's, with Simon Crafts and Gold Dusk opening.
Virtuoso guitarist Dorian Michael along with über-bassist Ken Hustad will deliver a fistful of jazz and blues on Saturday, Feb. 26, at 7 p.m. in the Inn at Morro Bay. "We'll rock and swing, playing blues and jazz in the bar overlooking the bay," Dorian said.
"A World of Music" comes to the Harman Hall in the Performing Arts Center at 8 p.m. Saturday, Feb. 26, when the Cal Poly Arab Music Ensemble—with Director Ken Habib, and Cal Poly Choirs, with Conductor Thomas Davies—presents a program with a vast array of selections from many world cultures. Tickets cost $13 and $15 for the public, $12 and $14 for seniors, and $8 students. Call 756-2787.
Oakland-based power trio The Real Nasty hits the Frog and Peach on Saturday, Feb 26 (9:30 p.m.; 21-and-older; free), to deliver tunes that "flow seamlessly from country to rock with and unpretentious force that leaves audiences reeling."
On Sunday, Feb. 27, from 11 a.m. to 4:30 p.m., hear America's music when the Basin Street Regulars (11 a.m.), Cell Block 7 (1 p.m. and 3:15 p.m.), and the Dos Pueblos High School Jazz Band (2:15 p.m.) perform in the Pismo Beach Veterans Memorial Building. Tickets cost $5 to $10. Call 481-7840 for more info.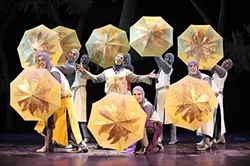 PHOTO COURTESY OF CAL POLY ARTS
GO AND BOIL YOUR BOTTOMS! : The musical Spamalot, based on the film Monty Python and the Holy Grail, plays at the PAC on Feb. 28.
The Tony Award-winning Best Musical of 2005, Monty Python's Spamalot, comes to the Performing Arts Center on Monday, Feb. 28, at 7:30 p.m. Based on the Tony Award-winning direction of Mike Nichols and the riotous choreography of Casey Nicholaw, Monty Python's Spamalot features a book by Python star Eric Idle—based on the screenplay of Monty Python and the Holy Grail by Monty Python creators Graham Chapman, John Cleese, Terry Gilliam, Eric Idle, Terry Jones, and Michael Palin, with music and lyrics by the Grammy Award-winning team of Idle and John Du Prez. Tickets range from $24 to $68. Call 756-2787.
Another Tony Award-winning musical comedy, Falsettos, presented by the Cal Poly Theatre and Dance Department, comes to the Spanos Theatre Thursday through Saturday, February 24 through 26, and March 3 through 5 at 8 p.m. The musical, from the writers of The 25th Annual Putnam County Spelling Bee, is directed by Cal Poly professor Dr. Virginia Anderson. Set in the early '70s and late '80s, just as AIDS began to spread, Falsettos follows Marvin, a father who struggles to keep his family together despite leaving his wife and son for a gay lover. To complicate matters, Marvin's ex-wife ends up marrying his psychiatrist.
"There seems to be a constant reevaluation of how and why we define family in this country," Anderson said. "This family reminds us of the struggles and triumphs of our own families, and how we all grow up together."
General admission is $15, or $12 for students and seniors. Visit pacslo.org or (805) 756-2787.
PHOTO COURTESY OF CACHE VALLEY DRIFTERS
BIG SUR VIRGINS : Though they've been around for 35 years, on March 3, bluegrass juggernauts the Cache Valley Drifters play their first Big Sur show at the Henry Miller Library.
The amazing bluegrass and beyond act the Cache Valley Drifters performs a rare indoor winter concert on Thursday, March 3, at the Henry Miller Library. "These guys are amazing: driving rhythm, beautifully textured ballads, unique acoustic arrangements, and signature vocal harmonies," said the library's Mike Scutari. "And this is their first Big Sur show ever—after 35 years in the business!" Visit henrymiller.org for ticket info.
Get the vote out!
If you want more proof that we live in a music Mecca with a music scene much grander than our small population would suggest, may I direct your attention to the two following items:
First, KCPR, Cal Poly's radio station, is up for an award! This is the station where dudes like "Weird Al" Yankovic, KCBX's "Morning Cup of Jazz" DJ Neal Losey, and yours truly got their start DJing.
"You know my undying love for radio and especially for my scruffy alma mater, KCPR," Neal wrote recently. "Well, they have been nominated for an award, one of those that relies on votes from listeners and fans, and it allows people to vote as many times as their little clicking fingers can handle. Fifty [stations] were nominated, then down to 25, and now we made it into the Top Ten. Hoping you might include it in your column and try to get your readers who love the free spirit/high-wire act/train wreck that is KCPR to vote."
Visit radiowoodie.ratemyprofessors.com by Tuesday, March 1, and vote, vote, and vote again. In fact, if you're a computer wiz, write a program that votes the crap out of the site! The results come out on March 16.
And while you're voting for KCPR, scoot over to rollingstone.com/choosethecover/artists/pk and vote for local act and New Times Music Awards Album of the Year 2010 winners PK to appear on the cover of freakin' Rolling Stone!
PK was selected as one of 16 "unsigned" bands from across North America who were invited to compete in a contest sponsored by Rolling Stone Magazine. Winners will be on the cover of the magazine this summer and will be granted a record contract with Atlantic Records. They'll also be performing on the Jimmy Fallon Show this summer. The 16 finalists will be featured in the March 3 issue of the magazine. Now vote early and often and let's get PK on the cover!

Keep up with Glen Starkey via twitter at twitter.com/glenstarkey, friend him at Myspace.com/glenstarkey, or contact him at gstarkey@newtimesslo.com.