PHOTO BY GLEN STARKEY
THE NOBLE BEAST : Elmer guards the camp and recons his next nocturnal mission.
If you plan on camping with your girlfriend, her son, and four dogs, I urge you to reevaluate. Especially if you're driving to Big Sur in a compact car borrowed from your mother. I know of what I speak. This past weekend, instead of going to some cool art event and bashing it, I embarked on a weekend trip to Plaskett Creek Campground to spend time with some surf buddies and their families. Sounds easy enough, right?
My mother drives a little silver Mazda that gets awesome gas mileage, and because she's a saint, she lent it to me. I convinced my cohort Mark Freear to haul up our surfboards, wetsuits, tents, kitchen gear, camp stove, LP tank, sleeping bags, and dry foods in his Vanagon, which left our two ice chests, three duffels of clothes, pillows, air mattresses, extra bedding, dog food, sundry leashes and bowls, toys, an art box, four gallons of water, five gallons of beer, and one and a half bottles of Jameson for our four-seat car, which, again, also had to hold two adults, an 8-year-old, and four dogs, two of whom who are in the midst of a blood feud. More on that later. I'll skip to the "here we go" part on Friday, Sept. 10.
The plan was simple. I drive, Anna sits in the front seat with her pug Pugslie and my little mix Mavis, then Anna's son shares the backseat with his mix Moon Leaf and my yellow Lab Elmer. True, we couldn't get everything in the trunk, so the boy and two dogs didn't have an entire backseat, but still, it was a good plan!
PHOTO BY GLEN STARKEY
SHE SEEMS SO SWEET : Mavis is 10 pounds of seething anger … except when she sleeps.
We're not halfway there when the shifting starts. Mavis climbs onto my lap, Moon climbs between the front seats to climb onto Anna, and Elmer decides to stretch out on the backseat, prompting a bellow, "Elmer's sitting on me!"
"Well, push him over," groans Anna under the weight of Moon and Pugslie.
"Grrrrrrrr," starts Mavis, who, when it comes to Moon, is 10 pounds of seething anger. About a week ago, Mavis punctured my hand in two places when I reached down to break up their first fight, which also resulted in a nasty Moon-induced hematoma on my arm that turned from purple to blue to yellow over five days. Their second fight happened at 1:30 a.m. They were locked in a death grip. I grabbed them both by the scruff of their necks and pulled.
"Thhhwup" is the exact sound they made as they separated. I snatched up Mavis, hauling her into the bathroom where blood streamed out of her mouth and oozed from two punctures in her scalp. I cleaned her up, locked her in, and went to check on Moon, who had two punctures under her chin. Bad dogs!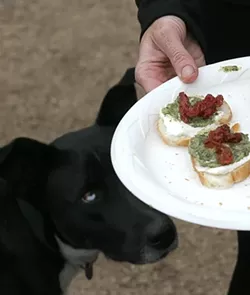 PHOTO BY GLEN STARKEY
SHE'S GOT THE CRAZY EYE! : Moon Leaf eyes a plate of hors d'oeuvres.
Back to the trip: I have a growling banshee on my lap just itching to leap across the seat to attack a 60 pound dog who's perfectly willing to fight back, a howling kid in the backseat, a girlfriend juggling two dogs, and I'm whizzing along an incredibly twisty road near an 80-foot precipice. And we're still 45 minutes from the campsite! To his credit, Elmer seems to really be enjoying himself.
I'll skip the setting up tents and blowing up air mattresses and tell you about Night 2, the night Elmer and Moon discovered how to open tent zippers. Elmer slips out in the middle of the night and is into a leftover plate of Louisiana hotlinks before venturing farther into the campsite to ransack a neighboring group's leftovers, and in the middle of the night Moon appears in the tent. A struggle ensues to keep Moon and Mavis apart, with Pugs in the middle, but Mavis continues to growl and vibrate in that angry little dog way. Meanwhile, it sounds like giant raccoons are throwing enamel plates down near the grill.
"That's it!" I scream. "I'm locking Mavis in the car!"
As I walk down there, a wriggling bundle of hatred under my arm, I see Elmer nosing a leftover bowl of pasta off the picnic table.
"Elmer, get over here," I yell as he stares at me blankly, his eyes glowing green in my flashlight beam. No dice.
PHOTO BY GLEN STARKEY
ITCHY AND SCRATCHY : Pugslie gets a good scratch in.
I get Mavis to the car, come back to find the pasta gone and Elmer smiling smugly, drag him to the tent to find Moon stretched out on my side of the air mattress. It'll be morning soon, I think, contemplating tearing down the tents, loading up the car, and repeating our harrowing drive along the coast. I'm lying there trying to get back to sleep, Moon sprawled all over me, Pugs making that weird snorting sound smash-faced dogs make, when Elmer's stomach starts to make noises—dangerous gurgling noises. Hotlinks and pasta and God knows what else! I'll spare you the details of Elmer's future bowel movements.
Home again, Anna says, "That was fun. Let's never do it again soon."
I pray that's not a joke.

Glen Starkey takes a beating and keeps on bleating. Follow him on twitter.com/glenstarkey. Contact him at gstarkey@newtimesslo.com.