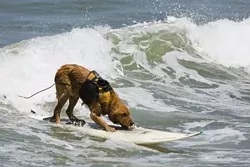 PHOTO COURTESY OF MIKE BAIRD
HANG PAW : Saint, the famous local surfing dog, is putting his aquatic talent toward a good cause with an upcoming Surf Dog Surf-a-Thon.
# Saint is well known from the Pacific to the Atlantic as the lovable surfing golden retriever. He recently appeared in the L.A. Times and USA Today, catching waves at Morro Bay, but the 3-year-old canine has more tricks than that. Saint is a therapy dog, visiting elderly people with dementia and making frequent trips to the San Luis Obispo women's shelter. Saint even volunteers at the Avila Marine Institute and he's a philanthropist, or would be if he had any money.
Saint (and owner Kathleen Yeung) are surfing to raise money for disenfranchised pets, as well as service and therapy dogs, as part of the Surf Dog Surf-a-Thon coming to Dog Beach in the City of Del Mar on Sept. 9. Yeung hopes to raise $2,500 for the Hellen Woodward Animal Center, which supports several animal rescue and support groups, such as Animeals, a group that brings meals to support pets who belong to disabled individuals.
Yeung said that Saint picked up surfing naturally. In fact, she didn't even teach him he just jumped on the board.
"He goes everywhere I go," Yeung explained. "He just followed me out into the water. He would jump up and I pushed him into a wave. Dogs can pick up new tricks, so he just picked it up."
Saint has been surfing for two and a half years now.
"He catches his own waves sometimes," Yeung said. "He even got barreled."
To help Kat and Saint raise funds, sponsors can pledge a dollar for every wave that they catch, or can just give a flat donation. Saint will surf for an hour, and Yeung estimates that he can catch 12 waves but they're still a long way from reaching their fundraising goal.
"I only have $150 right now," Yeung said. "I want to make $2,500 those dogs gotta eat in the pound. They need their shots!"
There's also an incentive for teams that raise the most money.
"Grand prize is a surf trip for two to El Salvador, for a week," Yeung said. "I wanna bring Saint down. He goes everywhere I do."
Donations can be made in Yeung's name at www.surfdog.kintera.org.
Kylie Mendonca compiled this week's Strokes and Plugs. Send your business news to rmiller@newtimesslo.com.