It's San Luis Obispo in the early 1960s and somewhere on the corner of Palm and Toro streets a film-obsessed kid opened up his very first movie theater—in his family's garage.
"I practically had to pay kids to come in and see what I was showing," laughs Larry Rodkey some 50 years later. He's sitting in his home away from home: the lobby of the Fair Oaks Theatre in Arroyo Grande, which has belonged to the Rodkey family since 1966.
PHOTO BY AMANDA ROMERO
2016: The Fox Theatre is currently boarded up and idle, awaiting its new purpose as a distillery.
You could say that Rodkey is part of the glue that adheres San Luis Obispo County locals to a deep-rooted American tradition—going to the theater to catch a flick. Of course, it isn't quite the event that it used to be, as most moviegoers aren't getting dressed to the nines to see Finding Dory, and there's usually not much of a line to get in.
But here's something you wouldn't expect: According to the Theatrical Market Statistics of 2015, movie theaters continue to draw more people than all theme parks and major U.S. sports combined.
Black tie affair or not, people are indeed still going to the movies. Netflix and takeout hasn't completely buried the classic dinner and a movie date just yet. It's true, weekend shows aren't selling out and it's unclear if millennials even know what "matinee" means, but that's not stopping local theater owners from doing everything they can to keep their doors open.
A family affair
Before Rodkey opened his first makeshift theater, his father, Raymond, had had a hand in the movie business since the days of silent films.
At one time or another the Rodkey family owned the Sunset Drive-In, the Oaks Drive-In, the Fair Oaks Theatre, the Pismo Theatre, and the Fox Theatre. Larry's father also ran the Fremont Theatre, the Obispo Theatre, and the Elmo Theatre when Fox West Coast Theaters still had a monopoly in the 1940s.
PHOTO BY JAYSON MELLOM
1966 TO 2016: Larry Rodkey worked with film at his first job at the Fremont and now does it all digitally at the Fair Oaks Theatre, which he owns.
It's safe to say that Rodkey grew up in most of SLO County's movie theaters. He has hung around these theaters since boyhood, learning from his father and visiting any other theater he could possibly walk into.
"I used to hang around the Fremont so much as a kid," Rodkey said. "People started to think that the manager was my father; we were very close."
Rodkey learned to drive in the parking lot of the Sunset, and he had his first job at age 16 at the Fremont and his second job at the Bay Theatre in Morro Bay.
Rodkey still runs the Sunset Drive-In, which his father opened in 1950 for Charles Pasquini. He still owns the Fair Oaks Theatre as well as a two-screen drive-in that he resurrected in 1996 called The Skyline Drive-In in Barstow.
Sitting with Rodkey in the Fair Oaks lobby, he often turns to the woman behind the counter to help fact check his own memory and she almost always has the answer he is looking for.
"Jeannie, what was the guy who came here for the Flip premiere?" Rodkey asks her.
"Pierce Brosnan!" Jeannie Ormonde replies cheerfully.
She is the smiling manager of the Fair Oaks Theatre. Ormonde has been there for 35 years; she was hired as a temporary employee at age 23 because she was studying child development in college.
"I thought, 'I'm going to lose her someday,'" Rodkey chuckles. "But she's still here. She even cleans the theater even though I keep telling her not to."
PHOTO COURTESY OF LARRY RODKEY
THEN: Rodkey in 1966.
With her bright eyes and kindhearted motherly demeanor, Ormonde is probably one of the reasons Fair Oaks remains a beloved piece of small town charm.
"I love the people that come in," Ormonde said. "I can come in to work and be feeling sad, and all it takes is for one person to say, 'Hi Jeannie, how are you?' and I'm happy."
Walking about the lobby is one of Ormonde's daughters, who also work there.
"All of my girls have worked here," Ormonde said. "My daughter, Sarah, had her last day yesterday. She worked here for six years."
Over the years, many theaters have come and gone in SLO County, but moviegoers needn't worry about Fair Oaks or Sunset Drive-In closing their doors anytime soon.
"As long as I'm alive, this theater [Fair Oaks] will never close," Rodkey said.
He hopes that his children will someday follow in his footsteps and take over the Sunset Drive-In and Fair Oaks.
The pit
For Bay Theatre owner Mary Lou Jannopoulos, the next generation is already running things. Her son, Brian; daughter-in-law, Denise; and granddaughter, Heather operate the small family cinema in Morro Bay. But Mary Lou still works on the weekends, and she doesn't plan on retiring any time soon.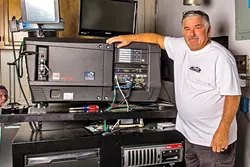 PHOTO COURTESY OF LARRY RODKEY
NOW: Rodkey in 2016.
The Fair Oaks Theatre was built in 1947 as the twin theater to the Bay Theatre but the two buildings have more than just floor plans in common. It's families that hold the movie business together today. Much like the Rodkeys, the Jannopoulos name has held a placard in SLO's cinematic history for quite some time. Mary Lou and her late husband, Jim, purchased the Bay Theatre in the mid 1970s, adding to the various theaters they already owned in the county at that time.
Before it was known as the family-run establishment that it is now, locals called the Bay Theatre "the pit" because of its unclean state.
"Deplorable" was the only word that came to mind when Mary Lou first set one horrified foot inside the building, which Jim had been operating for 28 years.
"You wouldn't want to go in here," Mary Lou said. "Your feet would stick to the floor.
"I thought, 'This is a dump,'" she said, recalling her reaction to the theater's state. "I had to do something."
She describes her late husband as a typical Greek who wanted his wife to remain at home, in the kitchen and with their five children.
"'You don't know how to run a business,' he told me," Mary Lou said. "He said, "You can't run a business like you run a household.' And I thought, 'Well, why not?'"
She first wanted to have fans installed in the theater but she knew it wouldn't be easy. Jim was headstrong and was not the sort of man who would be up to taking advice about his business from his wife. So she did what any good wife would do—she let him take the credit.
"When you have a husband that has fixed ideas, you have to make them think it was their idea," she said. "After I had him fooled I said, 'Oh Jim! Fans are a wonderful idea!'"
After her husband passed away, Mary Lou took over and made the theater into what it is today—comfortable and clean, much like her home. Since she has taken on the theater, she has taken on a new project every year so that she wouldn't run out of money.
"When I took over, nobody even cleaned the popcorn machines at night," Mary Lou said. "You should keep things clean like you keep your own kitchen."
Lights, camera, concerts
Of course, now it takes more than a sparkling popcorn machine to keep patrons passing under that old marquee. It takes the Ugg-boot wearing comfort of home to get that millennial off the couch, and modern cinemas have definitely taken the hint.
"I went up to the Festival Cinemas once when they were getting ready to put in stadium seating," Rodkey said. "I thought, 'I'd better do something to this theater [Fair Oaks], or we're going to be closing our doors.'"
PHOTO COURTESY OF LARRY RODKEY
1943: The Fremont's original projectionist Cholly Luis (left) stands next to manager Raymond Rodkey and original owner Lou Rosenberg (right).
Soon after Rodkey had the same crew install stadium seating in the Fair Oaks Theatre. It seems that quality over quantity was the right call. Fair Oaks used to seat 600, now it only seats 288.
"You don't need a lot of seats because you aren't filling them up like you did in the old days," Rodkey said. "There's lots of leg room now; you aren't touching the back of anyone's seat anymore."
Theater owners are also welcoming a future of new uses (and new revenue streams) for their properties with open arms. When it comes to nostalgia in SLO, the Fremont shines like a beacon, with its sky-high neon sign and ticket booth still present outside the theater. With its intact retro style, this theater is steadily turning into a modern concert venue.
Local property developers John King and Rob Rossi have owned the Fremont since the mid 1980s. Since then, the theater has seen ups and downs with many changes, leaving locals feeling like the Fremont would eventually close. In the last year and a half, King's son J.G. has taken charge of the Fremont's destiny.
"I've helped look for alternative programing for the theater to bring it back to relevance," J.G. said. "We've been having concerts on and off starting about 20 years ago."
It was the band Yes that opened the floodgates for the Fremont's true venue potential. In 1996, the rock band chose the theater to run a three-night concert series.
"People came in from Europe and everywhere to see these shows; they were these die-hard fans," J.G. said. "That kicked it off where we intermittently started doing live performances there."
If you've walked by the Fremont in the past year, you might have noticed the movie posters slowly disappearing, with concert posters in their place. From Tech 9 to the symphony, J.G. has been working with local music companies such as Good Medicine Presents to draw an eclectic mix of genres to the Fremont stage.
PHOTO COURTESY OF LARRY RODKEY
1947: An aerial shot of the site of the Sunset Drive-In. SLO's drive-in opened in 1950.
The Fremont put the kibosh on the old custom of showing movies twice a day since attendance plummeted to an all-time low. Although the theater will maintain its original interior and iconic architecture, the venue now welcomes much more than movies and concerts.
"It is now a multi-purpose facility," King said. "We will have speakers, comedians, and plays, as well as concerts."
The Fremont isn't the only Central Coast theater taking the road less traveled. The Lompoc Theatre Project is a nonprofit currently working to restore the historic Lompoc Theatre. The corporation's end goal is to repair, restore, and reopen the theater within the next 18 months.
"We will have concerts, live theater, movie nights, even salsa nights to cater to Lompoc's huge Latino influence," Laurie Jervis, media chair of The Lompoc Theatre Project, said. "The theater will even be rented out to host high school graduations and whatever the community wants."
In a similar vein, the historic Fox Theatre in Paso Robles, previously known as the HiHo, is being transformed after sitting empty for years—and it's becoming something even less conventional than a live-performance venue. Owners of Paso Robles Re:Find Distillery and Villicana Winery, Alex and Monica Villicana, are building new life into the barren and insular building that is the Fox Theatre by transforming it into a distillery for handcrafted spirits.
Re:Find might be converting the historic theater into a local hangout of a different flavor, but they intend to have movie nights once they are open and to keep every bit of its iconic look that they can.
"The Fox is a piece of the Paso Robles community, and so many people have fond memories of their time spent there or have high hopes for what it can be," Monica Villicana said.
The golden years
Longtime local moviegoer Jean Martin remembers a time before concerts and distilleries took over old theater houses. Her memories are made up of elegance and excitement—of a time when going to the movies was an event.
"I really remember going to the Fremont Theatre in the 1940s when World War II was going on," Martin said. "My mother, daddy, and I would go see family films there."

Martin has spent her entire life on the 500 block of Higuera Street. She proudly refers to herself as 82 years young and has no shortage of old timey stories to share about SLO—and its cinematic history.
Although the Fremont looks relatively the same, Martin's memories reflect a time when the light danced off the chandeliers that used to hang in the lobby as patrons waited to be ushered to their seats. Oh, did I mention there used to be ushers that held the specific duty of taking you to your seat?
"Those who were the ushers of the theaters were high school boys and girls. They were thin and trim and they wore silk blouses and pants. They were beautiful, and they would very carefully take you to your seat," Martin said. "It was all very glamorous. Everyone was dressed to a T."
Martin describes going to the movies in the 1940s as a very special event.
"We would all come home in the evening, bathe, and put on our best clothes to go out together," Martin said. "This was a time where the men were handsome and the women were beautiful."
New Times Editorial Intern Kat Schuster is currently on her way to the Bay Theatre in her pajamas. Send comments to Editor Camillia Lanham at clanham@newtimesslo.com.