After both their opponents received large infusions of cash to their campaign war chests, incumbent San Luis Obispo County Sheriff Ian Parkinson and District Attorney Dan Dow reported some of their first large donations from local supporters as they prepare to fight for their seats in the June 5 election.
File Photo By Steve E. Miller
IAN PARKINSON Incumbent SLO County Sheriff Ian Parkinson reported four large donations totaling $3,300, according to campaign finance reports.
Campaign finance records showed that multiple individuals made donations of more than $1,000 to both campaigns in the first weeks of March, with Parkinson taking in $4,300, and Dow receiving $4,100. The donations were reported as part of a Fair Political Practices Commission rule that requires local candidates to report donations of $1,000 or more in aggregate received within 90 days of an election.
Parkinson's donors included SLO-area realtor Laurie Mangano, Arroyo Grande resident Darlene Bik, and SLO resident Susie Drake. Dow's donors included Dorothy El-Helou of Pismo Beach; ServePro of San Luis Obispo, an emergency cleaning and restoration business; and Greg Sullivan, owner of ABC bails bonds in SLO.
Both incumbents are battling challengers who recently received large donations from the family of Andrew Holland, a mentally ill inmate who died in SLO County Jail in January 2017. Holland's family has been vocal in its criticism of Parkinson's and Dow's responses to his death. In early February, local private investigator Greg Clayton received $25,000 from the Hollands for his campaign to unseat Parkinson, and the family also donated $25,000 to Mike Cummins, a retired judge who is running against Dow.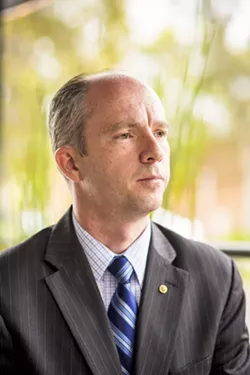 File Photo By Henry Bruington
DAN DOW Incumbent SLO County District Attorney Dan Dow reported four large donations totaling $4,100, according to campaign finance reports.
The campaign reports filed this month showed that Clayton received an additional $5,000 donation from Franziska M. Shepard, a Santa Maria-based philanthropist. A recently formed political action committee associated with the Hollands, the Holland Family Alliance for Humane Mental Health & Correctional Reform, also made a $3,500 donation to SLO County 2nd District Supervisor Bruce Gibson on March 8. Gibson is facing two challengers in the June 5 primary race.
Both Parkinson and Dow have shown the ability to raise large amounts of money in past elections. Dow received more than $33,000 in campaign contributions in 2017, according to campaign finance records. Campaign records showed that Parkinson, who was first elected in 2010, filed reports stating he did not raise or spend more than $2,000 in 2017. He filed similar reports for the prior three years, which included his unopposed bid for re-election in 2014. However, media reports from his first election indicated that Parkinson raised more than $127,000 in 2010.
Local candidates are required to submit campaign finance reports at the end of April for all donations received in the first four months of 2018.