When I was six years old, I wanted nothing more than to be Captain Kirk. He was handsome, was a badass fighter, could make gun powder out of elements he found on a distant planet while fending off a scary reptile warrior, and he got all the ladies—even the green ones. Awesome! I was a wee little pumpkin when Star Trek had its initial TV run from 1966 to 1969, but holy guacamole did I love that show. I still watch those early episodes when I run across them.
PHOTO COURTESY OF DALE EVERS
HE'S REAL!: William Shatner (left), who will present his one-man Broadway show Shatner's World: We Just Live In It on Jan. 19 at Cal Poly's Performing Arts Center, used to pal around with Central Coast sculptor Dale Evers (right).
Yes, William Shatner was one of my childhood idols, and he's also a guy who seems to have an uncanny knack for reinvention. He's definitely a survivor! That's why I'm looking forward to Shatner's World: We Just Live In It, his intimate one-man Broadway show that offers the audience a brief 100-minute look into all things Shatner on Saturday, Jan. 19, at the PAC.
I heard he fell on hard times after Star Trek, for a while living in his car, but he did a lot of TV show guest appearances in the '60s and '70s. The guy's a worker! His next big series, T.J. Hooker, ran from 1982 to '86, and I have to admit, when I did watch it, it was more for Heather Locklear than Shatner. He also wrote a book series, TekWar, which was made into some TV movies. I think his best role recently was as the lawyer Denny Crane on Boston Legal in 2004 to '08. Great show!
As an adult, and on the recommendation of former Insomniac Video owner Bob Whiteford, I watched Shatner's 1966 black-and-white horror film Incubus, one of only two films I know of that used Esperanto, a made-up language created in 1887 to be politically neutral. How awesome is that?
I'm also a fan of his spoken word and music career, especially his 2004 studio album Has Been. Self-deprecation has never been so fun!
I find Shatner fascinating! But who's the real Bill Shatner? I only know one person who knows William Shatner personally: Central Coast sculptor Dale Evers. I gave him a call at his Paso studio and asked him to tell me his Shatner stories.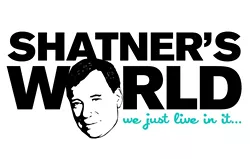 BEAM ME UP!: William Shatner presents his one-man Broadway show, Shatner's World: We Just Live In It, on Saturday, Jan. 19, at Cal Poly's Performing Arts Center, at 8 p.m. Tickets range from $50 to $90 and may be purchased in advance at the PAC Ticket Office, by calling 756-4TIX (4849), or visiting calpolyarts.org.
"He's eccentric," Evers says, "a super brilliant guy. I've got a couple Shatner stories. I went S.C.U.B.A. diving with him about 10 years ago, and he apparently had a call on some stocks. His broker was supposed to have sold these stocks when they hit a certain price, and he didn't. So we're going out to the Channel Islands, out to San Clemente. It's October or November and we get out there, and he's on his cell phone just reaming out this broker … . He's highly emotional and he's in the middle of reaming this guy out and his phone dies, so he gets my phone and calls the guy back and reams him out on my phone. I'm sitting there, kind of uncomfortable, you know? I mean, wow, this is ugly, pretty intense, man. So finally he says something to the effect of, 'You'll hear from my attorneys … This shit won't stand.' Then he shuts off the phone, looks at me and happily says, 'Hey, let's go diving!' He just turned it off like it was nothing. That was a weird day. On the way back, the fog rolled in and I lost one of the engines on the Zodiac, and he was like, 'You're lost, aren't you? You don't know where you're going.' It was probably one of the most interesting days of my life. He collected a ton of my work; he loves art."
Shatner's had his share of heartache. He's been married four times. His third wife drowned in their pool in 1999.
"Two days after his wife died, he showed up at my studio in Morro Bay," Evers recalls. "He wrote the forward for my book, but we weren't that close, so it was strange to find him, two days after his wife drowns, in my studio sitting there in a semi-catatonic state. After he left, I was tripping about that for a while. What was that about? But he bought a lot of my work, and he's actually a brilliant guy. We never talked about Star Trek. In the 10 years I spent time with him and he was in my life, I never mentioned Star Trek. If you wanted to get on Bill's good side, you mentioned TekWar. He loved those books and loved writing. Call him Capt. Kirk, he'd say, 'Get a life,' but mention TekWar or an article he'd written and he'd really open up."
According to Evers, Shatner—to his credit—didn't get overly wrapped up in his fame.
"I saw a documentary on him, how low he went after Star Trek. He went broke! I think the reason he liked me is he saw me as a figure who was always trying to come back and reinvent myself. When he saw a struggling artist, he saw himself. My overall opinion is he's a good man; he's real. He knows he's famous, but in the end that doesn't mean shit to him."
Yeah! Shatner rules!

Glen Starkey takes a beating and keeps on bleating. Keep up with him via twitter at twitter.com/glenstarkey, friend him at facebook.com/glenstarkey or myspace.com/glenstarkey, or contact him at gstarkey@newtimesslo.com.