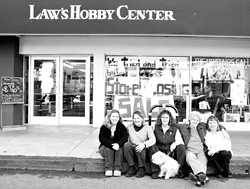 PHOTO BY STEVE E. MILLER
OUT LAW'S : Longtime employees and owners of Law's Hobby Center, who collectively have worked at the craft store for more than 75 years, sat outside the closing business on Jan. 30. Pictured, from left to right, is Charlene Maddox, owner Bobbie Vasquez, DiAnn Williams, owner Christine Ahern, and owner Sharon Gove.
# Barely eight months ago, the new employee-owners of Law's Hobby Center, the iconic Marsh Street craft store, cut the footprint of the shop in half, sacrificing space for model trains and vintage crafts to slash costs. But those moves proved not enough to stave off the twin threats of big box competition and a faltering economy.
Now Law's is advertising a going-out-of-business sale, making it the latest and most prominent in a string of downtown city businesses to close in recent months.
Law's has been locally owned for more than 45 years, establishing itself as the go-to place for obscure art tools, craft supplies, and knowledgeable staff. After Beth Law retired, three long-time employees--whose tenures at Law's range from about 10 to 30 years--bought the store, which was already in financial straits. Christine Ahern was one of them. She said that the group tried to streamline the business, but after Christmastime sales proved underwhelming, they decided to call it quits.
"Our demise started with the influx of chain stores," Ahern said. "Michaels, Aaron Brothers, Staples they each took a piece, and the economy has been a factor, too."
"We had," Ahern said, "not a great Christmas. Then January got off to a terrible start, and we didn't have any cushion from Christmas."
Shocking as the collapse of Law's may seem, it's not the only downtown business to call it quits recently--particularly on Marsh Street.
Several business owners, including Lonnie Zavala, owner of Lil' Groms, which closed its Marsh Street shop in December, cited inflated rents. In an earlier interview, Zavala referred to his $4,000 rent.
"Only big, corporate stores are going to be able to afford that," Zavala said. "Where does that leave the little guy?"
Ahern said that her landlords, the Masons, have been great, and that rent wasn't the biggest hurdle--but the emergence of box stores, a lack of parking, traffic delays from downtown retrofitting, and the loss of key contracts have all been factors.
"One of the most annoying things that we would hear," Ahern said, "was people coming in asking for something, and then they would say 'You were our last hope we knew you would have it.' Well, if they knew we would have it, why did they go everywhere else first?
"We wouldn't take back the experience," Ahern said, citing strong bonds with the community. But ultimately, the community didn't show the same support.
"That's what's become of the independents," she said. "They're a last resort."