On any regular day at Cal Poly, the bleachers of the University Union plaza are packed with people wearing padded, noise-canceling headphones—and the evening of Saturday, May 10 will be no different. Except these people will be paying to see a theatrical performance.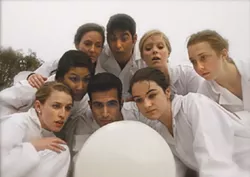 PHOTO BY TIM DUGAN
AN EVENING OF WONDER : Josh Machamer uses well-timed choreography, minimal costumes, and no dialogue to bring imaginative storytelling to Cal Poly. Pictured (top row) are Natalie Keller, Arash Shahabi, and Ellen Jones. Bottom row: Shelby Lewis, Amy Shank, Eric Cutruzzula, Katharine Epstein, and Kelly Jackson.
Cal Poly Theater Professor Josh Machamer's interpretation of Peter Handke's "silent play," The Hour We Knew Nothing of Each Other is an unusual and entertaining evening of people-watching and wonder as playgoers explore the stories that exist in the everyday events we take for granted.
Spectators are given a set of headphones and allowed to sit in any spot of choice in the plaza. Even after the performance has started, guests can move freely and find better seating. In fact, this is encouraged.
The performance starts with a janitor sweeping the center of the plaza. As soon as the music starts, the performers glide, roller-skate and trot past each other without saying a word, or noticing one another, very reminiscent of an active town square.
With characters moving around "Poly Square," it's hard to focus on just one person. The performers each wear all-white jumpsuits and are only defined by the props they're sporting. The old man with a cane, the fire fighter running with a hose, and joggers working out in sweatbands draw the crowd into the scene by forcing them to focus on the actors' movements rather than their costumes.
"We're trying to make sure the costume gives us a clue into who the people are, but it doesn't necessarily override the actor's necessity to physicalize who they are," Machamer said. "The costume is there to enhance the physical choices they are already making to help us understand who they are."
Characters hurry around, slowing and speeding up their pace as whimsical music plays through the headphones (actors wear them, too). Then one creeping figure stands out from the rest. She seems to be the only one who notices the others, and she's attempting to gain their attention, but to no avail.
From here, everyone retreats "offstage" to the tents at each plaza entrance, while the audience is left in silence to contemplate the scene. Suddenly, the music starts again, and with it begin more small stories and interactions among performers.
In one scene, a group of posh girls, led by Natalie Keller, strolls across the plaza with noses turned high. Onlookers watch as they cross, yet the girls pay no attention as they disappear up the plaza steps.
Watching a performance devoid of spoken words allows viewers to place themselves into the play, drawing upon their own experiences to construct the narrative.

WATCH LIFE UNFOLD: The Hour We Knew Nothing of Each Other, directed by Josh Machamer, comes to Cal Poly's University Union Plaza at 8 p.m. May 10 to 12 and May 17 to 19. For tickets or more information, visit pacslo.org or call 756-ARTS
A personal favorite of mine: A woman stands in the middle of the courtyard, watching as people rush around her reading newspapers and not paying attention to anyone. When she realizes what's going on, the music slows, and the readers drop their pace. It's much like hanging out with a group of friends and realizing they're all playing on their smart phones—not paying attention to anyone physically there.
The audience's attention is held throughout the entire play as a connection grows between two strangers, or a blind man gets lost as he pushes his way across the plaza. More stories unfold in front of the crowd, while also showing the missed connections in the hustle-and-bustle of everyday life.
These seemingly random effects were in fact expertly choreographed by Machamer. As the music turns from fanciful to rough to quirky, the performers skillfully move around each other, encountering many near misses without missing a note. Direction changes and gestures fit the music seamlessly, tying the performance and music together. As each character exits the "stage," they enter a tent, change props, and have to exit, crossing the UU to their next destination.
As actors sprang across the courtyard during a recent rehearsal, Cal Poly students casually strolled through the plaza, intersecting the performers' line of direction and continuing on with their lives. Some of the passersby noticed a rehearsal was happening; others didn't even realize other people were around. Machamer hopes such random interruptions will occur during the actual performance, he says.
"Across a public square, there is a beginning, middle, and end—a life that existed before you enter, and a life after you leave," he said. "Often times we don't necessarily see how [the life of the public square] interacts with a story, and how those interact with the story we are carrying in ourselves."
Directing such unusual theatrical performances as The Hour is nothing new for Machamer, whose last hit Smash made playgoers get out of their seats and onto the stage.
"I'm interested in always trying to redefine, or rediscover, that audience-and-performer dynamic," he said. "There is a place for people sitting in a seat and watching a play, and some stories should still be told that way, but I think it is our opportunity to constantly redefine what it means to have a theatrical experience."
Machamer's presentation of The Hour is a wonderful evening of personal discovery. You enter not knowing what you'll see, and leave with a different interpretation of life, social interaction, and theater.
"Theater is not just dressing up in a tuxedo or fancy gown, going to the theater and seeing a realistic show," Machamer said. "That has its merits, but theater also occurs in places you wouldn't expect."

Intern David Yriarte can be reached via Arts Editor Anna Weltner at aweltner@newtimesslo.com.