It's about 12:15 p.m. when my wife and I, festooned in green, descend upon McCarthy's Irish Pub on Sunday, March 17. The line is maybe 20 people long, and when I ask doorman Jerry "Surlycakes" Bender how the crowd's been, he informs me that the venerated SLO Town watering hole has been at its 160-person capacity since they opened at 6 a.m. Ay carumba, that's a lot of drunk kids funneling through!
PHOTOS BY GLEN STARKEY
ADORABLE : Aileen Manley and Maeva Considine get into the spirit with headgear and boas!
We make our way in for Jameson shots and beers, and of course my friend Chad Holcomb is there.
"Do you know why people wear green on St. Patrick's Day?" he asks me. "So they can't be seen in the bushes they'll pass out into later."
At least that's what I remember him saying. When I wake up the next day, I won't be able to find my note pad … or my swimsuit. Long story.
Anna and I find an open corner on the patio, where we watch the guys from Mama's Meatball making pizzas in their wood-fired outdoor oven. They're also selling corned beef and cabbage, and a young dude who orders a bowl of it gets Anna to try a taste while I'm fetching another round of drinks.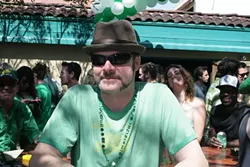 PHOTOS BY GLEN STARKEY
FIXTURE : Chad Holcomb, a McCarthy's regular, weathers the crowd of amateurs on St. Paddy's Day.
"Super tender," Anna says upon my return.
The pizzas look pretty good, too. It's important to keep nourished on a day like today. Then somebody throws a burrito into the parking lot and it lands with a splat. Yep, St. Paddy's Day is still amateur hour.
I see my buddy Keith Bond sporting his new Elks Lodge hat, and he suggests going for a soak in the lodge Jacuzzi in awhile, which sounds pretty good, but first I have to chat up some of these revelers.
I meet a gal named Caren who works at Envision, my optometrist.
"Are those Ray Bans?" she asks, eyeing my sunglasses.
"No, Frame Spain. They're vintage. I bought them a few years ago at Viva Las Vegas, but they have this gunk I can't get off them."
WORLD'S OLDEST BOUNCER : Jerry "Surlycakes" Bender keeps the crowd in line at McCarthy's Irish Pub.
"You can try denatured alcohol, or get a razorblade and gently scrape it off," she says, scraping with her fingernail.
"Gross. You have my head sweat gunk on you now."
Then I pull out my regular eyeglasses, which are pretty mangled, and she tells me to bring them in and she'll fix them for free. Then she tells me about Luxottica, the Italian company that has a monopoly on the market, which is why if I was wearing Ray Bans, they would have cost me about $155! Yikes.
I see Ash Management honcho Bill Hales, who runs McCarthy's and a bunch of other bars, and he's taking shots with friends. "It's HaleSSSSS," he reminds me, because I always spell his name wrong. Sorry, Bill Hales! Thanks for running my favorite bar!
Hey, there's New Times Calendar Editor Maeva Considine hanging with her gal pal Aileen Manley. They're super adorable and totally in the spirit of the day. Aileen's headwear is a little rainbow, suggesting her noggin is a pot of gold. Maeva sports bug antennae that say "Kiss" and "Me."
Suddenly I see my pal Stan, who turns 64 today! Happy birthday, Stan! You rule!
REPRESENTING : Keith Bond, kitchen manager at the SLO Elks Lodge, sports his new cap.
Then a guy in matching shimmering pale green pants and shirt starts dancing in the parking lot. Oh yeah, the crowd goes wild.
"Look, it's drunk and drunker," says my pal Keith, pointing to two motorcyclists stopped at the light in front of Foster Freeze.
"How can you tell they're drunk?" I ask just as they turn right—the wrong direction—and onto the sidewalk on Marsh Street! "Umm, never mind."
If those guys make it home instead of jail, I'll be impressed. There's a serious police presence downtown! Good luck, drunkies!
It's about 1:30 now, and the line is holding steady at about 25 people, but like a living organism, McCarthy's breathes them in and out, and nobody seems to have to wait more than 15 minutes to get in. I watch as people in green head off to another pub, another bar, or maybe home.
Yep, seems like a pretty good time to get the hell out of downtown and take that soak.

Glen Starkey takes a beating and keeps on bleating. Keep up with him via twitter at twitter.com/glenstarkey, friend him at facebook.com/glenstarkey or myspace.com/glenstarkey, or contact him at gstarkey@newtimesslo.com.