I have always admired the zealots I've met throughout my life. They're the type of people who don't conform to the standard ideas of what's considered the norm, and their enthusiasm is inspiring. Their different values motivate them to live a life they find personally rewarding no matter how difficult the road may be that lies ahead of them. That's a fitting description of most of the Central Coast's maverick winemakers I've interviewed over the past 16 years—particularly those artisans who appeared to have their course in life pre-determined, yet they jumped ship to immerse themselves in a much more fulfilling and exciting lifestyle. That's why we wine lovers, especially those of you who fantasize about making your own wine someday, must attend the upcoming Garagiste Festival in Paso Robles.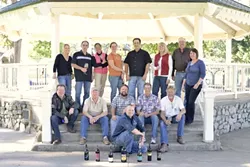 PHOTOS BY STEVE E. MILLER
SMALL QUANTITIES, BIG TASTE : Some of the Garagiste Festival winemakers are (clockwise from bottom left) Stewart McLennan, co-founder of the Garagiste Festival; Janell Dusi, J Dusi Wines; Victor Abascal, Vines on the MaryCrest; Florence Wong, Pipestone; Amy Butler, Ranchero Cellars; JP French, STANGER Vineyards; Joyce and Wally Murray, Bon Niche; Maggie Tillman, Alta Colina; Phillip Hart, Ambyth Estate; John Anderson, St. Hilaire Vineyard & Winery; Mike Sinor, Sinor La Valee; Bob Behlendorf, Vin Alegre; and Ryan Render, Rendarrio Vineyards.
The term "garagiste," pronounced gare-ahg-east, was created by professional winemakers in Bordeaux, France, who used the term derisively to describe the small, unconventional winemakers making wine in their garage or root cellar. Of course a title as clever as this easily carried round the world to California's maverick winemakers who are fervent about producing miniscule amounts of high-quality wines. Although they start out small, they have big dreams. Most of these artisan winemakers readily admit they hope to buy prime land in an outstanding wine growing region like Paso Robles, plant a vineyard, and open their own tasting room—someday. But not one of the garagistes attending this year's festival told me he or she wanted to become a major producer. These artists are committed to making fine quality wines.
On the website, garagistefestival.com, I learned that there are 200 garagistes on the Central Coast and, amazingly, 3,000 of them across the United States. The Garagiste Festival was created by two men who are passionate garagistes themselves. Stewart McLennan and Douglas Minnick created this nonprofit event to support the many small producers of Paso Robles that make less than 1,200 cases of wines annually. This year I received an e-mail from McLennan inviting me to meet the region's "hidden" garagiste producers, and I am excited about meeting so many in one convenient place and tasting their wines at the festival. He wrote: "We are a small group of dedicated volunteers and sponsors. We are extremely proud of what we accomplished last November in supporting the area's smaller winemakers, not the least of which was to recently be able to donate $10,000 to the Wine and Viticulture Program at Cal Poly. Our nonprofit organization looks to be able to donate proceeds to institutions such as Cal Poly in educating the next generation of wine professionals and aid in helping grow the region's smaller labels."

THINK SMALL: This year, the Garagiste Festival—the second annual—takes place over two days: Saturday and Sunday, Nov. 10 and 11. For the grand tasting on Saturday at Windfall Farms in Paso Robles, tickets cost $60 each or $110 each for the VIP all-access pass, which includes two seminars, box lunch, grand tasting, and the after party. A new symposium added on Sunday, titled, "your first vintage," is for aspiring winemakers. It explains all of the requirements for making your first wine: "A literal nuts and bolts, tips and techniques seminar describing all of the elements required to make wine in small volume." For festival details, the names of the 48 artisan wineries attending, and ticket purchases, go to garagistefestival.com.
Every one of these women and men put their heart and soul into their craft to make the finest quality wines, and you'll know it when you taste their handcrafted wines. For instance, there's Amy Butler of Ranchero Cellars; the only way consumers can taste her limited Viognier, Grenache Blanc, and Carignane is during festivals like this. This U.C. Davis alumna started working in Napa Valley, then relocated to Paso.
"I came here in 2002 for lots of reasons; it was about quality of life. I had to rise up among my peers, doing temporary jobs during harvest but it was well worth it," she remembered.
Hired by Edward Sellers Vineyards in 2004, she started making their wines at leased space in Denner Winery where she still makes her brand, founded in 2008.
"Many people are discovering these wines for the first time, and that really benefits small producers," Butler noted. "During the festival there's a lot of word of mouth as these consumers recommend wines to each other."
Garagiste Nicolas Elliot, owner of Nicora, made only 300 cases of wine in 2009, so he has to keep his day job to support his brand. But it helps that he works for his mentor, Paso winemaker Scott Hawley at Torrin Vineyard.
"This festival is good for us as it brings light to what we're doing, all of it literally done by hand, and it highlights that for the public," Elliot explained. "I would've been a fourth generation contractor, but I always wanted to be on my own and do my own thing. When I decided I wanted to make wine, I wanted to do it in my own way. I will keep the quality where it's at, even if I grow the brand. But I will never automate the winemaking."
Dedicated to red Rhone varieties, he saw his wines sell out last year just two months after the festival.
Minnick noted that the Garagiste Festival benefits the artisan winemakers in many ways: through their website, advertisements, marketing, and international promotions.
"The festival really shines a light on the Central Coast where 60 percent of the winemakers don't have tasting rooms," he said. "We're always scouting out new brands and bringing them into the public eye. It's a labor of love. Our mission is to help these small winemakers connect with consumers."

Contact Cuisine columnist Kathy Marcks Hardesty at khardesty@newtimesslo.com.