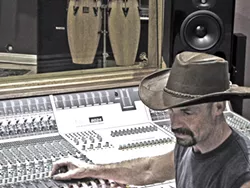 PHOTO COURTESY OF POLAR PRODUCTIONS
BEHIND THE BOARD: Author Mark Huntley Parsons primarily wrote drum- and recording-based nonfiction before penning his debut YA novel.
View a video trailer for 'Road Rash.'
There's an old adage in the world of wordsmithing: Write what you know.
Mark Huntley Parsons knows drumming. Here's a partial list of bands in which he's handled the beat:
Patch of Green. Tamerlane. Hero's Welcome. Plains. Kiq. The Fear Brothers. Lures Kite. Bottoms Up. Tequila Mockingbirds. The Thanks. J.T. Pumper. Waterfront. Chill. Bones of Contention. The Fragments. The Strike. Burning Bridges. The Statuettes. Critical Mass.
Currently, he plays with his wife and college-age sons in Risky Whippet.
This list doesn't include temp drumming or times he's subbed in for an absent member. Nor does it include long-term gigs, like playing for PCPA in Santa Barbara County or in the house band at the Motel Inn.
Yes, this man is serious about drums. He's done a passel of related articles, interviews, and product reviews, and he compiled many of his how-to pieces for Modern Drummer magazine into The Drummer's Studio Survival Guide—a resource for percussionists looking to record.
Then came Road Rash.
"It's not a book I was planning on writing," Parsons admitted.
The concept for this young adult novel first started pounding in his brain about four or five years ago, but it began as an idea for "just another boring nonfiction book." That's not to say that his previous nonfiction writing was yawn-inducing. But at this particular point in Parsons' writing life, he wasn't enjoying the process. So he allowed himself a thought experiment: If he could be doing anything, what would it be?
His subconscious responded, he said, with a clear message: "We would be writing that book about that drummer, dude!"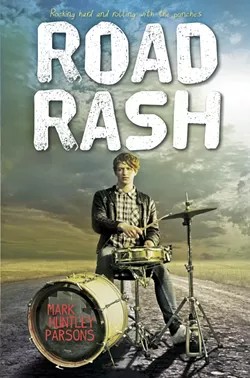 IMAGE COURTESY OF KNOPF BOOKS
STICKS AND STONES: Road Rash hit shelves on Feb. 11.
Parsons drops the "d" word a lot, and he does it un-ironically. He sounds less like a stereotypical California surfer and more like a guy who's really, genuinely stoked on the turns his life has taken. And the most recent turn is one toward fiction.
"I really enjoyed the process," he said, "more than I enjoyed my other kind of writing ever, ever, ever. I just enjoy writing."
He does have a previous fiction attempt socked away, but he laments that he tried to write it like he writes his non-fiction pieces, with all the surprises structured out of it.
"Thank God I didn't sell it," he said.
Crafting Road Rash was a different experience; he didn't know how it would end until he was about three-quarters of the way through.
"I think the process of discovery makes it a lot more fun," he said.
And that spirit of fun is obviously working for him. He's got another book completed and is working on a third. But Road Rash will be his focus for the immediate future. With a publish date of Feb. 11, the book is fresh in the hands of the reading public.
People who grab copies of the novel will meet Zach, a high school drummer cut from one band and heading out on tour as a newbie in another. The musician quickly learns that life on the road is a challenge, whether he's staring out into an unruly crowd, trying to make sure the band gets paid what it was promised, navigating a potentially blossoming but certainly complicated relationship with a girl back home, pushing for original music to land on the set list, or simply trying to keep the beat.
Parsons scatters jokes throughout the book (Q: What do you call a drummer who breaks up with his girlfriend? A: Homeless.), which indicate Zach has a self-deprecating sense of humor and underscore the image a lot of people may have of the guy behind the kit.
KICK IT WITH THE AUTHOR: Mark Huntley Parsons will sign copies of his book at the Barnes and Noble in downtown San Luis Obispo on Saturday, Feb. 15, starting at 2 p.m. For more information, call the shop at 781-8334.
"Drummers are kind of maligned to the general public. I mean, look at Spinal Tap," Parsons said, referencing the mockumentary that depicts the band members in question as the sorts of people who spontaneously combust or choke to death on vomit. Other people's vomit.
He briefly considered writing his main character as a guitar player, but quickly realized he wanted to draw on his own experience to create a realistic, nuanced portrayal of the musical underdog.
"Drumming's awesome! Drumming is wonderful," he said, though he added, "I'm not on a mission or anything, like the Blues Brothers."
That throwback reference is also indicative of Parsons' approach to his book. Each chapter takes its title from a rock song—modern to classic—which allows for him to reference bands and set musical moods without clunkily shoehorning mentions into dialog.
"I would rather underexplain than overexplain. I don't want, 'Well, Fred, as you know, I really like "Dazed and Confused" by Led Zeppelin,'" he said in a hokey voice.
Of course, the band members have to talk about music, and their conversations reflect the breadth and depth of true music fans. Parsons said that his sons are into Zeppelin, while he—a self-proclaimed "old dude"—has played covers of the Decemberists. It doesn't matter if it's '60s British rock, angsty indie, or new Americana—if it's good, it's worth discussing and performing.
Parsons will be leaving in April for a two-month nationwide road trip book tour with his wife, author Wendelin Van Draanen, who's set to release her next book later this year. They're calling the journey the "He Said, She Said" author roadshow, and they added a realistic tagline: "Expect fights."
But for now, he's celebrating the release of his debut novel with a Feb. 15 signing at Barnes and Noble in San Luis Obispo and is enjoying early positive feedback from critics.
"They're not [saying] it's War and Peace, but it's good," he said of the reviews, and shrugged.
Typical drummer.
Executive Editor Ryan Miller has heard a lot of musician jokes, but none about tenors—who are just too awesome. Send 'em if you've got 'em to rmiller@newtimesslo.com.
BEAT GENERATION: Mark Parsons spearheaded the trailer for his debut YA novel Road Rash, uploaded in early 2013.
VIA YOUTUBE.COM