Are you ready, San Luis Obispo? Are you ready for Public Defendaz to drop their long awaited album on you? Because ready or not, it's finally here. Titled Drawn2Gether, the 10-track hip-hop album features the group's smooth rhyming tag-team rapping—with the various members jumping in and out of the tracks and sharing the spotlight. These guys are a true ensemble, and they're stronger together than individually.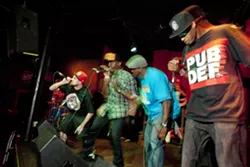 PHOTO BY STEVE E. MILLER
PUBDEF IN THE HOUSE : Two-time NTMA hip-hop champs Public Defendaz play a release party for their new album Drawn2Gether, on May 12 at The Z Club.
On Saturday, May 12, the Z Club will host PubDef's album release party, with doors opening at 9 p.m. (21-and-older; $10 at the door), with Cam (of Sacramento), Westacy (of San Jose), and D+A & Lox Chatterbox opening the show.
After an opening intro to set the tone, the album kicks into gear with "Tell the Truth," which sounds like a somewhat more subdued lost track from Arrested Development's debut album. The melodic and hooky song features richly layered voices laying waste to the haters out there.
"We the People" sings about the group's close knit community and how they've come up through the ranks through hard work and camaraderie. Imagine trying to launch a hip-hop career in homogenous SLO! Yet these guys have developed a solid following and managed to take home top honors in the hip-hop category of the New Times Music Awards the past two years in a row.
My favorite track is "The First 48," an awesome sinister gangsta rap delving into police procedural: "Got the call around dusk, one-one-eleven, reported homicide in the lab that needs attention."
The collective's new album was aided by Berkeley-native Ambiguous Sounds, a producer also know as Ge, who was immediately attracted to PubDef's onstage presence and lyrical content. They called their album Drawn2Gether because all these various collaborators were brought together by hip-hop. Their new video for "Conquer Your Dreams" is closing in on 3,000 Youtube hits after only being up a couple weeks.
Members of PubDef include Tactikal, Oktapu$, Royal, Iyayi, J4rd, and DJ OneBreeze. You can get their album at publicdefendaz.bandcamp.com or buy a physical copy on May 11 at The Z.
Feel the 'Passion'
Cuesta Master Chorale performs J. S. Bach's "St. Matthew Passion" on Saturday, May 12, at 7 p.m. in Harman Hall of the Performing Arts Center. The Master Chorale will be performing 50 voices strong in what has been called one of Bach's greatest achievements, which is saying something considering his incredible influence on the classical music world. "For sheer drama, beautiful melodies, varied orchestration, [and] incredible harmonic progressions, there is no piece like it!" according to the group's press release. The concert will include the Master Chorale Orchestra and a cast of talented soloists—all led by Thomas Davies.
PHOTO COURTESY OF CHRISTOPHER COCK
THE EVANGELIST : Christopher Cock will sing the role of The Evangelist in Bach's "St. Matthew Passion," presented by the Cuesta College Master Chorale on May 12 in Harman Hall of the Performing Arts Center.
Christopher Cock, director of choral and vocal activities at Valparaiso University, returns to the Central Coast to sing the role of the Evangelist, who sings all of Matthew's Gospel that are not direct quotes. This past February, he was soloist with the SLO Symphony in its performance of Benjamin Britten's "Serenade."
Steve Pence of Los Angeles is singing the role of Jesus. A frequent soloist with the Los Angeles Master Chorale, he appeared with them in "St. Matthew Passion," Handel's "Messiah," and Haydn's "Lord Nelson Mass." He's also performed several opera roles, including Figaro in Mozart's Le Nozze di Figaro with Pacific Repertory Opera.
Fellow L.A. resident Elissa Johnston will sing the beautiful soprano arias. Her orchestral engagements include appearances with the Atlanta Symphony, St. Paul Chamber Orchestra, Los Angeles Philharmonic, Colorado Symphony, Fort Worth Symphony, Oregon Bach Festival, San Francisco Contemporary Players, and the Pasadena Symphony.
Susan Azaret Davies will sing the varied and challenging alto arias. A wonderful interpreter of Bach's music, she's sung the solo alto roles in all of Bach's major choral works.
Daniel Chaney—who's sung with the Los Angeles Philharmonic, the Los Angeles Chamber Orchestra, the Los Angeles Master Chorale, and the Roger Wagner Chorale—will sing the tenor arias.
Baritone Daniel Eifert will be making his Central Coast debut in the roles of Judas, Peter, the High Priest, and Pilate. He's performed across the Midwest in both opera and concert, working with the Chicago Symphony Orchestra and the Chicago Symphony Chorus in their 50th Anniversary Celebration Concert.
Davies is in his 27th year as conductor of the Cuesta Master Chorale. Recently returned from Taipei, Taiwan, where he served as director of the master class in choral and orchestral conducting for the Taipei Bach Festival, he's the director of choral and vocal studies at Cal Poly.
Tickets ($20 to $35) for this very special evening are available at pacslo.org or by calling 756-2787.
Shhh—c'est un secret!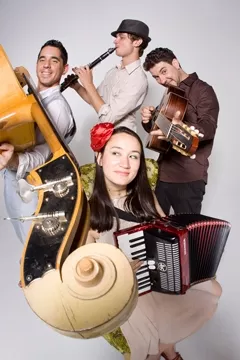 PHOTO BY ANDY SHENG
POLYGLOT PANACHE : Jessica Fichot sings a multilingual fusion of original French chanson, gypsy jazz, and international folk in French, Mandarin Chinese, and Spanish, on May 12 at Steynberg.
Talk about a mash-up! Jessica Fichot sings a multilingual fusion of original French chanson, gypsy jazz, and international folk in French, Mandarin Chinese, and Spanish. I don't know what the hell she's saying, but I like the way she says it. I dare you not to be utterly charmed.
She's currently touring in support of her second full length, Le Secret, a follow up to her critically acclaimed debut Le Chemin. Her newest is a lyrical and lovely collection of songs full of wonder and magic, due in part to the sweet plinking of her toy piano and her lively voice. My favorite song is when she sings "Bang Bang," made famous by Nancy Sinatra and revived in Kill Bill. Fichot sings it in Mandarin, and I couldn't help being reminded of Tarantino's movie.
No wonder she and her band have toured the world, performing regularly throughout the United States and Mexico, as well as China and Europe—she seems to connect with any audience, whether they can understand her lyrics or not!
Le Secret is an intriguing musical journey. I don't know the destination, but I sure love the trip. See Jessica Fichot as she's accompanied by her accordion, toy piano, and fiery band. She returns for another show at Steynberg Gallery on Saturday, May 12, at 8 p.m. ($10 presale; call 547-0278).
Two local treasures on Mother's Day
PHOTO BY BARRY GOYETTE
TAKE YOUR MOM! : Bob & Wendy play an album release party for Your Beautiful Life on Mother's Day, May 13, at Steynberg.
Bob & Wendy's new album, Your Beautiful Life, is predictably brilliant. What can I say? We've come to expect Wendy's songwriting will be filled with heart-wrenching beauty, that her affecting voice will strip us as emotionally bare as she is, and that Bob's somber cello or lively mandocello will be the perfect compliment to their thoughtful tunes.
On Sunday, May 13, see them at 2 p.m. for $10.
"Every song contains a grain of truth, although some of the names and stories have been changed to protect the innocent," Bob said of his wife's songwriting.
One song on the album was written when Wendy was just 10 years old! Called "Endless Highway," she's continued to play it on her mother's 1944 Martin guitar.
"This is a collection of songs about life, death, and everything in between," Bob said. "'Kingdom Come' is about the tragedy of war: 'Every little child needs a place in the sun, where it's safe to play and clean water runs. If we rely on the bomb and the gun, there'll be nothing left for anyone.'
"'Song for Myles' is about the untimely death of a beloved family member at age 54: 'I thought that we would be best friends forever. I thought that we'd be growing old together.'
"'That Long Goodbye' takes earnest advice from Dear Abby: 'Never go to bed angry,' and adds the realization, 'Because you never know, when we'll be saying that long goodbye.'
"'Your Beautiful Life,' written after the devastating earthquake in Haiti, recognizes that 'All that's left to you, so precious and so true, your beautiful life.'"
The new album was produced by Jill Knight, and "aided by mutual respect between the two women singer songwriters, the album is representative of Bob & Wendy's live performance, with Jill and friends adding occasional harmonies and backing instrumentation," Bob finished.
As for Bob, after starting out on cello, he discovered a 1921 Gibson mandocello and joined an L.A. rock band. He later became a founding member of the Venice Canaligators with Clyde "Hook" McGuire, and he's principal cellist for the San Luis Chamber Orchestra and a member of Cello Bossa.
OK, grab your mom and head to Steynberg on Sunday!
Snoop in the house!
The always-popular Snoop Dogg returns to SLO Brew, which just astounds me! Snoop in a little club like SLO Brew? His last show went off like an exploding doobie, which is why the Friday, May 11, show is already sold out! But don't fret, because SLO Brew's got some other shows for you.
On Thursday, May 10, check out punk heroes Pennnywise (8 p.m.; all ages; $20 presale or $22 at the door) with opening act Guttermouth. Pennnywise has been hard-charging since 1988, and Guttermouth came on the scene in 1989—both bands at one time part of the Epitaph stable of bands. Two L.A. legends, one awesome concert.
On Saturday, May 12, the sweet rocking sounds of Briertone return to the club (7 p.m.; all ages; $10 presale or $12 at the door), with Sassafras Union and Basement Tapes opening.
PHOTO BY JERRY MORAN
SOUTHERN ROCK ROYALTY : The Royal Southern Brotherhood plays SLO Brew on May 13.
On Sunday, May 13, check out Royal Southern Brotherhood (7 p.m.; 21-and-older; $15 presale or $17 at the door), with Steel Toed Slippers opening. Royal Southern Brotherhood unites two legendary roots-rock bloodlines—Cyril Neville (of the legendary Neville Brothers) and Devon Allman (son of Gregg Allman)—who joined up with rising star guitarist Mike Zito and an in-the-pocket rhythm section (bassist Charlie Wooton and drummer Yonrico Scott) to set in motion the beginnings of what would become Royal Southern Brotherhood, beginning with jams held at a secluded studio in New Orleans' Garden District.
At this point, you're no doubt thinking, how can these guys meet expectations? I mean, come on, a Neville and an Allman! But I listened to three tracks online, and these guys are dripping with cool! Southern rock at its finest—soulful, forceful, and unforgettable.
Play, songwriters, play!
PHOTO COURTESY OF BILLY & JENI
HILL FOLK : Hear the original Appalachian folk songs of Jeni & Billy on May 10 at The Porch.
Steve Key's Songwriters at Play has a bunch of stuff cooked up for you this week starting with the original Appalachian folk songs of Jeni & Billy on Thursday, May 10, at The Porch (6:30 p.m.; all ages; pass the hat). Calling their style "sincere hope-infused original mountain folk music," the two talented performers offer up tight picking and even tighter vocal harmonies, singing about "coal miners, beauty queens, itinerant preachers, church quilting bees, and Mawmaw's kitchen table." Guest performers include Gary Garrett, The Salty Suites, and Grant Langston.
On Sunday, May 13, Santa Barbara chanteuse Kat Devlin returns to celebrate the release of her new EP REM Cycle at Sculpterra (1:30 p.m.; all ages; pass the hat). After cutting her teeth in New York, she came to the West Coast three years ago and has appeared in clubs up and down the coast, from Hollywood's House of Blues to Santa Barbara's SOhO.
And finally on Tuesday, May 15, Bob Dylan fans should head to Kreuzberg (6:30 p.m.; all ages; pass the hat) when Steve Key and company perform a tribute to Bob Dylan. You'll hear Ted Waterhouse, Madalyn Hunt, Phil Salucci, Savannah & Michele Casteel, Kat Devlin, and BanjerDan.
PHOTO COURTESY OF KAT DEVLIN
THE DEVLIN MADE ME DO IT : Santa Barbara chanteuse Kat Devlin plays Sculpterra on May 13.
More music …
The Cal Poly Music Department presents an evening of string and woodwind chamber music at 7:30 p.m. on Thursday, May 10, at the San Luis Obispo United Methodist Church. See several Cal Poly music ensembles, featuring students performing a variety of traditional and contemporary repertoire as string duos and quartets, woodwind quintets, a saxophone quartet, saxophone ensemble, flute choir, and clarinet ensemble. The concert is free and open to the public.
Phoenix-based Chiefs, shoegazers The Swan Thief, Bloodmoon, and Dry Insides play an eclectic indie rock show at the Z Club on Friday, May 11 (doors open at 7 p.m.; 21-and-older; $5). According to the bands, "The common denominator is that all music is completely original with no contrived or pre-meditated vision of what the band should sound like. In other words, none of these bands try to emulate any other band to fit within any scene or niche." So there!
On Friday, May 11, Montana Skies is coming to the Steynberg Gallery (8 p.m.; all ages; $10). You'll hear everything from Pink Floyd and Rush to Vivaldi and "House of the Rising Sun," as well as their own originals that have been featured everywhere from NPR to the Travel Channel. The group combines elements of classical technique, jazz improv, and the power and energy of rock'n'roll. According to press materials, "It's been called everything from chamber rock to psychedelic strings. Whatever you want to call it, rest assured, this ain't your granny's chamber music."
Bryan Lloyd plays D'Anbino Vineyards & Cellars on Saturday, May 12, from 1:30 to 4:30 p.m. The keyboardist accompanies himself with bass and drums, playing familiar cover songs. Later that same day, the Strata-Tones play from 8 to 10 p.m., bringing the sounds of bright lights, big cities, and the 1950s blues scene. The shows cost $10 ($5 for Record Club members).
On Saturday, May 12, at 9 p.m., the Frog and Peach hosts headliners Blue Suns, a Santa Barbara trio featuring one Brit and two Cali natives creating a fusion of indie and surf, often with a retro '60s sound but definitely with a slight Brit rock edge. They're preparing to embark on their third summer tour in the U.K. Opening act Louder Space is a new local alt-rock band comprised of Cal Poly students. Think Red Hot Chili Peppers, Slightly Stoopid, and 311, and you'll have an idea of their sound. A couple months ago, they released their first EP, Signs of Life, downloadable for free on their website. But that's not all! The Deathtower will open the whole three-band extravaganza. Be there or be square.
The Cal Poly Music Department will honor two late colleagues in May: Roy Main and Ross Sears. Celebrate the life of Main, who died May 9, 2011, at noon Saturday, May 12, in Room 218 in the Davidson Music Center on campus. Cal Poly faculty, students, alumni and guests will perform. A tribute for Sears, who died March 18, 2012, will be held at 5:30 p.m. on Thursday, May 17, in Cal Poly's Spanos Theatre. The Music Department will be joined by the San Luis Obispo Symphony and Festival Mozaic in presenting musical performances and personal remembrances. These celebrations are open to the public and are intended to provide a chance to remember two great men—both musicians and teachers.
Take It SLO, Cal Poly's a cappella ensemble, will present its spring concert at 2 and 6 p.m. on Sunday, May 13, in Room 218 of the Davidson Music Center on campus. The 13-member student ensemble will sing popular songs they've arranged, including selections from their latest CD, which will be available for sale at the concerts. "If you like smiling, bobbing your head, and hearing great tunes, don't miss Take it SLO's spring show," said Amy Stevens, former president of the award-winning group. Admission is $7 at the door or $5 for students.
Rock act Midnight Sun plays the Frog and Peach on Sunday, May 13, from 10 p.m. to 1:30 a.m. They play a mix of originals and classic covers.
Ever wanted to learn to play the ukulele? Well, here's your chance. Hawaiian ukulele master Herb Ohta, Jr. will be in San Luis Obispo on Monday, May 14, to share Hawaiian musical secrets at a three-hour workshop and show. Son of the famous Ohta-san, Herb teaches and plays worldwide; he encourages ukulele players of all skill levels to bring a ukulele and music stand to the San Luis Obispo Museum of Art for the 6 p.m. workshop and 7:45 concert ($20 in advance, or $25 at the door; reserve tickets at SLOMA.org).
If it's Wednesday, that means you should head down to Pappy McGregor's Pub in SLO and check out the Old Time Fiddle and Banjo Show with Stu Mason, Amber Cross, Gary Arcemont, and New Times political cartoonist Jerry James! They play this (and every) Wednesday, May 16, from 6 to 9 p.m., and they've been known to have guests such as Gilles Apap, Jonas Richardson, Jim Wimmer, and Robert Keene sit in for a few tunes.
Keep up with Glen Starkey via twitter at twitter.com/glenstarkey, friend him at facebook.com/glenstarkey or myspace.com/glenstarkey, or contact him at gstarkey@newtimesslo.com.