To me, Ronny Cox will always be Drew Ballinger from Deliverance. Sure, I remember him fondly as Lt. Andrew Bogomil from the Beverly Hills Cop films and Dick Jones in RoboCop and Vilos Cohaagen in Total Recall. He even played President Jack Neil in Murder at 1600. But how can anyone ever forget when he plays guitar with the seemingly inbred banjo picker Lonnie (Billy Redden) in John Boorman's 1972 masterpiece about city folk who rile the locals during a backwoods canoe trip?
Cox has enjoyed a nearly 40-year Hollywood career, but music has always been part and parcel of his talents. You can have a rare chance to see this superbly talented musician when he plays the next Música Del Río House Concert on Saturday, Jan. 7 (7:30 p.m.; all ages; $15; call 466-6941 for required reservations).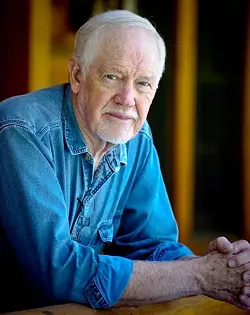 PHOTO COURTESY OF RONNY COX
RENASSIANCE MAN : Actor, songwriter, and musician Ronny Cox plays the Música Del Río House Concert on Jan. 7, regaling attendees with songs and stories.
Born in Cloudcroft, N.M., Cox has a sound sometimes compared to Tom Russell: country with a southwestern flair. Though 30 years ago he'd have said acting was the career he preferred, today he's happiest playing guitar, singing songs, and telling stories.
This marks his second trip to the house concert series, and he'll be joined by Karen Mal and Radaslov Lorkovic.
According to series organizer Fred Monroe, "Karen, an outstanding Austin-based mandolin player, has played with Ronny for about six years, gracing his songs and stories with her understated mandolin, her lovely vocal harmonies, and her engaging stage presence. You may have already heard Lorkovic, known as 'Rad,' on one of his many visits to Mountain Stage or Prairie Home Companion. Hailing from Croatia, his eastern European styles on accordion and keyboard add a new slant to the evening with Ronny."
Still shredding
There's not a lot to say about Dick Dale that I haven't said before, but for the uninitiated, here goes my general take on the man:
PHOTO COURTESY OF DICK DALE
FEEL DALE'S GALE : Surf guitar hero Dick Dale plays SLO Brew on Jan. 5, delivering an evening of his thundering instrumental surf rock.
There are monster guitarists, and then there's Dick Dale, the proto-monster, a guy who plays so hard and so loud he had to have extra thick guitar strings manufactured to account for his sheer aggressive playing.
The "King of the Surf Guitar" seemingly invented surf music with the 1961 song "Let's Go Trippin'," but surf music really began with him in the late-'50s during a series of standing-room-only weekend concerts at Balboa's famed Rendezvous Ballroom, where upward of 4,000 screaming fans packed themselves in sardine-like to witness this surfing and guitar-playing phenomenon.
Dale was also one of the first players of the Fender Stratocaster electric guitar. He met Leo Fender, who asked Dale to play his new creation, and the minute Dale picked up the guitar, Fender broke into uncontrolled laughter and disbelief because Dale, a lefty, played the right-handed guitar upside down and backwards, changing and transposing the chords to account for the upside-down strings.
After a long and storied career, Dale's playing fell out of favor, but in 1994 when Quentin Tarantino released Pulp Fiction and used Dale's instrumental "Misirlou" on the soundtrack, a whole new generation of fans discovered the sheer awesomeness that is Dick Dale. But even before that, Dale had a cult-like following. In fact, his first album, Surfers Choice (LPM-1001) from 1962, can easily fetch $150 or more in mint condition. There's currently a beat-up copy on eBay for $90. Get it while it's hot.
Simply put, the man's a legend, though he's become increasingly eccentric over the years. See him on Thursday, Jan. 5, at SLO Brew (7 p.m.; 21-and-older; $25 presale or $27 at the door). Local retro act The Dentures will open the show.
Also at SLO Brew this week is the mysterious Americana rocker White Buffalo on Saturday, Jan. 7 (7:30 p.m.; all ages; $12). A big bear of a man, he's a hard livin' and hard tourin' hard writin' troubadour. With a voice as rich and rustic as Eddie Vedder and songs that'll make you weep, this is a don't miss show.
You can see fun lovin' reggae act Bare Feet on Tuesday, Jan. 10 (7:30 p.m.; all ages; $8 presale or $10 at the door), with opening act The Young Rapscallions, a self-described "garage rock" act. More than just a reggae act, Bare Feet also makes forays into "harmonic rock and jumpy hip-hop." They're currently in the process of completing their first EP.
Finally, on Wednesday, Jan. 11, check out the sleeved rapper Roach Gigz (8 p.m.; all ages; $10) with Berner, Clyde Carson, and Nima Fadavi. These on-the-rise Bay Area emcees represent the cutting edge of West Coast hip-hop.
Play, songwriters, play
Steve Key's Songwriters at Play showcases continue another round into 2012 on Thursday, Jan. 5, when Ynana Rose and Ted Waterhouse of The Swingin' Doors will perform as a stripped down duo (6:30 p.m.; all ages; pass-the-hat). Hear classic country, honky-tonk, western swing, and their terrific original songs.
Rocker Janet Robin headlines Sculpterra on Sunday, Jan. 8 (1 p.m.; all ages; pass-the-hat). Her performance marks the one-year anniversary of showcases at Sculpterra, and since she played the very first one, it seems fitting. She's been backup guitarist to the likes of Michelle Shocked and Fleetwood Mac's Lindsey Buckingham, and as a teenager, she studied guitar with Randy Rhoads (Quiet Riot, Ozzy Osbourne), eventually becoming lead guitarist for the all-female rock band Precious Metal.
PHOTO COURTESY OF TIANA STAR
A SONG FOR BONNIE : Tiana Star is one of several performers who'll offer a tribute to Bonnie Raitt on Jan. 9 at The Spot, when Songwriters at Play devotes an evening to the red-haired blues wonder.
On Monday, Jan. 9, head to The Spot for a Bonnie Raitt tribute headlined by Central Coast newcomer Tiana Star, who'll be joined by harmony trio Chick Tuesday and The BlueSouls among others (7 p.m.; all ages; $10). Expect to hear hits such as "Nick of Time," "Something to Talk About," and "I Can't Make You Love Me."
Finally, on Tuesday, Jan. 10, Kreuzberg hosts Ranchers for Peace (Charles Duncan and his daughter Ray), whose act I caught not too long ago and found myself thoroughly impressed with both their socially conscious songs and engaging collaboration (6:30 p.m.; all ages; pass the hat). Ray has an amazing voice and budding stage presence. Like Jade Jackson, she's the next North County gal to watch. I predict big things in her future.
More music …
PHOTO BY TRAVIS HOEHNE
DRINK 'EM UP! : Whiskey Dawn offers some rough and tumble country at Martston's Bar n' Grill on Jan. 5.
Lap up some tasty country sounds when Whiskey Dawn comes to Marston's Bar n' Grill (673 Higuera St.) on Thursday, Jan. 5 (9 p.m.; $7 presale or $10 at the door). The band's newest single, "Leavin' Man," was penned by lead vocalist Troy Ferris and "is a song about the struggle between life on the road and the unbalance it places on a relationship," he said. "Be it a traveling businessman, deployed soldier, rodeo cowboy, or just a bright-eyed troubadour, not being around when needed the most is as certain as the setting sun. 'Leavin' Man' paints the picture of a blossoming romance facing the truth of what it means to love a man/woman whose passions are divided between their lover and their dreams. Inevitably, loving a man who's gone all those lonely nights when she needs him home takes its toll. In the end, the one thing she'll learn from their love is how to do the same thing … leave."
Check out Fresno-based blues and rock act The Dirty Stomp on Thursday, Jan. 5, when they play The Pour House. If you like your guitars fuzzy and your blues filthy, this is your band. You'll even detect a little Red Hot Chili Peppers in some tracks.
Pasadena's Old Californio rolls through the area for two shows this week: Thursday, Jan. 5, at Frog and Peach (9 p.m.) and Friday, Jan. 6, at The Pour House (8:30 p.m.). The band's high-energy show takes an Americana and roots music perspective, "blending electric folk, rock'n'roll, and earthen psychedelia." They're touring in support of their third album, Sundrunk Angels, that reached No. 14 on the Jam Band charts. "The band draws upon influences that range from John Steinbeck to Jerry Garcia to John Muir to Neil Young to Loose Fur," according to their bio. "Old Californio's songs are adventurous, digging into the core of the American spirit, suspending in time, loyal to an era of solitude, dangerous travel, risk, and gangrene."
PHOTO COURTESY OF PREY 4 PHYRE
DASHING DUO : Prey 4 Phyre (Marci Jean and Morris "Maux" Samuel) will deliver an evening of emotionally charged originals at the downtown SLO Nautical Bean on Jan. 6.
So I arrive back to work after my staycation and find in my mailbox a scrawled note that says, "Hey Glen. No, I'm not dead, even though I've been told that a lot in the past, [yet] things continue." The "things" in this case is a collaboration between talented and percussive guitarist Morris "Maux" Samuel (formerly of Trees of Mystery) and vocalist Marci Jean, and the note is accompanied by a homemade CD. The disc is filled with spare but remarkably crisp recordings of Maux picking and Marci Jean's stirring, soulful vocals. Hmm. Somebody's been wood-shedding! And to good effect! Calling themselves Prey 4 Phyre, the emotionally charged duo plays Friday, Jan. 6, from 7 to 9 p.m. in Nautical Bean in Downtown SLO. Color me impressed!
The fine folks at D'Anbino Vineyards & Cellars will be host to the Memphis Soul Stew Revue on Saturday, Jan. 7, in their tasting room from 8 to 10 p.m. ($10 at the door; $5 for Record Club members). If you dig the likes of Booker T. & the M.G.'s, The Mar-Keys, Otis Redding, Wilson Picket, Sam Cooke, Eddie Floyd, Sam & Dave, James Brown, or Albert King, you're going to dig this mix of soul and R&B from the '50s, '60s, and beyond.
PHOTO COURTESY OF ONE TIME SPACEMAN
OUTTA THIS WORLD : One Time Spaceman, whose album was among the top five for last year's New Times Music Awards, is playing Sweet Springs Saloon on Jan. 7.
One Time Spaceman, whose album was among the top five for last year's New Times Music Awards, is playing Sweet Springs Saloon on Saturday, Jan. 7, at 9 p.m. According to the band, they're "working musicians who play original American music from a wide variety of genres. They romanticize Charles Bukowski and have memorized The Big Lebowski. In their mystifying soundscapes, Johnny Cash is known to throw his whites in the wash with Pavement stains. Pop Staples and Albert King have light skinned kin who sponge at the rock when it's double overhead. Clarence White is their favorite Burrito and Jell-o Biafra is considered neat-o. There's a good chance they won't play that song by Mumford and Sons or any covers at all. Or they may play three hours of Elston Gunn songs. Or the theme to Top Gun by way of Mutabaruka. Or 'Blue Suede Shoes' a la Merrell Fankhauser. Or a bluegrass version of 'The Electric Spanking of War Babies.' Ya just never know, but you're certain to get a healthy dose of original blues-based rock'n'roll."
Keep up with Glen Starkey via twitter at twitter.com/glenstarkey, friend him at Myspace.com/glenstarkey, or contact him at gstarkey@newtimesslo.com.