Is there anything cuter than high school students in suits? OK, maybe kittens or baby owls, but kittens and baby owls can't participate in mock trials, which are serious business.
When I show up at the SLO County Courthouse on Saturday, Jan. 26, and head to courtroom No. 5, the trial of Adrian Vega—accused of a hit and run accident that left a bicyclist injured—is already under way.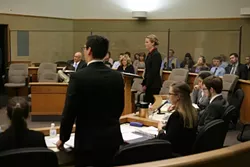 PHOTOS BY GLEN STARKEY
I OBJECT! : A student lawyer (left) from Mission Prep objects to a question by a student lawyer from North County Christian School (right).
Students from North County Christian School of Atascadero are on the prosecution side while Vega's defense team comes from Mission College Preparatory Catholic High School.
The case is complicated by Vega's insistence that he was not driving his car, which he claims was being driven by exchange student Tony DeLuca. They're both on the high school swim team, and DeLuca is residing at Vega's parents' home while he studies in the United States and tries to get into an American university.
IMAGE COURTESY OF HOLLY MYRICK
COURTROOM DRAMA! : Holly Myrick's drawing of the case is one of several rendered for the courtroom drawing competition.
According to DeLuca, because he was approached by a recruiter from his college of choice at the swim meet, he was so excited to let people know via text that he allowed DeLuca to drive the classic muscle car his father—the town mayor, no less—made him promise to never let anyone else drive. Hmm … sounds fishy, right?
But wait! DeLuca, who claims he was just the passenger and was listening to his headphones and didn't even see the accident, may have an agenda of his own. He's jealous of DeLuca's swim talent. Add to that this extra complication: One of the witnesses that puts Vega, not DeLuca, in the driver's seat may have deep animosity toward the mayor!
PHOTOS BY GLEN STARKEY
HERE COME DA JUDGE! : SLO attorney John Fricks, who chairs the SLO County Mock Trials, acts as judge during a competition between two local high schools.
And then there's the hat! The college recruiter gave Vega a Los Angeles University hat, and one of the witnesses claims the driver was wearing the hat, and Vega claims DeLuca, while driving, snatched the hat from him as he sat in the passenger seat, teased him, and put it on. Yes, it's a classic "he said, he said," and who do we believe? The scion of the town mayor, who—if he was driving and texting when he hit the bicyclist—is criminally negligent, or the exchange student who doesn't want to blow his chance at college in America?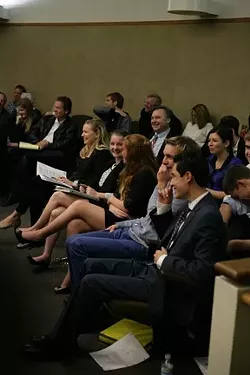 MOMENT OF LEVITY! : Students from Mission Prep crack up during an exchange during the trial.
Welcome to the wooly bully world of junior high and senior high school mock trial! SLO County schools have competed in mock trials ever since the Women Lawyers Association of SLO County started it in 1998. Since 2000, the current chairman, John W. Fricks of Ogden & Fricks LLP, a law office specializing in business and real estate law, has been running things.
Full disclosure: My sister Linda Furnari is a secretary at Fricks' law firm and also volunteers at the trials. In fact, the county donates the courtrooms, real judges preside as volunteers in about 70 percent of the mock trials, and when real judges preside, real bailiffs volunteer their time as well. Usually three to five real volunteer attorneys judge the trials, with their scores averaged.

CONGRATULATE THE WINNERS!: The finals of the mock trial start at 6 p.m. on Thursday, Feb. 7, in the SLO County Courthouse (enter through the Palm Street entrance) and are open to the public. The winners will be announced later that night beginning at 8:30 p.m. in Wilson Hall of the San Luis Obispo Presbyterian Church on the corner of Marsh and Morro streets. You'll find out which high school will compete at the state level, and who won the courtroom reporting and drawing contests.
The fictional cases are created by the Constitutional Rights Foundation, whose goal isn't necessarily to develop future lawyers, but to develop good citizens.
The student lawyers are judged on "asking the right questions, poise, making the right objection, responding effectively to objections," Fricks explained.
Judging from my time in the courtroom, it looks like a lot of fun for the kids, and Fricks keeps volunteering his time year after year because of the program's positive influence on its participants.
Seeing kids with disabilities overcome them, seeing kids from the local continuation schools realize they have what it takes to go to college, and seeing parents who didn't have much faith in their children find newfound respect for them, "it gets you right here," said Fricks, gesturing to his chest.
Case closed.
Glen Starkey takes a beating and keeps on bleating. Keep up with him via twitter at twitter.com/glenstarkey, friend him at facebook.com/glenstarkey or myspace.com/glenstarkey, or contact him at gstarkey@newtimesslo.com.