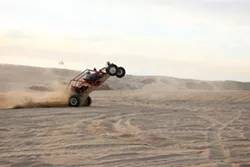 FILE PHOTO BY STEVE E. MILLER
CULPRIT : Motorsports on the dunes may be curtailed because of the air pollution they cause.
For some county residents, the presentation by Air Pollution Control District (APCD) representatives to the Health Commission vindicated their concerns about poor air quality on the Nipomo Mesa. For others, namely those who drive off-highway vehicles (OHVs) at the Oceano Dunes State Vehicular Recreation Area, it came as a shock—that a state park would be violating state air safety standards, and the finger was pointed squarely at them.
It is well known and documented that when there is high wind, the park exceeds state standards for airborne particulate matter (PM). However, proponents of recreational vehicle use on the dunes say the recently released APCD Phase Two study on PM at the Mesa hasn't convinced them their vehicles are the main cause.
On March 8, county health commissioners recommended the board of supervisors take "any and all actions that it has available" to stabilize the dunes and inform residents in communities downwind of the park of potential health risks.
The study, released Feb. 22, found the high PM is not coming from an offshore source, and that neither petroleum coke piles from the neighboring ConocoPhillips facility nor agricultural activities are a significant source of the problem. It also found that the airborne particulates predominantly consist of fine sand transported to the mesa by high wind and that the primary source on the Mesa is the open sand sheets on the dune areas of the coast.
Furthermore, it found those sheets open to OHV activity emit significantly more PM than those that remain undisturbed, and that vegetated dune areas do not emit wind blown particles.
Particulate matter is the generic term for a complex group of air pollutants which can vary in size and composition, depending upon the location and time of its source. According to the findings of the report, in the case of the Nipomo Mesa, we're talking sand.
Only the findings of the study have been addressed so far, not their implications. The APCD stopped short of recommending any ban on OHVs, and offered no recommendations about re-vegetating the area. The study found that OHVs operating on the dunes break up the outer layer of crust, exposing the finer underlying layers, which can become airborne under a combination of fast moving vehicles and high winds.
Given the explicit conclusions of the study, few options are evident beyond at least a partial vehicle ban, which worries off-roading enthusiasts. "That's beyond the scope of this study," said Air Pollution Control Officer and principle APCD administrator Larry Allen. "What we've been focused on primarily is trying to find the cause [of the high PM concentration] so we have a good understanding. It's good to try to separate the science from the policy so that everyone can understand, first and foremost, what this data means."
Measurements have repeatedly shown that state health standards for airborne particles with a mean aerodynamic diameter of 10 microns or less during a 24-hour period is exceeded in SLO County only 50-60 days of the year, typically on days of high wind. In 2007, SLO ranked the eighth highest on a list of 47 California counties, with 51 estimated days in which the county exceeded state PM standards, according to the CA Air Resources Board.
According to Allen, there have been many studies showing a direct health impact from long-term exposure to PM. But there is not yet an epidemiological study specific to residents of the Nipomo Mesa analyzing effects of sand-like PM on long-term health.
Ann McDowell, county epidemiologist for the Public Health Department, explained that measuring health effects for a specific sub-county region would be "nearly impossible;" in part because asthma is not a reportable disease as far as the department is concerned.
McDowell did, however, confirm that studies elsewhere have attributed long-term exposure to high levels of PM to pulmonary function problems, including asthma. For anyone concerned about pulmonary danger, she suggests using common sense.
"I think if you are concerned with high particulate matter, which is higher on windy days, then you can choose not go outdoors, or not engage in strenuous activity while outdoors," she said. "Basically, avoid situations where your asthma can become triggered."
Regarding the study's findings, OHV advocate Kevin Rice, founder of the nonprofit yourdunes.org, told New Times he does not dispute that airborne PM can cause pulmonary problems, but questions whether OHV use is the culprit on the Nipomo Mesa. "It's premature," Rice said. "The U.S. government, in a U.S.G.S. report, said there's 500 million pounds of sand that blows onshore every year. This [APCD] study says nothing about what they attribute to vehicles versus what is natural. So they pretty much proved that there's sand blowing in off the dunes and that seems like a no-brainer to me.
"Without an epidemiological study to give some context, they're being reckless, like calling fire in a crowded theater. And we don't know what the specific risk is," Rice said. "If you're screaming fire, you need to be the one who puts limits on how bad we should be scared. Instead, they're just letting the panic spread."
Andrew Christie, director of the Santa Lucia Chapter of the Sierra Club, said he thinks the study speaks for itself. "The
off-roaders can try to spin it all they want, but the conclusion of the study—'OHV activity in the SVRA [State Vehicle Recreation Area] is a major contributing factor to the high PM concentrations observed on the Nipomo Mesa'—is perfectly clear, and the major findings that conclusion is based on are presented in simple language that is easily understood by everyone except those determined not to understand," Christie said.
"Of course there have always been those calling to ban off-road vehicles at the dunes, but that's easier said than done," said County Supervisor Katcho Achadjian, whose district includes the Nipomo Mesa. "But if off-road vehicles were ever found to cause health problems, if this was the case, it would have been done long ago."
Any changes are still far off. It's still unclear what authority county officials have over the state park. The study will be presented to the Air Pollution Control Board March 24, and will be reviewed by the Coastal Commission before the Board of Supervisors makes any decision.
Staff Writer Matt Fountain can be reached at mfountain@newtimesslo.com.