Some men turn 50 and decide to buy a flashy hot rod.
When Dan Argano of San Luis Obispo turned 50, he and a few buddies pooled their money to buy a custom designed motorcycle and signed them up to compete in a nearly 1,000 mile off-road race in another country this past November.
PHOTO COURTESY OF COASTRIDERS POWERSPORTS
THE FINISH LINE : After racing about 840 miles, Timothy "Scott" Hayes, Tony Zabala, Dan Argano, and Robert Eaton victoriously unite near the finish line after Argano finishes the last stint of the Baja 1000.
"I'd just as soon drive all the way to Mexico to ride, that's how much I like riding," Argano said.
The Baja 1000 is widely considered to be the most prestigious and most dangerous off-road race. For nearly 50 years, riders from all over the world have lugged their motorcycles, cars, and trucks to Mexico for a chance to test their skills and bring home a shiny trophy. That glory comes at a cost. Nearly every year, the race claims the lives of riders, crew members, and/or spectators.
All or nothing
The dusty, all dirt road beckoned. The wind whispered in their ears tales of adventure, of glory, and death. The road beckoned and they followed.
Argano, along with local buddiesTimothy "Scott" Hayes, Robert Eaton, and Tony Zabala decided to take their chances—even after their fifth rider, Kurt Mills, crashed his bike during a practice run in Mexico and punctured a lung. Neil Mcclain, owner of CoastRiders Powersports in San Luis Obispo headed up the team's pit crew, along with his employee Tim Rogers. Five cars with two people per car would meet the riders at various stops along the course for quick repairs, fuel, and food.
Although all the 50-something-year-old men had racing experience, none of them had every done anything like this before.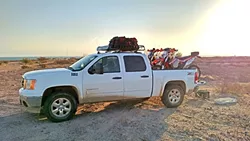 PHOTO COURTESY OF COASTRIDERS POWERSPORTS
HERE COMES THE CALVARY: A team of 10 friends and family in five cars served as the team's crew, meeting up with the four riders at various stops for fuel, repairs, and food.
"It's not necessarily strength, it's more knowledge and endurance that wins this race," Hayes said.
The name of the race is a bit of a misnomer. Officially the race is called the SCORE Baja 1000, for the organization, Sanctioning Committee Off Road Events, that sponsors it. Every year it rotates between a point-to-point race and a loop race. Last year it was a loop race that started and ended in Ensenada, totaling about 840 miles. Riders are given 36 hours to finish the race, and nearly half of those participants won't be able to cross the finish line in time. Oh, and the locals like to fill the course with unsanctioned booby traps, such as holes, jumps, or buried obstacles. While Argano and his buddies certainly aren't the youngest competitors, they aren't the oldest men to take on the race either. In 2004, actor Paul Newman became the oldest rider the race had seen when he competed as an 80-year-old.
In the months leading up to the race, the guys made multiple trips down to Mexico to practice riding the course terrain, so it would be like second nature on race day. They paid a specialist a good chunk of money—"We only could have spent more money if we went to Mars," Eaton said—to configure a bike that would work for all four riders and sacrificed time away from their families and respective auto businesses.
"It's a pretty amazing race. The terrain is pretty unforgiving," Mcclain said. "It's a huge commitment for very little return other than your own satisfaction."
No man's land
Each of the riders took turns racing in 40- to more than 100-mile stints on the course, going anywhere between 30 to 70 miles per hour depending on what that particular stretch of the course allowed. Everyone—the riders and their 10-person volunteer crew—showed up in Mexico about a week before the big event.
PHOTO COURTESY OF COASTRIDERS POWERSPORTS
THE OFF ROAD LIFE: The Baja 1000 off-road race draws riders from all over the world. The race celebrated its 48th year in 2015.
Come race day on Nov. 20, Argano had the team wake up in the dark and leave the rental house in Ensenada by 4 a.m. so they would be sure to make their 6 a.m. start time.
"The biggest problem I had wasn't even in the race, it was prior to it," Argano said. "It was all the preparation. That was the hardest part for me. When you get on a motorcycle, you don't think about other things, you just do what you've been doing."
Five cars, 10 people, and a loop of more than 800 miles when all you've got is a shaky radio communications system and no cell service to make sure the truck meets the rider at the right place and time is a little bit daunting. Rogers, was quickly dubbed "Pit Boss" by the other racing teams for his authoritative approach to getting a rider what they needed and getting them back on course. When everything was going right, fueling up the bike for a rider took a quick 30 seconds.
"It was a logistical nightmare," Rogers said. "But to watch everything come together without any broken links was huge. It makes every hour of preparation totally worth it. To see everyone come together and really care was amazing."
PHOTO COURTESY OF COASTRIDERS POWERSPORTS
PLAN OF ATTACK: Long before race day, the team of friends devised an intricate plan of who would race what portion of the course and which car would link up with which rider at any given stop.
All the riders carried CamelBaks filled with water. (Until Eaton ran into a stranded rider with no water and gave him his CamelBak.) And they ate whatever the trucks brought them, mostly quick, easy things like PowerBars, bananas, and chocolate milk. And no, there was no stopping for bathroom breaks, but they didn't mind. And, yes, they rode through the night.
"Once you're on your bike you're stuck," Hayes said.
The final stretch
Zabala kicked the race off as the team's first rider.
"I started the race and had four sessions in total," Zabala said. "I was pretty nervous at the start; once I got started riding I was fine. The middle section of the race, my body had to adjust to all the pain."
The course varied between dirt road and even stretches of highway and sidewalk for some portions. In some places the course was made entirely of silt, which is somewhere between sand and clay in texture. It's softer than dirt and it gives when it makes contact with a fast-moving wheel.
"The Mexican silt is something you never want to see," Eaton said. "You get in patches of the race where it's just like a powder. I fell over in it, and we had to fix part of the brake. I was disappointed there in that I hurt our time with the problem I had, but we were able to finish."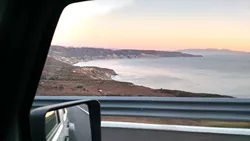 PHOTO COURTESY OF COASTRIDERS POWERSPORTS
SO MANY VIEWS, SO LITTLE TIME: One of the crew's trucks whizzes by a picturesque beach in Mexico.
Spectators are also a common sight even along the more dangerous portions of the course. Laws surrounding where spectators can be during off-road racing events are more lax in Mexico than the United States, which contributes to the number of fatalities over the race's history.
"We turned onto Zoo Road, and it's not because there's actually a zoo out there," Argano said. "It's because any time there's a race, there's so many people out there, it feels like a zoo. It doesn't go anywhere, it's out in the middle of the desert."
Argano rode the very last stretch of the race. As his teammates waited for him at the finish line they begin to worry that something had gone wrong. Perhaps he'd crashed the bike and was stranded. Argano's dad, who was part of their volunteer crew, kept on suggesting they go back and look.
"We were waiting there like expectant fathers for the bike and our last rider to show up, thinking the worst possible thing in the world had happened," Eaton said.
"Every minute of waiting seems like an hour," Mcclain added.
And then there Argano was, rounding the last corner of the race. He saw the rest of the guys and figured he was done. Not quite.
PHOTO BY DYLAN HONNEA-BAUMANN
JUST GLORY: While there is no cash prize, the team of friends from San Luis Obispo took home a sweet trophy for placing third in the 50-and-older class, with a finish time of about 25 hours and 11 minutes.
"I saw the whole crew there at the last corner and I stopped and I stalled the bike," Argano said. "So they all ran out and push-started me to the finish line so it was pretty funny."
The team clocked in at about 25 hours and 11 minutes, well under the maximum time limit of 36 hours, and fast enough to earn them the third place trophy for the 50-and-older class. For comparison, the overall winner of the entire race, Colton Udall of San Clemente, finished the course in about 15 hours, riding solo.
"When Dan showed up, we were just elated," Eaton said. "The camaraderie of the experience was just amazing. I had never done anything like that before. To be part of a team effort like that was great."
After the tears dried and the adrenaline died down initially after the race, they swore up and down that they were one and done. But the passage of time tends to dull the memories of how just how crappy it was to breathe in dirt for 25 hours. As the Baja 1000 races for 2016 and even the epic 1,275 mile point-to-point race for the 50th anniversary race in 2017, draw nearer, the group of friends imagines the little changes they could make, mistakes they could fix to take home the second place or even first place trophy the next go round.
"We all still own a motorcycle, and it's still available to us," Argano said. "We'll see when it gets closer."

RIDE OR DIE: The SCORE Baja 1000 is an-off road race that takes place in Mexico every November. The race inspired the 2005 documentary, Dust to Glory, which follows contestants of the Baja 1000. A sequel titled Dust 2 Glory will follow contestants during the 2016 competition and will be released in 2017 for the race's 50th anniversary.
The road beckons once more, but will they answer?
"The race is kind of like that psycho girl you dated," Zabala said. "You know she's psycho, but she gave you the best sex ever and you know you're going to go back for more. Three or four days later I couldn't stop thinking about the race."
Ryah Cooley is chasing stories at rcooley@newtimesslo.com.