Santa Ynez—near Camp Live Oak, the location of this weekend's Live Oak Music Festival from Friday, June 17, through Sunday, June 19—is expected to hit 99 degrees this Monday, which means Friday's high of 82, Saturday's high of 86, and Sunday's high of 95 will feel relatively mild! (Silver lining!) I note this because despite the impending heat, Live Oak is the coolest place to be on Father's Day weekend, and one of the shows I'm really looking forward to is Dustbowl Revival on Friday, June 17, at 5:30 to 6:30 p.m. on the main stage (visit liveoakfest.org for weekend or single-day ticket info, camping info, and a complete lineup of the more than 30 performing acts).
New Times spoke to vocalist, ukulele and washboard player Liz Beebe of the eight-piece bluegrass, swing, hot jazz, pre-war blues, Southern soul, and New Orleans funk act.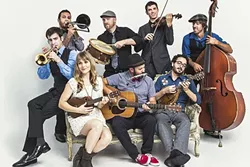 PHOTO COURTESY OF DUSTBOWL REVIVAL
AMERICANA MEDICINE SHOW : The hootin', hollerin', foot-stompingly fun Dustbowl Revival is one of more than 30 acts at this year's Live Oak Music Festival running June 17 through 19, at Camp Live Oak.
New Times:
How did you all find each other?
Liz Beebe: Eight years ago, [frontman and founder] Zach [Lupetin] put up a Craigslist ad to find different instruments to play various gigs, and he found Matt [Rubin (trumpet)], Daniel [Mark (mandolin)], and Ulf [Bjorlin (trombone)] from the ad. From there it sort of evolved into a collective, with a revolving group of players, and eventually adding Josh [Heffernan (drums)] and Connor [Vance (fiddle)]. Bassist James Klopfleish and I are the newest members, and we joined about 3 1/2 years ago. I found them through another listing on the internet.
NT: Were you all playing similar music before you met, or was it something you settled on as a group?
LB: Well, I think all of us come from pretty various musical backgrounds, so coming together we became the combination of everyone's experiences, which combined with Zach's writing style. The music comes from the canon of Americana with some blues and bluegrass thrown in. I came from a swing background, but all this coming together is what's made Dustbowl Revival what it is.
NT: You play some really old tunes from a variety of genres. How do you find the songs you cover?
LB: Most of those come from our listening experiences. Someone might say they heard a really good bluegrass song or an old traditional or something and bring it to the group, and we'll take that song and make it our own, adding verses or lyrics.
NT: I know you recently wrote one of the group's songs, but who else writes in the band and how do those songs develop?
LB: Generally Zach writes the originals, and he'll come to the table with a general chord progression or some lyrics, so the idea will be there but the band will help flesh it out.
NT: I know your most recent album, With A Lampshade On, has some live tracks, but tell me about how you record in the studio?
LB: We went to a studio in New York with a bunch of different songs and played them live and decided to keep the ones that served us best from the process. Other than a tracked vocal or two, the songs are played completely live.
NT: Why no overdubs and studio trickery? Was it because you wanted to capture your live sound?
LB: Yes, exactly. We actually did that album in that manner for that reason. We felt some of previous albums didn't really reflect what we were bringing to our live shows, and we wanted people to bring home a recording that reflected what they'd just seen live. We're actually starting to record our next album in a more traditional way. With A Lampshade On was just another way to record.
NT: A lot of performers—I'm thinking Devil Makes Three and Pokey Lafarge, for instance—are rejuvenating older genres. What accounts for the popularity of these old styles?
LB: I think there's a lot of great music that comes out of what we listen to as inspiration. It's about people going back to the origins and bringing their own ideas to the music.
NT: I saw one of your videos online that starred Dick Van Dyke, who I loved from The Dick Van Dyke Show and films like Mary Poppins and Chitty Chitty Bang Bang. How was working with him?
LB: Oh so fun! He's so sweet. We actually wanted to see if he'd be a part of our 'Lampshade On' video, but he said, 'Just come on over to our house and shoot here instead.' He's just like you'd think he is, so joyful, kind, and gracious.
NT: You have four albums now, so you have a pretty deep catalogue to draw from, and you played Live Oak last year, too. Can people expect to hear some new songs?
LB: We're in the process of recording our new album, so people can expect a sneak peek this summer of a few of those new tracks. We had such a great time last year. We love Live Oak. It's so comfortable being there, and we keep running into people all over California who say, 'Oh, we saw you last year at Live Oak.' We really appreciate being a part of that great community.

It's not too late to get tickets for this year's festival, which features folks like Son Volt's Jay Farrar, the Mike + Ruthy Band, African Guitar Summit, James McMurtry, The California Honeydrops, Candelaria, Sarah Jarosz, and Wynonna & the Big Noise. Camp Live Oak is just 80 minutes south of SLO Town off Highway 154. Join the fun, bring the kids, and don't forget the sunscreen!
Back porch music
PHOTO COURTESY OF DONAVON FRANKENREITER
SOUL SURFER: Pro surfer turned Hawaiian folky Donavon Frankenreiter returns to the Central Coast to Play Tap It Brewing Co. on June 21.
If you mix a little Van Morrison, a little Randy Newman, and a little Neil Young together with a long-haired, laidback surfer dude; hand it a guitar; stick it on a back porch; and surround it with friends, you'll have Donavon Frankenreiter, who plays Tuesday, June 21 (6:30 p.m.; 21-and-older; $22 presale at ticketfly.com or $25 at the door), at Tap It Brewing Co. courtesy of Numbskull and Good Medicine Presents.
Now entering his second decade as a solo act after releasing four albums with the band Sunchild, he recently released his sixth full-length studio album, The Heart.
"All these songs are as close to me singing from the heart as I can," Frankenreiter said in press materials. "It's a complete record; the songs are intertwined. I had to call it The Heart—that was the theme of the record."
The songs are admittedly sentimental and co-penned by Grant-Lee Phillips, with whom he collaborated on his 2008 album Pass It Around.
"Grant told me, 'You should make the most intimate and honest record you've ever made,'" Frankenreiter said, "so these songs are simple and intimate and honest; they aren't cheeky. There's some ups and downs—I love writing positive songs and happy tunes, but there are some downers here. I feel like it's where I'm at, 42 years old. Every one of these songs means a lot to me. They're from the heart."
PHOTO COURTESY OF METALACHI
VIVA METALACHI!: Mariachi and metal mash-up act Metalachi plays Tap It Brewing Co. on June 17.
Numbskull and Good Medicine Presents has a few other shows cooked up for you this week, including rapper Shwayze at Tap It Brewing Co. this Thursday, June 16 (7 p.m.; all ages; $16 presale at ticketfly.com or $20 at the door), with Wildcard opening.
Pop cover act Makeover, which takes '80s hits and pours their punk mojo all over them, plays a free, 5 p.m. pop-up concert at Tooth & Nail Winery on Friday, June 17.
And also on Friday, June 17, catch the return of Metalachi at Tap It Brewing Co. (7 p.m.; 21-and-older; $15 presale at ticketfly.com or $18 at the door). This is what happens when a traditional Mexican mariachi band parties with a crazed metal band. Be warned!
R&B love affair
PHOTO COURTESY OF MAXWELL
SOUL MAN: R&B singer Maxwell performs on June 23, at Vina Robles Amphitheatre, performing songs from his new album blackSUMMERS'night.
Mark your calendar and buy your tickets for next Thursday, June 23, when R&B sensation Maxwell plays the Vina Robles Amphitheatre (doors at 6:30 p.m.; show at 8; all ages; visit vinaroblesamphitheatre.com for ticket info). Ro James will open the show.
Soul singer Maxwell recently released his first new song in seven years, "Lake by the Ocean," and new album blackSUMMERS'night, which according to press materials comes free with every ticket purchased online for his summer tour.
The New York Times called "Lake by the Ocean" "one of R&B's most elegant accessories to seduction," and in press materials Maxwell noted that "heartbreak is always at the core of most of the things I write. The song is about a vast unfettered love deeply connected to the intimacy one is able to share with another after a time of great struggle and betrayal. It's an expression of cleansing and escape, a washing away of the past and joining forces in love with the beauty of romance, nature, and the earth."
Sounds like love will be in the air on a hot Paso night!
More music …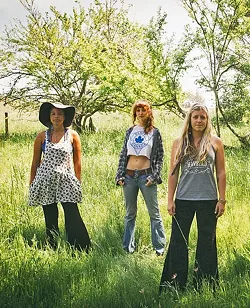 PHOTO COURTESY OF RAINBOW GIRLS
STRAIGHT OUTTA BODEGA: Bluesy psychedelic pop act Rainbow Girls play the For the Folks series at Honeymoon Café on June 17.
Honeymoon Café and its For the Folks series marches on this Friday, June 17, when two bands will play, Bodega's bluesy psychedelic pop act Rainbow Girls and local old-school AM radio-style country act the Shawn Clark Family Band, which will both be leaving for the Live Oak Music Festival afterward (7 p.m.; all ages; free).
Good Medicine Presents will bring LA-based indie-grass/old-timey act The Show Ponies to the fifth annual Mac & Cheese Festival this Saturday, June 18, at Avila Beach Golf Resort (2 to 6 p.m.; 21-and-older; $55 general admission tickets at themacandcheesefest.com). The event benefits Woods Humane Society.
Cambria chanteuse Jill Knight plays a Summer Solstice Bash at Domaine Degher's new tasting room (827 13th St., Paso Robles) on Saturday, June 18. The evening starts with Paso wine man Casey Biggs and Sleepy Guitar Johnson (aka label owner Denis Degher) playing at 6 p.m. followed at 7 p.m. by two sets from Knight. "Come early for fine wine and great Paso camaraderie," Degher said. Good music and good wine! What more could you want?
Hoapili Productions presents Hawaiian slack key guitarist and falsetto singer Steven Espaniola on Saturday, June 18, in St. Benedict's Church in Los Osos (7 p.m.; all ages; $20 tickets at santamariahula.org or by calling 878-6793).
PHOTO COURTESY OF YNANA ROSE
AMERICANA GAL: Ynana Rose brings her soulful voice and eclectic style to Bang the Drum Brewing on June 21.
Bakersfield-based reggae/ska/punk act 7th Standard returns to Frog and Peach this Sunday, June 19 (10 p.m.; 21-and-older; free). Playing covers and originals, several band members are multi-instrumentalists.
Contemporary folk and Americana artist Ynana Rose plays Bang the Drum Brewery this Tuesday, June 21 (6:30 p.m.; all ages; free), bringing her genre-crossing soulful voice and being accompanied by guitar wiz Dorian Michael.
Singer-songwriter David Trull plays Linnaea's Café on Wednesday, June 22 (8 p.m.; all ages; pass the hat). He cut his teeth playing the Tuesday night jam sessions at The Roadhouse in St. Louis but now spends most of his time on the road, bringing his melodic, accessible folk to new fans in towns all over America.
Keep up with Glen Starkey via twitter at twitter.com/glenstarkey, friend him at facebook.com/glenstarkey, or contact him at gstarkey@newtimesslo.com.