Bay Area artist Emily Gui believes blue is an integral part of her identity: She reads books about blue, searches for the color in her daily life, and spends her time reflecting on both the familiarity and mystery behind the hue. She is also interested in how we come to inhabit and know the different spaces we call home. After having lived in Massachusetts, New York, and California, she is well versed in the process of creating a home, or a space to dwell in.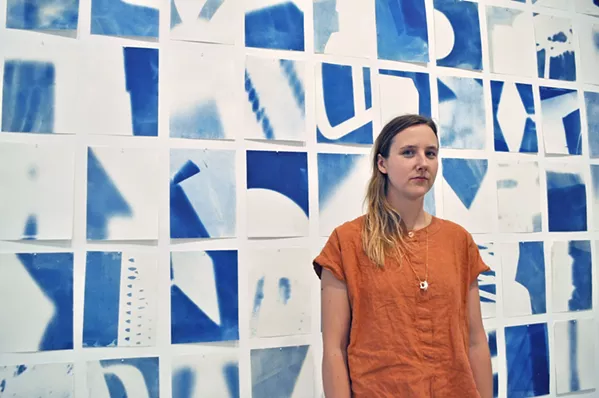 Photo By Ashley Ladin
CYANOTYPE IN SLO Dwelling is Bay Area artist Emily Gui's first exhibit on the Central Coast.
In her exhibit, Dwelling—on display at Cuesta College's Harold J. Miossi Gallery through July 22—Gui focuses on both her fascination with blue and how we come to embody and experience domestic spaces.
All of Gui's works are created with cyanotype, a photographic process created during the 19th century. Cyanotype is a two-part chemical mixture that is sensitive to ultraviolet light, or sunlight. When the mixture is painted onto a surface, the areas with more exposure to sunlight will turn deeper shades of blue. The pieces are intended to feel familiar and foreign all at once.
"I'm really interested in thinking about photography and truth—sort of pushing and playing with photography as a means of documentation, but also a way to push the boundaries of reality and fantasy," Gui said.
Cyanotype was also the first process used for architectural blueprints, an appropriate medium for works grounded in the idea of home.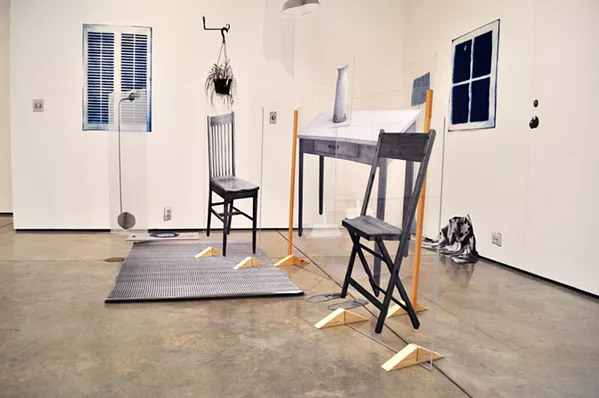 Photo By Ashley Ladin
CHANGING PERSPECTIVES Flattened furniture pieces in artist Emily Gui's Dwelling exhibit invite visitors to experience the work from different angles.
"For me it has a really interesting history, but it's also a process that is very fluid and flexible, yet hasn't been explored too much in the contemporary art world," Gui said. "It's inspiring because it feels like both uncharted territory, but also rich with history at the same time."
This balance of known and unknown is essential to Dwelling. Six collage pieces in the exhibit create fictional spaces by combining existing objects. All the photos in the collages were taken from three specific locations, 500 Capp Street in San Francisco (the former home of conceptual artist David Ireland, which is now a museum), Ikea, and junk stores.
"I think it's fun to imagine which parts of the pieces are from a museum, which parts are coiled up mattresses or a weird bin of plastic pieces from Ikea, and which parts are considered junk and just thrown out," Gui said.
Photographs of cherished, yet-to-be used, and rejected objects hang next to three blankets on an adjoining wall. They come from homes that are both intimate and distant for Gui.
"For the three blankets, two are from a thrift store and one is mine. I had the puffy comforter in my linen closet forever, and it was always too small to fit onto my bed, but sometimes I used it when guests would come," Gui said. "I find it interesting to think about where the other two blankets have been, and to know I had a personal connection to one of them, which kinda feels like a little secret in a way."
A once-owned puffy comforter isn't the only hidden connection in Dwelling. Walking through the gallery door, a paragraph hangs on the closest wall, showcasing the first few sentences of a longer essay by Amelia Marini. Marini and Gui became close friends while attending Bard College together in upstate New York, and Marini wrote this essay specifically for the show.
"A banister gates a doorway, a floor fades out underfoot ... Dwelling, ask[s] the viewer to consider the dimensions of intimacy: the properties of the spaces, both physical and psychical, that we inhabit in real time," Marini wrote.
Including Marini's words, the entire gallery is organized to encourage natural points of stopping and going. Gui hopes visitors take their time with the work, lingering around the gallery to consider each piece.
"I like to think of it as little moments that a visitor can kind of float around the gallery and have a small experience in each place," Gui said. "I'm really interested in perspectives and visitors viewing the installation from different perspectives."
Photo By Ashley Ladin
HIDDEN CONNECTIONS One blanket on display is from artist Emily Gui's home; the other two were found at thrift stores.
In this way, the visitors begin to inhabit and dwell in the gallery themselves, shifting their own thoughts as they go. Through both embodying the gallery and viewing the pieces, Gui creates an opportunity for visitors to reflect on the idea of space overall.
"If anything I hope it focuses our attention for a moment on how people embody space—just generally—and in that sense how important it can be and how it defines our experiences and memories." Δ
Editorial intern Ashley Ladin thinks cyanotype is about to blow up in the art world. Send comments to New Times Arts Editor Ryah Cooley at rcooley@newtimesslo.com.