Willingly signing up to start a new colony of humans on say, Mars, seems pretty crazy. But volunteering to give it a go living in a re-created Earth, which is actually under a glass dome being monitored by scientists in the real world, seems like the stuff of sci-fi. But it really happened.
Prolific novelist and short story writer T.C. Boyle (26 books of fiction and counting) is more than capable of creating his own out-there plotlines. But when life brings you something stranger than fiction, why not write about it? The 1991 Biosphere 2 experiment in Arizona, where eight people were supposed to remain enclosed for two years in a 3-acre reconstructed Earth under a glass dome, served as the inspiration for Boyle's latest novel, The Terranauts, just published at the end of 2016.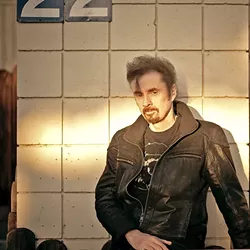 PHOTO COURTESY OF T.C. BOYLE
PROLIFIC: Award-winning author T.C. Boyle has penned 26 books of fiction, including novels and short story collections.
"This was secondary only to the astronauts," Boyle said. "It was a huge deal. This whole idea of an off-earth colony when the Earth goes to shit is still relevant."
Boyle will discuss The Terranauts, the craft of storytelling, and more at An Afternoon with T.C. Boyle at the Cal Poly Performing Arts Center on May 7.
While Boyle was deeply disappointed when the Biosphere 2 experiment was compromised—it was about two weeks in when a crewmember lost a finger and was evacuated—it inspired him to imagine what if the project wasn't compromised? While Boyle's setup closely mirrors history, complete with a backstory on a failed enclosure experiment, The Terranuats takes place in E2 (for ecosphere) and toggles back and forth between the narrations of three different crewmembers. There's Dawn Chapman, the young and hot manager of domestic animals; Ramsay Roothoorp, the communications officer who's super turned on at the idea of having sex under glass with the female terranauts; and then there's Linda Ryu, Dawn's supposed best friend, who's been forced into a support staff role on the other side of the glass. Linda was snubbed as a terranaut applicant because, in her words, she's "fat and Asian." Written in the first person, each narrator's account is intensely emotional, personal, contradictory, and a little unreliable.
IMAGE COURTESY OF T.C. BOYLE
STRANGER THAN FICTION: 'The Terranauts' by T.C. Boyle is based on the real-life 1991 Biosphere 2 experiment in Arizona. The four men and four women who volunteered to inhabit this Earth simulator to test the feasibility of colonizing Mars, were supposed to stay locked inside for two years. But just 12 days in, an injured crewmember was evacuated.
"You're on the side of each until you read the next one," Boyle said.
Boyle will also read his new short story Are We Not Men? out loud at Cal Poly on May 7. The story, which ran in the New Yorker's Nov. 7 issue, imagines a world where genetically engineered babies and animals are mainstream. The title is a nod to H.G. Wells' The Island of Dr. Moreau, which features human-like hybrid beings and questions man's interference with nature.
"It's very funny and horrifying too," Boyle said of Are We Not Men?
While the subject matter may be less than soothing, Boyle said he looks forward to the simple pleasure of orally telling a whole story to audiences, from start to finish.
"It brings me back to my mom, who taught me how to read," Boyle said.
Ryah Cooley is binge-reading at rcooley@newtimesslo.com.

READ ON : An Afternoon with T.C. Boyle will be held at the Cal Poly Performing Arts Center May 7 at 3 p.m. Tickets range from $16 to $35. A VIP meet-and-greet with the author will be held beforehand at 1:30 p.m. with wine and refreshments, for an additional $40 per person. Visit calpolyarts.org for tickets and more information.