It ain't easy being green, but Reborn sure does make it look good.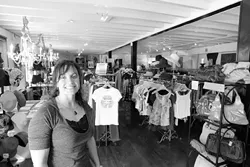 PHOTO BY STEVE E. MILLER
NEW AGAIN : Christina Maldonado, owner of Reborn, is wearing a 100 percent organic cotton hoodie by Alternative Earth and a necklace made of recycled glass by Blue Skies Glassworks.
# This Paso Robles clothing boutique isn't just celebrating its two year anniversary on March 15, it's also celebrating a steady transformation into a mini-eco-friendly Mecca for the Central Coast.
Since Reborn opened in 2005, owner Christina Maldonado has adhered to a "Reduce, Reuse, Recycle" motto by offering previously owned merchandise and recycling. At home, Maldonado was taking even more steps to be more environmentally sustainable when she realized that she could apply the same ideas to her store.
"I can make a difference, and it makes me feel better about my business," Maldonado said. "I really felt I had to offer something different. I want people to walk into Reborn and remember their visit."
As of this month, after several months of research and networking, nearly all of Maldonado's merchandise is eco-friendly in several ways.

First off, she only buys from clothing lines that import from countries that are part of the free trade agreement, and she tries to find lines that support organizations that take measures to reduce global warming.
As for the merchandise, the store offers a variety of brands, from celebrity favorite Pine IV Denim, a jeans company that has joined forces with American Forests to plant one tree for every pair of jeans sold, to Alternative Earth Apparel, a company whose clothing is made with 100 percent organic cotton and vegetable or low-impact dyes, and that donates a percentage of its profits to environmental organizations. Maldonado also offers reading glasses made from 100 percent recycled materials and vegan leather purses that are biodegradable after 10 years.
However, she isn't selling the tie-dyed T-shirts and the crocheted ponchos generally associated with green clothing. Maldonado's wares are chic as can be, and she offers brands advocated by everyone from Oprah to Cosmo Girl magazine.
"Eco-friendly clothing can be fashionable, edgy, fun, beautiful, and affordable without giving up quality," Maldonado said.
But apparel isn't the only thing Maldonado has up her green sleeve. She's re-decorating the store with all-natural materials. Plus, her business cards are plantable, so once you've memorized her number you can go out into your backyard, bury it, water your lawn, and wait for a patch of flowers to come up.
"My No. 1 goal is to educate the community, because SLO County has a long way to go," Maldonado said. However, she insists that she's not an "eco-Nazi" and she doesn't plan to convert all of SLO county to hybrid drivers overnight.
"I'm just trying to make people aware," she said.
Reborn is located at 725 13th St. in Paso Robles. For more information, call 239-7455 or e-mail christina@shopreborn.com.
---
This week's Strokes and Plugs was compiled by intern Angela Watkins. Send your business news to strokes@newtimesslo.com.