PHOTO BY GLEN STARKEY
WORSHIP HER! : A shrine erected to celebrate Mother Earth flanked one side of the stage.
PHOTO BY GLEN STARKEY
NINJA DANCER : Local artist and filmmaker Timo Beckwith boogied down with an unidentified female companion.
It's a beautiful, gauzy Saturday in El Chorro Regional Park, where a few hundred people have gathered to celebrate the fact that we haven't completely destroyed Earth yet. Vendors and info tents are scattered across the meandering park, and attendees wander from booth to booth, learning about stuff like Fun Ride, a local car sharing service with a fleet of nine alternative fuel and hybrid vehicles.
It's a cool idea! You pay $30 a year to become a member, then $7 an hour when you need to use a car. You sign up online, borrow the vehicle, and a nifty electronic key fob allows you to enter the vehicle and go. When you're done, you don't have to refuel it; you just leave it where you picked it up—and that's it. For people who don't often need a car and don't want to spend money on gas, upkeep, insurance, and all the rest, it's an amazing deal. They currently have 275 members and book about 750 hours of driving a month.
After an obligatory visit to the beer garden, I hear someone from the stage saying, "Beaming down from the mothership, crawling out of the creek, it will get sweaty," and then I hear what I think is Zongo! Allstars jumping into a set. As I wander over, I see Abe Perlstein, who stops to sell me on the merits of 3D photo and video technology.
"It's the future!" he says.
Then I see my old pal Curtis Williams, astrologer and Reiki master, who's manning his booth.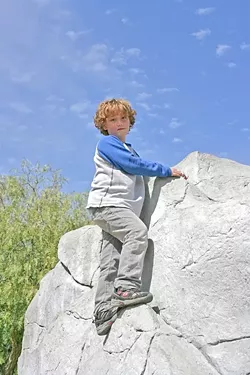 PHOTO BY GLEN STARKEY
SKY HIGH J: aden Robertshaw, almost 9 years old, scaled a synthetic rock in the play area.
PHOTO BY GLEN STARKEY
THREE QUEENS : A trio of belly dancers struck a pose before performing for the crowd.
"Are you staying out of the way of cars?" he asks, since the last time I saw him I'd been clipped by a car on my bike.
Then Al "Shival" Redwine shows up, smiling broadly despite the fact that his doctor made him give up beer.
"He said I could drink beer or live," says Al.
"And you chose life? Really?" I ask.
I make a quick stop at the play area to see Jaden Robertshaw, my girlfriend's almost 9-year-old son, who has scaled to the top of a synthetic rock. He wants to be in the paper. What's a little nepotism among friends, right?
I still haven't quite made it to the stage, but I have to pop in and say hi to Wendy Oliver, who, sadly, after 25 years had to close her downtown shop, Bali Isle.
"I feel so free," she says, ever the upbeat human. She's doing a lot of sales online and at festivals like this one, plus she'll be touring with reggae icons Black Uhuru, with whom her husband Ras Danny plays.
"I'll be doing their merch," she says.
I finally get to the stage, and I see a few familiar faces on the dance floor: Local activist Daniela Arnon is doing the hippie-hippie-shake, and local artist and filmmaker Timo Beckwith is doing the ninja dance.
PHOTO BY GLEN STARKEY
EARTH DAY SMILES : Everyone had a great time, including local musician Al "Shival" Redwine, at Earth Day.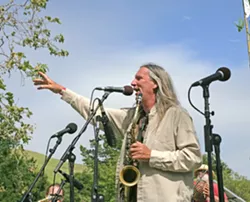 PHOTO BY GLEN STARKEY
SHOUT OUT : Andrew Wise of Zongo! Allstars got the crowd pumped up at Earth Day in El Chorro Regional Park.
Then I see my favorite belly dancer in the universe, Amy Harway, who's getting ready to bring the exotic goddess heat to the proceedings.
Up on stage, sax and flute player Andrew Wise and trumpet player Paul Irving are getting the crowd pumped up. It's turning into a real party. With this much positive energy, Earth might just stand a fighting chance.
Glen Starkey takes a beating and keeps on bleating. Keep up with him via twitter at twitter.com/glenstarkey, friend him at Myspace.com/glenstarkey, or contact him at gstarkey@newtimesslo.com.