Irene Flores and Ashly Raiti are living dream-come-true lives. Flores, 23, and Raiti, 22, both Lompoc residents, long wished that they could get paid for the artwork and stories they had been producing for fun for years.
Now, at an age at which many of their peers are only starting to develop long-term career goals, the two women are publishing their own manga series with help from a company called Tokyopop.
Not familiar with Tokyopop? Never heard the word "manga" before?
You're not alone. But if you don't catch up quick, you soon may be.
* * *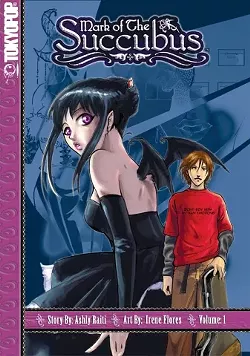 SUREFIRE SUCCESS: Diamond Comics Distributors ranked Ashly Raitis and Irene Flores "Mark of the Succubus" manga series 85 out of the 100 best-selling graphic novels for October.
#We in the United States have a tendency to import stuff from other cultures - language, cuisine, art - and sculpt it into something derivative, yet uniquely our own. It's the American way.
Take Taco Bell, for example. While the fast-food chain's menu items spring from ingredients that bear at least a nominal resemblance to actual foodstuffs hecho en Mexico, the meals themselves would most likely raise eyebrows if they were served up hot on typical Tecate tables. A tostada pizza, while appetizing to some, is not exactly a staple borrowed verbatim from traditional Mexican culture. (And, since we're being honest, let's not forget that even our "regular" Italian pizzas aren't quite carbon copies of the Roman and Florentine pies you can buy by the gram.)
There are always purists who will turn their noses up at, say, U.S.-made potstickers, but there are others who simply tuck their napkins under their chins, grab a pair of chopsticks, and happily exclaim "vive la difference!" - or some Chinese equivalent.
Whether you're the sort who prefers goods straight and unadulterated from the homeland or of the ilk more prone to sampling cross-cultural hybrids, it all boils down to a matter of taste, and with a country that stretches from sea to shining sea, you can pretty much follow your own manifest destiny to whatever makes you happy.
This is where manga comes in.
While the storytelling form is sometimes, at its simplest level, described as Japanese–derived comic books, it's much more than that. The term, which translates roughly as "entertaining pictures," encompasses a host of forms, most of which might more accurately be described as serialized graphic novels.
The cinematic, black-and-white storytelling style, born and bred in Japan, is finding a growing audience in the United States, where publishing companies buy the rights to Japanese titles and translate them for American audiences, encourage authors here in the states to develop their own titles and series, or both.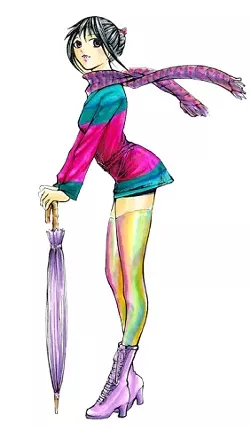 CULTURAL ALCHEMY: Editors and artists at Tokyopop have applied an American spirit to the classic manga art form to distill the high drama and high emotion of Japanese storytelling and mix it with settings, characters, and dialogue more familiar to American readers.
#You can find unaltered Japanese-made manga if you know where to look. You can find Japanese-made manga translated into English that still reads right to left. You can, conversely, find the same sort of manga that now reads left to right. You can find Japanese-made manga that retains cultural references and jokes that don't make sense to American audiences, and you can find manga that keeps the original Japanese artwork and storylines, but subs in American pop culture and slang. You can find American-made manga that looks just like the stuff from Japan, and, one shelf over, you can find American-made manga that looks like it wouldn't even know how to pronounce "konichiwa."
Within the manga-publishing melting pot bubbles enough variations and sub-variations on the theme to deny classification, so, for now, in the spirit of the American Way, just think of manga as chalupas. Printed Japanese chalupas.
* * *
Tokyopop, the Los Angeles-based manga publishing company helping to make Flores' and Raiti's dreams come true, boasts that it's "leading the manga revolution." Lillian Diaz-Przybyl (pronounced "Prizbal"), an editor there, is helping in that fight.
"It's such a flexible medium," she said of manga. "We're able to do so much with it."
Diaz-Przybyl has two main duties at Tokyopop, which was founded in 1996. On one hand, she deals with licensed books imported from Japan and Korea, making sure, as she says, that all the speech bubbles are in the right places. As the U.S. market for manga has grown, however, publishing rights from other countries have been harder to get. The good stuff is snapped up quickly, so some companies have taken a more proactive approach. In 2004, Diaz-Przybyl said, Tokyopop began to focus more on original work, and she was hired to develop manga for an American audience from American creators.
"We're really making a new market here," she explained. "American comics in general have been on the decline over the last 10 or 15 years."
In other words, reinvention after reinvention of Spider-Man and his super counterparts have created a collectors' market instead of fostering regular readers. After all, how many times can Superman die before the story gets old?
Diaz-Przybyl and others at Tokyopop have applied the good ol' American spirit to the classic manga art form in an effort to distill the high drama and high emotion of Japanese storytelling, mix it with settings, characters, and dialogue more familiar to American readers, and produce something new and appealing. Think of it as cultural alchemy.
"If people don't know what manga is now, I think they will very soon," Diaz-Przybyl said. "Or so we hope."
Remember, however, that for every innovation, there's an equal and opposite group of heel-draggers. Certain purists in the manga community maintain that the only true manga is manga from Japan - otherwise it's just comics.
Diaz-Przybyl sees that assessment as criticism coming from an older fan base remembering early American forays into the realm of manga, which resulted in artists who blindly aped the style - big eyes, pointy chins, cool hair - without tapping into the soul of the form and creating something worthwhile.
Today's made-in-the-U.S.A. manga is a completely different animal.
"I don't think it's ever going to eclipse the Japanese market ... but I certainly think there's potential to equal it," Diaz-Przybyl said.
To help tip the scales toward that equality, Tokyopop created a contest, dubbed "Rising Stars of Manga," which encourages American creators to try their own hands at the genre. In the year and a half she's worked at Tokyopop, Diaz-Przybyl has judged two volumes for the contest, helping to pick 10 winners each time. Many of the winners ultimately get contracts with the publishing company, whether for the projects they submitted or for later pitches.
* * *
Lompoc's Flores and Raiti almost perfectly typify the American manga experience: blending cultures, mixing artistic styles, crossing themes - you name it, they've done it.
Flores, an artist, was born in the Philippines and raised on Japanese cartoons - Astroboy, Voltron, and Hayao Miyazaki movies - a diet that eventually grew to incorporate her brother's Marvel comic books. When she was 12, she moved to Lompoc, where's she's lived ever since.
Raiti was born in Panama, where her father was stationed. When she was 8, her family moved to Vandenberg, and when her father retired, they moved to Lompoc. Raiti started out reading American comics, but eventually turned to manga where she found elements that she felt were lacking in its Western counterparts.
"A story doesn't have to be spelled out in paragraph-long descriptions," she said. "I guess I like that things in manga can be a little bit more open to interpretation. You don't have to go out and say that a character's feeling such-and-such a thing."
Raiti and Flores became friends at Cabrillo High School, where they discovered a mutual liking of manga and anime (think animated manga). The two eventually collaborated on a web comic called "The Castings" in 2002, with Raiti writing the story and dialogue and Flores providing the illustrations.
Someone familiar with "The Castings" eventually told the pair about Tokyopop's Rising Stars of Manga contest, and they entered and won as runners up in the third volume.
"After that, we kind of thought, -Hey, we could probably do this professionally,'" Flores said.
They attended an Anime Expo in Anaheim in 2004 for a Tokyopop portfolio review, and were encouraged to meet up with the company again at San Diego's annual Comi-Con. There, they pitched a fantasy series that eventually got a thumbs down in the wake of an influx of fantasy-heavy material from Japan. Before they could get too discouraged, however, Tokyopop then asked for three more story pitches.
Flores and Raiti developed what they felt were two strong ideas and one afterthought based on one of Flores' random sketches of a girl with bat wings. Raiti dubbed the girl a succubus - a female sex demon. They named her Maeve, decided she was conflicted in her demonly duties, and left it at that.
Tokyopop bought the afterthought.
The project was greenlighted as a three-volume series, called "Mark of the Succubus," in August of 2004. Diaz-Przybyl oversaw the editing, which lasted about a year. In that time, the arc grew to include a somewhat disaffected high-school boy named Aiden, his domineering girlfriend, his conspiracy-theorist best friend, Maeve's mentor incubus Veril, a shape-shifting imp named Junael, and Sylene, a high-ranking and scheming succubus.
Maeve travels from the demon world, Erebus, to try to fit in as a human, posing as a high school student until she gets her license and can kill someone - but it's not as dark as it sounds. The first volume has romance, humor, and just a touch of peril.
* * *
"Mark of the Succubus" should now be available at any major bookstore, smaller shops, or can be ordered online from Tokyopop.com.
Flores said that she and Raiti recently saw the book, which was released on Nov. 8, at the comic-book store in Lompoc.
"We were surprised," she said. "We walked in one day, and they had a copy of our book. We were freaking out."
Local-creator appeal definitely plays a factor when it comes to local sales, but it's by far not the only motivator. Jason Newton, owner of Anime Express in San Luis Obispo, said that "Mark of the Succubus" was selling well - he's already had special requests for it and re-ordered on Nov. 17 - but had no idea the author and illustrator were Central Coast residents.
Sales charts compiled by Diamond Comics Distributors for October (available at www.comicbookresources.com) already ranked "Mark of the Succubus" at 85 out of the 100 best-selling graphic novels, and at 14 out of the 50 best-selling manga for the month.
Anime Express's Newton isn't surprised by either the success of the book or the fact that it was made by locals. He said that he carries series written by other Central Coast residents, including another Rising Stars of Manga winner. He knows of locals who edit and ink for Tokyopop.
"For such a small area that's kind of in the middle of nowhere, we have such a big impact," he said of the Central Coast's manga influence.
As pretty much the only anime- and manga-exclusive shop around, Anime Express draws customers from as far away as King City. While maintaining such a niche business has its risks, Newton said that he's enjoyed success in the 4 1/2 years he's run the shop. He spent two years researching before he opened his doors, and ultimately decided that if he built it, people would come.
"It's something we thought would work because the clientele for anime products is very loyal," he said. "They're some of the only people that will pay sometimes a premium for these products."
His original profit estimates turned out to be too low, so he doubled his predictions for his first year. Business has remained brisk thanks to growing familiarity with the product, helped along by TV channels - like The Cartoon Network - that regularly air anime, and theaters - like the Palm Theatre - that show stylish animated movies from Japan, such as Miyazaki's "Howl's Moving Castle," which opened locally mid-summer.
* * *
Flores and Raiti haven't yet set plans for what they're going to do after their creation runs its three-volume course.
"We're going to be working on -Mark of the Succubus' for another two years," Flores said. "I don't really think too ... far ahead."
The series ending, Raiti mentioned, will be open-ended enough to potentially continue if that avenue opened for them, but for now, the two women are just happy to be living their childhood dreams.
"This is something we were doing for fun before Tokyopop hired us to do it," Raiti said. "We're getting paid for it now. We love it."
"I'm not going to stop if I can help it," Flores added.
Ryan Miller is the editor of the Santa Maria Sun, New Times' sister paper. He can be reached at rmiller@santamariasun.com.