Location, location, location. That's the thing, it's all about where you're at in proximity to everything else: friends, the space between home and work, or even the space between nature and the urban jungle.
PHOTO BY RYAH COOLEY
THOSE WHO DO, ALSO TEACH: Sara Frantz, a drawing professor in the art department at Cal Poly, focus on spatial relationships in her exhibit East of Middle in pieces like "Rear View."
Sara Frantz, a new drawing professor at Cal Poly, has always been fascinated by spatial relationships. Her exhibit, East of Middle is currently on display at the Harold J. Miossi Art Gallery at Cuesta College.
"In general the exhibit represents the work I've been doing for a while, sort of this intersection between man-made structures and nature," Frantz said. "The name East of Middle kind of came from, I was in China at the time and I was emailing back and forth with people about the title. I've had three shows in the past year and most of them were titled things like Between Borderlands and Middle Territory. They were about spatial relationships and what's happening between these borders."
While Frantz has no architectural experience, the majority of her pieces focus on various buildings juxtaposed with their natural settings.
"It's usually very important to me that these buildings are of specific places," she said.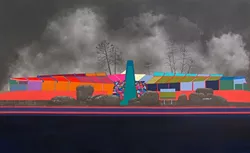 IMAGES COURTESEY OF SARA FRANTZ
'80S BABY: The piece "84" was inspired by a dermatology office building at 84 Santa Rosa St. in San Luis Obispo.
Before moving to San Luis Obispo a year ago to teach at Cal Poly, Frantz lived in Texas for 10 years, and many of the exhibit's pieces, which have a signature bright pop of color contrasted with neutral shades, reflect that. However, one piece does pay homage to Frantz's new home on the Central Coast.
Her piece 84 depicts a dermatology office located at 84 Santa Rosa St. in San Luis Obispo. The building jumps out in coral, tangerine, turquoise, red, and forest green, against a drizzling rainy-looking gray background.
"It was a unique building that I cam across when I was driving to interview for the job at Cal Poly," Frantz said. "I thought even if I don't get the job, I have to draw that building."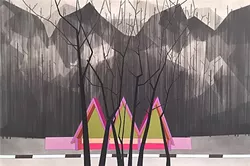 IMAGES COURTESEY OF SARA FRANTZ
THE FAMILIAR UNFAMILIAR: In her piece, "Yes," Frantz puts a rest stop building she came across in China in a Big Sur-like setting.
Another piece, titled Yes, was inspired by a rest stop building in China, although the background has roots closer to home.
"That's kind of being mixed with a space that is more theatrical than real," Frantz said. "I'd say it has more to do with Big Sur than China, but the building is from China."
About six of Frantz's pieces in the exhibit are smaller pieces focused on the simple rectangles found in the urban jungle that are so commonplace that we often think little of them: billboards, drive-in signs, scoreboards at football games. These pieces take a super minimalist approach, using a single pop of color for the featured rectangle, sans words or designs with a gray and black background.

MAKE SOME SPACE FOR THE EAST : Sara Frantz's East of Middle exhibit runs at the Harold J. Miossi Art Gallery at Cuesta College through Dec. 4. The gallery is open Monday through Friday from 1 to 4 p.m. as well as the first and third Sundays of the month from 12 to 4 p.m. Admission to the gallery is free, but parking costs $2 and can be purchased in Parking Lot 2.
But like a good parent, Frantz doesn't want to single anyone out.
"They're all my favorites," she said. "I would have to say that I'm really enjoying the bigger pieces. Not because I necessarily think they're more important or better than the others, but just because they're the newest. Where I'm going with the work, it feels exciting to have this spatial relationship that's bigger."
Ryah Cooley likes turning things upside down at rcooley@newtimesslo.com.