Edmond August 2013 Inquiry Sherry's Rose 
Paso Robles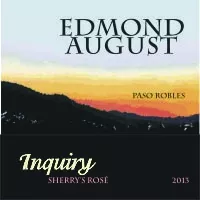 EDMOND AUGUST 2013 INQUIRY SHERRY'S ROSE PASO ROBLES :
A blend of grenache, mourvedre, and syrah, this pretty pink blend has bright notes of strawberries, raspberries, and sweet watermelon. Still, it's remarkably dry and delicious whether on its own or with food. I'd choose it for a cheese plate with fruit and nuts, paella, pizza, or any shellfish appetizer. It's quite limited with only 38 cases made but it's well worth seeking out. Buy it at the Paso Underground tasting room located on Pine Street across from the Downtown Park.

Baker & Brain 
2012 Pinot Noir Central Coast

BAKER & BRAIN 2012 PINOT NOIR CENTRAL COAST:
Truly great winemakers can take pinot noirs grown in very diverse appellations, and make a blend that will blow your mind. That's exactly what I thought when I tasted this noteworthy pinot made by winemakers Josh Baker and Matt Brain. They explain that it's, "a blend of fruit from our favorite vineyard sites in Monterey and Santa Barbara counties." Their description of luscious dark red fruit is exact with its black cherry notes, tangy plums, and subtle herbal notes. It's a wine I can enjoy on its own and really get into at the dinner table. It's a great choice for an irresistible grilled steak, roast chicken, pepper-crusted ahi tuna, or grilled local wild salmon. An excellent but limited wine at $30 retail, find it on bakerandbrain.com, and with only 225 cases made, it won't last long.