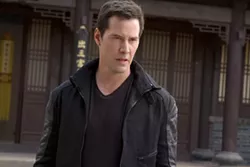 PHOTO COURTESY OF FANSTASTIC FEST
MAN OF TAI CHI: Keanu Reeves' directorial debut Man Of Tai Chi played at one of Fantastic Fest's Secret Screenings.
Editor's note: New Times' film critic Bryce Wilson lives and works in Austin, Tex., where he occasionally gets to do things too awesome not to write home about. In this case, Wilson brings tidings from Fantastic Fest, where he caught early screenings of several films that will eventually be playing in San Luis Obispo County.
Good sir, you may keep your Coachellas and your Burning Mans. If you seek my utopia of like-minded freaks, just come to Austin in late September and there you shall find Fantastic Fest.
2013's Fantastic Fest has the distinct air of a festival trying to figure out just what it wants to be. For nine years running, Fantastic Fest has enjoyed the reputation of being the film fan's film festival. It's not just the type of movies that come in, genre films from all over the world kung fu, horror, fantasy, crime, art films, vintage programming and the passion projects of favored auteurs, it's the way the festival allows you to see them. Unlike Toronto, Sundance, Cannes, and ever increasingly SXSW, there are no industry connections or press passes needed. Hell, for most of the festival you don't even need a badge if you're willing to wait on standby and try your luck. If you love movies, and you show up, then you're in.
Of course, with the vicious logic of these things, this creates a problem. As the festival's reputation grows bigger movies start to play. Last year alone saw the United States debuts of Looper, Cloud Atlas, and Frankenweenie, as well as art house heavy-hitters like Room 237 and Holy Motors. Bigger movies start to play, bigger and less dedicated crowds show up, and soon Fantastic Fest loses the very access that made it unique. Couple this with the fact that the Fest's spiritual home, The Drafthouse in South Lamar, is currently a smoking hole in the ground causing the festival to be transferred 30 miles north, from the heart of Austin to its outskirts, and perhaps it's not so strange that it feels like the festival is taking stock.
And if I read the mood right, then this year's Fantastic Fest feels gratifyingly like a deliberate step back toward the intimate. Sure, the opening night film was still a big-budget studio film, but it's Machete Kills, directed by hometown hero Robert Rodriguez, and considering the array of freaks and hyper-violence that it offers up, it fits right in.
PHOTO COURTESY OF FANSTASTIC FEST
CHEAP THRILS: One of the most striking films of the fest is Cheap Thrills, which focuses on a family man driven to the very edge by economic meltdown in a blackly funny fable.
A few more big-ticket items play at the festival's infamous Secret Screenings before things are over, including Keanu Reeves' directorial debut Man Of Tai Chi (Reeves himself came to introduce the film and suddenly the temperature in Austin was 75 degrees. Coincidence? I think not!), Eli Roth's Green Inferno, Alfonso Cuaron's Gravity, and Terry Gilliam's much anticipated Zero Theorem. But the wonderful thing about Fantastic Fest is that here and only here the small-ticket items are treated the exact same as the blockbusters. Walk the grounds of Fantastic Fest among the intricate facial hair and vintage T-shirts and you will hear people swooning with envy that their friends got into Jodorowsky's Dune, Escape From Tomorrow, or Cheap Thrills. These are the true believers, who will fall into varying states of exhaustion, disrepair, and chemical derangement over the course of the fest. They've driven overnight from Georgia, flown in from France, hitched from L.A. all to get their piece of what the fest promises.
And lo! It does deliver. This year's festival is one of the best lineups since I started attending. Both films that all but have huge breakout crossover hit stenciled on their forehead (Afflicted: You heard it here first, ladies and gentlemen) to ones that may never be seen again. Want kung fu? Perhaps I can interest you in Stephen Chow's latest experiment in shooting the martial arts the way Chuck Jones might, with Journey To The West. Or Man Of Tai Chi, Keanu Reeves' genuinely strong directorial debut, an old-school tournament kung fu film shot with an impressive command of action filmmaking. (If a week ago you had told me that Keanu Reeves would make a better old-school kung fu film than The RZA I would have thought that you were high.) Perhaps horror floats your boat. Well, step right up for Ti West's The Sacrament, a starkly horrific film about a trio of journalists who investigate a cult, that disturbed me (yes, me!) greatly. In the words of Dudley Moore, The Sacrament won't just scare you; it'll fuck you up for life.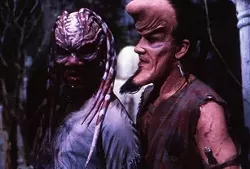 PHOTO COURTESY OF FANSTASTIC FEST
NIGHTBREED: THE CABAL CUT: One of the most impressive acts of film restoration I've ever seen, Nightbreed: The Cabal Cut was among the notable horror selections at the 2013 Fantastic Fest.
Or you could sample All The Boys Love Mandy Lane, the long buried late-period slasher film that has nasty fun with the gender politics of the genre, or Nightbreed: The Cabal Cut, one of the most impressive acts of film restoration I've ever seen. Prefer some nice small-scale human stories? Oh, we have those; they may not be cheery. Two of the most striking films of the fest are Escape From Tomorrow and Cheap Thrills. Both focus on family men driven to the very edge by economic meltdown in blackly funny fables. Escape From Tomorrow has the added benefit of being shot guerilla-style in the famously paranoid Disney parks, very much without their consent. The film is protected as work of parody, leaving the Disney lawyers with no recourse but to wail and gnash their teeth. Documentaries your bag? Then by all means check out Jodorowsky's Dune, a look at the greatest film never made, a film that would have brought together Salvador Dali, Orson Welles, H.R. Giger, Pink Floyd, and Dan O'Bannon all under the messianic eye of Jodorowsky, who aside from a few talking heads pretty much gets to tell the story, with more force and vitality at 84 then most of the people I encounter in my day-to-day life. Want something unlike anything you've ever seen before? Well then, there's Why Don't You Play In Hell? Which ... you know, I'm running out of space here and I don't even want to try and sum it up.
There are other things going on at the fest. At any given moment Drafthouse Guru Tim League (Fantastic Fest is his baby) may fight the star of Man Of Tai Chi, or the boys from Metallica might drop by for a set of karaoke. But at the end of the day it is all about the films. That's what drives us here and keeps us here. Next year you should totally come along. Just don't bring too many people ... .
Bryce Wilson is a film critic and New Times' Blast from the Past columnist. Comment via Arts Editor Anna Weltner at aweltner@newtimesslo.com.