Take a tour of Lightning in a Bottle with Dylan Honea-Baumann, who captured that light with his camera.
Her eyes are swollen. Makeup is dripping down her face. I can feel the depth of her ascension, the depth of her healing.
PHOTO BY DYLAN HONEA-BAUMANN
CELEBRATING SEXY: Zoe Elliott (right), held by her girlfriend Treanna Dearrillaga (left), says that she feels sexy to be seen by others and hopes people get a kick out of it. "We just like to add to the experience and just be fucking weirdoes at a festival," Dearrillaga said.
The ambient sounds from the main stage and other festival reverberations fade into silence. All I can focus on is this young woman seated with her legs folded over one another, with a didgeridoo pointed at her chest, crying with her eyes closed. Astarius Miraculii is giving her a sound healing treatment, intended to cleanse and balance her chakras.
The sound that Miraculii breathes into his didgeridoo intends to awaken this woman's memory of self, to push her past the pain and suffering into the universe that lives within her soul, and it seems to be working.
Tears, sweat, blood, and laughter are all a part of the Lightning in a Bottle (LIB) festival experience put on by The DoLab. It's all around me. It comes at me in droves. More than 20,000 people of all ages and backgrounds coexist within the dusty heat of the dried-up San Antonio lake bed, 60 miles north of downtown San Luis Obispo, on Memorial Day Weekend. More than 60 different groups collaborate to put together LIB, a festival known for its attention to details.
And it all started with a Dream.
Dream Rockwell that is. She is a co-founder and executive producer of the festival, curator of the Temple Stage and Temple of Consciousness at LIB, co-founder of The Do LaB, as well as the founder of the Lucent Dossier Experience—a performance troupe that has performed at LIB for 10 years now.
PHOTO BY DYLAN HONEA-BAUMANN
ARTISTIC ENDEAVOR: Jesse "Family" Lillibridge attends LIB to spread his "wearable art" and to inspire people to be a little more brighter and bolder.
Rockwell's original goal in helping begin LIB, "was to bring people together in a unique and powerful way, to create space for people to be more of who they are, to allow people to be free to express themselves, to be closer to art, to be amongst like minded people, to break out of the box … that's way too small, that doesn't fit us, with the idea that if we could do that for, you know at first it was three days, now it's five … then we could take that information, that knowing, back to society, and create a more loving, sustainable society, a world where we feel better."
Aside from verbally expressing that we need to break out of the box, Rockwell's performance troupe visually expresses breaking out of boxes of mental constraint at the end of their performance at LIB. Cardboard boxes labeled with words such as rage, arrogance, hate, anxiety, fear, blame, and lack are destroyed in a symbolic and empowering performance that visually presents the importance of freeing yourself from negativity.
For some, LIB may just seem like a place to celebrate or party—and it is certainly designed partly for that—but there is more to that equation if you are open to receiving it.
Embodied energy
But why is the festival called Lighting in a Bottle anyhow? I asked a variety of people at the festival and many had no clue.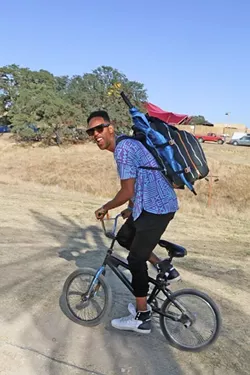 PHOTO BY DYLAN HONEA-BAUMANN
FAMOUS AMONG THE CROWD : One of the main stage performers at LIB this year, Lafa Taylor, is one of the smart ones who brought his bike to get around the vast space that the festival is held on.
When I asked my beer-brewer neighbor at the festival, he said that it is a reference to moonshine. When I looked online, I found it defined as "an incredibly difficult, unlikely, and/or elusive achievement or period of success." It also says that the phrase is usually used in conjunction with the word "catch" or "capture" in order to express achieving something that first may have seemed unachievable.
Rockwell's explanation for why they decided to name the festival Lighting in a Bottle is simply that they needed to come up with a name. Two of the cofounders had a birthday party called Lightning in a Bottle and they thought it would also be a catchy name for the festival. Rockwell describes each one of us as kind of like lighting in a bottle: "Our bodies operate on electrical circuitry, so we are lightning in a bottle; we are this vessel with lightning inside of us and what if all the 'lightnings' in a bottle come together and bring their energy together, what are we going to have? So for me, that's what Lightning in a Bottle is," she said.
What differentiates this festival from mainstream festivals like Coachella or Electronic Daisy Carnival (EDC) is that it is recognized as a "transformational" festival. However, since The Do LaB hosts installations at Coachella, much of that same crowd is drawn to LIB. LIB attempts to bridge the gap between the mainstream festival crowd and the typical transformational festival crowd.
"Someone who goes to EDC wouldn't go to Bhakti Fest, and they wouldn't get the messages of consciousness there, but here they can," said transformational festival enthusiast Kiyana Broom, who flew from Nicaragua for LIB because she believes it is one of the best festivals to attend.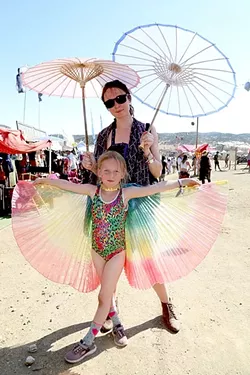 PHOTO BY DYLAN HONEA-BAUMANN
FAMILY BONDING : Marina Panda stands with her 7-year-old daughter Margarita, who's been to three such festivals in her short life.
One of the main parts of transformational festivals is the focus on sustainability, and LIB prides itself on being as sustainable as a festival of its size can be. According to its website, it's the only U.S. festival to receive the Outstanding Award from A Greener Festival Foundation for five years in a row. It is designed to influence people's lives in such a way that it expands their consciousness, has a positive impact in creating change in their lives, and leaves them feeling inspired physically, mentally, and spiritually, long after the festival is over. Rather than being solely designed to party and celebrate, the idea is that you can gain long-lasting knowledge and wisdom from the festival, in addition to memories of fun had.
Rockwell uses an analogy that compares us to computers needing to get software updates to describe the importance of the transformation.
"We're operating on a system, it's antiquated, it's yesterday's news, but we still keep running that program because we were born into it," she said. "We've been living in it so we just want to keep running that program and running that program. The new program that is coming in is a much more holistic and sustainable program."
By spreading knowledge about the importance of sustainability and providing things like educational workshops and spaces for meditation in a place that would otherwise solely be a party environment, the festival is able to reach out to people who might not be as open to the information in a less stimulating environment.
Transform it
LIB, the festival that was inspired from a birthday party for twin brothers (Jesse and Josh Flemming) and grew into a community bigger than multiple towns in SLO County, demonstrates the rise in popularity of transformational festivals.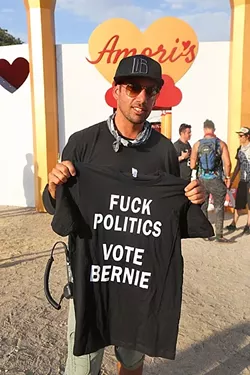 PHOTO BY DYLAN HONEA-BAUMANN
TRANSFORMATIONAL POLITICS: Lightning in a Bottle co-founder Dede Flemming holds up a shirt supporting Bernie Sanders.
Similarly, a transformational festival that started near this area, just a short drive up Route 1, in Big Sur, is Big Surreal. Just like LIB, it was inspired from a birthday party for twin brothers (Luke and Mike Handy) and now in its third year, moved to a new location to accommodate growth.
But why are transformational festivals gaining such popularity?
"I believe that it's because we all desire more. We all want to get crazy and dance because that stuff is important, but we also desire more in our lives, we want more connection, we want more information, more knowledge, deeper understanding of ourselves and others, and transformational festivals where we can dance all night and party like crazy and then go do yoga at sunrise and sit and listen to empowering talks during the day. That's important to us now," LIB co-founder Rockwell said. "As a people, that is important to us now."
One of the guest panel speakers at Lightning in a Bottle, Adam Krim, said that he has found so much inspiration from festivals that he has been to seven festivals in the past three months. He is currently working on building a permanent transformational village, called Delphi Village, so that, "We can be doing this all the time … to change the world."
Krim said his first festival was the Phish Clifford Ball in 1996 when he was a sophomore in college, and his first Burning Man was in 2005—a life-changer.
PHOTO BY DYLAN HONEA-BAUMANN
LIGHTNING IN A GIFT : Mike Dominguez holds up a hand-painted bottle given to him by a woman at LIB. Dominguez believes that LIB is part of the "Hopi prophecy of us rebelling against what was created and trying to create something new for the future of our children, for the future of humans."
"What these festivals do is give us a real opportunity to tap into who we are and what we want to bring forward in the world, and so I think having these kinds of talks at these festivals, where it's not just about the parties … are so uplifting and are world changing, and so that's why these things are happening," he said.
Another festival attendee, Mike Dominguez, who was holding a hand-painted bottle with a lightning bolt on it that caught my eye and made me want to whip my bike around to interview him, said that he raised his kids at rainbow gatherings and music festivals.
"I believe in it so much that I'm raising my family in the festival culture, in the psychedelic culture, in the culture of kindness, in the culture of human consciousness, the culture of new ideas and a new way of viewing the human family," he said.
Dominguez said his 6-year-old son has been to more than 20 festivals and his 16-year-old daughter has been to probably 40 or 50.
While not all parents would consider bringing their children to one of these gatherings, Marina Panda from Los Angeles says that this is her 7-year-old daughter's third time at a festival, and bringing her daughter, Margarita, to LIB is the least she can do for her. Margarita said that LIB is really fun and her favorite part was "making badges at Monkey Chant" and she encourages other parents to bring their kids to LIB.
One of the musicians who performed on the main stage, Lafa Taylor, said that his mom went to LIB before he did.
"I should shout out my mom one time because my mom came to LIB before I did, and my mom was like, 'This is one of my favorite festivals, you should really check it out,'" Taylor said, continuing with a rhyme. "I got this brand new drug and it's the bomb, it's called run back home and hug your mom."
Inspiration and art
LIB aims to inspire people of all ages and backgrounds. And that could be seen around the festival, from a baby being carried on its mother's back, wearing earmuffs for hearing protection, all the way to an older couple dancing and emitting their feeling of eternal youth. The older couple compared LIB to festivals that were thrown in ancient Roman times, saying that these types of gatherings are nothing new.
PHOTO BY DYLAN HONEA-BAUMANN
HUMAN CONTACT: Phillip Debies and Kiyana Broom just met, but that doesn't stop them from instantly sharing more eye contact than most people have throughout an entire day. "I've met so many amazing people, even if we never see each other again and I don't even know your name ... it's that connection that happens from just looking in people's eyes," Debies said. Broom continued, "It's so primal and I think it's uncomfortable sometimes in our regular society to look at someone for a long period of time … I think this is just a really honest, open, pure way to look at it."
Wes Broshears (Wes Bro Art), an artist from SLO County recently featured at Bello Mundo Café in downtown San Luis Obispo for his Central Coast inspired paintings, said that he has gained a lot of his inspiration from LIB and other festivals. So much so, that he wants to start an art collective with other artists on the Central Coast to come together and go to events like LIB and share art with everybody.
"We have to thank The Do LaB and other people who put on events like this for showing us an example of what our potential is, what we can create ourselves," Broshears said.
The entire experience can be inspiring, from the insane amount of energy it takes to create the unique, visionary, artistic environment in unforgiving conditions, to the contributions of each individual in bringing their own art to the table. Whether that art is as simple as self-expression through movement or as complex as a huge canvas that they spend the entire weekend painting in detail while others are wandering around the festival.
From old to young, everyone in this community has the opportunity to be an artist in their own way. And for those who come to just party, they quickly learn that it feels better to celebrate if you contribute your own art to the experience, whatever that is.
To further exemplify the fact that LIB is a culture based in art, Jesse "Family" Lillibridge, from Family Fades, says that calling what people wear at festivals "fashion" is an understatement.
"I believe it's an artistic inflection that they have; they have an opportunity to look creative, be creative with the way that they present themselves, and a lot of this 'fashion,' it's art, it's wearable art, so to even call it fashion, I don't adhere to that. I think I adhere to that they're into wearing this wearable art and sharing that with the outside community and inspiring people to be a little bit brighter, bolder," Lillibridge said.

AMPLIFY YOURSELF: Lightning in a Bottle returns to Lake San Antonio next year. Keep tabs on when it will happen, who will be playing on stage, and who will be there to help inspire and heal at

lightninginabottle.org

.
Like many artists at the festival who spend their time focused on creating and sharing their art, rather than wandering around the festival to party the weekend away, Lillibridge's intent is to inspire.
"I didn't come here for the party, I came here to share this art with the community and help this community feel a little bit more vibrant, free, and into their dreams and have their dreams and everything amplified," he said.

Staff Photographer Dylan Honea-Baumann transformed into a vegetarian at LIB this year. He can be reached at dbaumann@newtimesslo.com.