In an attempt to decrease the number of accidents downtown, San Luis Obispo City engineers are adjusting the location and size of existing parking spots. The move will ultimately result in the loss of two spaces, one on the 800 block of Higuera Street and one on the 1000 block of Osos Street.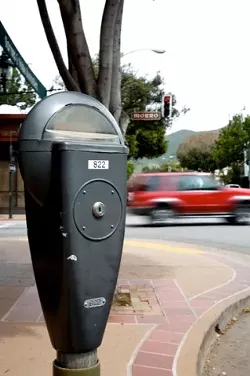 PHOTO BY JESSE ACOSTA
CHANGE, ANYONE? : Engineers are shuffling a couple of San Luis Obispo city parking meters on downtown streets as workers increase the size of parking spaces.
# "From a parking standpoint, I never like to lose a space, but safety takes top priority," San Luis Obispo Parking Manager Robert Horch said.
City workers are removing existing parking meter poles and casings and placing them into new holes to increase parking spaces to the now-standard length of 22 feet. According to Horch, the internal meter mechanisms won't be replaced.
Currently, downtown parking spaces vary in length, with some less than the standard 22 feet, but they're still considered legal since they met standards when they were installed decades ago.
That, combined with the increasing
prevalence of larger-sized SUVs and trucks in recent years, has caused parking problems and accidents throughout the city, SLO officials said.
According to the City of San Luis Obispo's 2005 traffic collision report there were 1,089 total reported collisions on public streets.
San Luis Obispo City Traffic Engineer Dario Senor said the downtown area had a "significant collision pattern" in part due to larger vehicles and the less-than-standard parking space lengths. Senor said the majority of the construction would be completed by city workers to keep expenses down.
Construction on Osos Street has already begun, while construction on Higuera Street is slated to begin late this summer when the street will be repaved, between Nipomo and Morro Streets.