"Don't try this at home," Shayne Mastriano says before guzzling down a mouthful of highly refined lamp oil. He's careful not to swallow the liquid that his peers claim tastes like a combination of candle wax and coconut oil.
Mastriano sidles over to join his troupe of fellow fire artists assembled in the backyard of a large house at the end of a cul de sac in Arroyo Grande. It's sunset. And the fire artists are growing restless, even before they all filled their mouths with flammable oil.
The group is well known across the Central Coast, from Santa Maria to San Luis Obispo, under the moniker Ignite Fire Dance—a name that has grown in stature over recent months.
At the end of October, some of the troupe's antics were featured on Comedy Central's Tosh.O after a video of them went viral. They were filmed moving a ball of fire up a parking garage with nothing but their lungs, oil, and will power.
"I feel like a lot of us have been doing this a long time, and I really wanted to see us come together as a performance troupe, and breathing has really done that," member Johnathon Felch whispers as the group settles into place.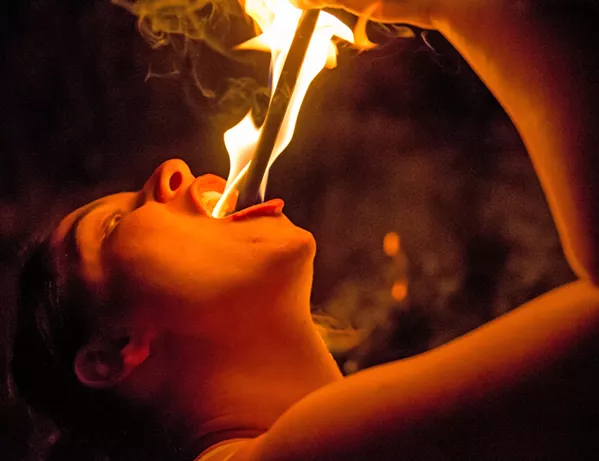 Photo By Jayson Mellom
EAT IT Sword-swallower Samantha Jones sticks a fire wand in her mouth. Getting burned is inevitable, she said—it's just a matter of degree.
It takes precision to breathe flames, let alone in coordination with multiple fuel sources and flame wielders. Most novices practice for months with water just to get the right technique down so they can successfully spray the liquid out as a fine mist.
"You're concentrating on the shape of your mouth, the position of your tongue, the pressure from your lungs, and creating tension with your core," Mastriano explained moments earlier. "And you have to concentrate on your breathing because you can only breathe through your nose." Safety is of the utmost importance, not just due to the risk of a random spotfire in a backyard or park, but also for each fire breather's health.
"The most dangerous part about breathing fire is not catching yourself on fire or anything like that," Mastriano said. "It's giving yourself chemical pneumonia through breathing in the unlit fuel vapors or molecules that get into your lungs."
Photo By Jayson Mellom
IGNITED The Ignite Fire Dance troupe performs fire artistry at weddings, birthday parties, special events, and festivals on the Central Coast and beyond.
Fortunately, this isn't Mastriano's, or anyone in attendance tonight for that matter, first rodeo.
"Mm (1). Mmm (2). Mmmm (3)," Fire artist Levi Morin counts behind closed lips.
Whoosh.
Flames erupt from five mouths, forming an amorphous blob of fire and heat above their heads. The sound is reminiscent of a high powered blowtorch. "It's a little bit more empowering [breathing fire]," Morin says, before wiping excess oil from his face. "Once you've played with fire, there's levels of danger and satisfaction that are achieved with breathing it over just spinning props. It's embracing your inner child, being a pyro, and of course, that big boom."
He makes an explosion gesture with his fists.
"It's like setting fireworks off in your backyard when you're a kid." Gwendolyn Hodgson, decked out in a Kitana costume from the video game Mortal Kombat, says she was drawn to fire artistry for myriad reasons, but in the end it came down to the comfort and peace it offered.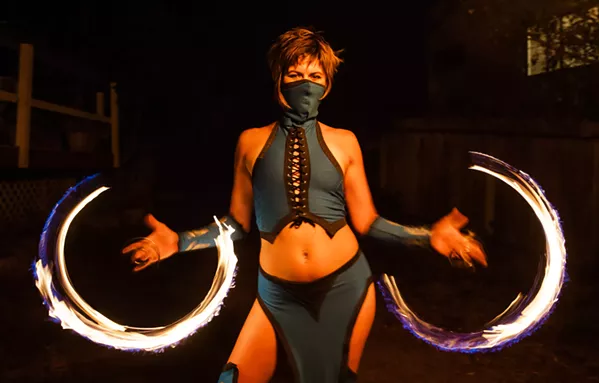 Photo By Jayson Mellom
RINGS OF LIGHT 
Flow artist 
Gwendolyn Hodgson from Ignite Fire Dance spins poi rings around her fingers.
"I just want to be able to dance and have fun and flow," she says. "I kept wanting to perform and have community—be a part of something that's deeply rooted—and this is something that helps me be comfortable in front of other people." Samantha Jones, who goes by the stage name "Sami Kat," understands such a perspective all too well. As a sword swallower and fire eater, it's important to be comfortable and confident in yourself and the people around you, especially when you're licking live flames out of existence. "It's all about timing, and uh, saliva," she explains, before demonstrating how to properly extinguish a burning torch with her tongue.
"You definitely want to inhale before you ever eat because if you don't, you get fire in your lungs, and well ... just don't overthink it." Δ
Contact Sun Staff Writer Spencer Cole from New Times' sister paper at scole@santamariasun.com.