If you've got a minute, Shelby Hood would like to tell you about the benefits of gelato, including lower butterfat than ice cream, richer flavor, a significant amount of calcium, and a full serving of fruit in the sorbet.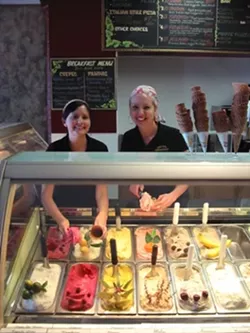 PHOTO BY KYLIE MENDONCA
SWEET AND LOW (FAT) : Shelby Hood (left) and Mandy Poe (right) serve up fresh gelato and more at Gelato Americano in Avila.
# "I just love gelato," Hood said. "I love Italian culture. The Italians don't think anything of having gelato as a meal, and they're not fat. It's because gelato actually has a lot of benefits other than tasting good. We like to think of it as a gift from Italy to America."
Hood represents one quarter of Gelato Americano, a beachfront cafe specializing in authentic Italian treats. Her mother Jane, father John, and brother Blake opened the first Gelato Americano in Pismo Beach about a year ago, and will soon celebrate a grand opening at the new Avila location, next door to the Avila Market. The little gelato parlor sets the mood with classic Italian music and patio-style furniture on natural colored tiles. It's like sitting outside, but with air conditioning. While the first location serves only gelato, the Avila shop al cheeses, as well as breakfast crepes and Italian coffee-but their passion s well as breakfast crepes and Italian coffee-but their passion is still in the gelato.
The main difference between American ice cream and gelato, Hood said, is the consistency. Gelato is much more dense, so the flavor is richer, and even a small serving is filling. The gelato comes from a family-operated company in Southern California third-generation gelato makers, who hold a stracciatella recipe that's more than 150 years old. There are no preservatives, and you'll never be scooped something more than a week old. Gelato Americano keeps 36 flavors on hand, including exotic fruit, classic vanilla, strawberry, hazelnut, a chocolate lover's chocolate, Champagne, and that stracciatella, which is vanilla with white and dark chocolate chunks. If all of this sounds a little overwhelming, Hood recommends mixing flavors, something like chocolate and banana. A child's size scoop is $2.50, and a regular is $4. They also sell pints and tubs.
Join Gelato Americano May 25 through 27 at the Avila location (324 Front St.) for a grand opening celebration with a raffle for two nights at the Avila Lighthouse Suites and a presentation by the gelato makers. Or stop by 231 Pomeroy St. in Pismo, 7 a.m. to 7 p.m., Monday through Thursday, and till 9 p.m. Friday through Sunday. For more info, call 627-0243.
---
Kylie Mendonca compiled this week's Strokes and Plugs. Send your business news to rmiller@newtimesslo.com.