Life has a way of getting in the way of itself.
Dreams simmer on the back burner while bills get paid and kids get raised. Epiphany—hopefully—comes before you're too jaded to do what you always knew you could. When Catherine Lemoine moved from Glendale to Nipomo a decade ago to take care of her ailing mother, she decided that enough was enough. She was going to paint, finally.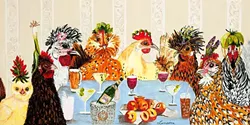 IMAGE COURTESY OF CATHERINE LEMOINE
SCRATCH, PECK, CLUCK: Don't sit quietly twiddling your thumbs. ARTS Obispo Open Studios Art Tour participant Catherine Lemoine believes the only mistake in art is not trying.
"The light went on inside my head," Lemoine said. "I picked up the paintbrush and went forward."
Lemoine is one of hundreds of local artists set to open their homes to the public this Oct. 10, 11, 17, and 18 for ARTS Obispo's Open Studios Art Tour unfolding across SLO County. Lemoine's story is not one of fame or fortune, but it is one of everyday courage.
Between caring for her mother and volunteering at Captive Hearts in Grover Beach, Lemoine gave in to the incredible pleasure of indulging in her art—something she had never allowed herself to do. At 60-something years old, the artist boldly answered the question poet Mary Oliver so passionately posed to the world: "What is it you plan to do with your one wild and precious life?"
"I did not know I had the talent," Lemoine said. "No one has time in the middle of their life to figure out what they can really do. If I could advise my younger self, I wouldn't have told myself to paint. I was way too busy trying to get through life. But I would say, 'always know you have something tucked away for later on. You always have something you haven't done yet.'"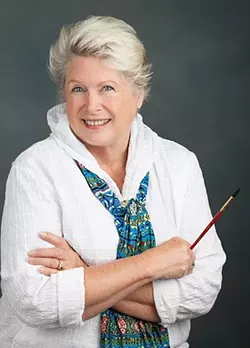 PHOTO COURTESY OF CATHERINE LEMOINE
JUST DO IT : Nipomo artist Catherine Lemoine began painting while in her 60s and never looked back.
Lemoine's most powerful subjects are similarly full of life and vigor. They peck, scratch, and cluck, not caring what the critics have to say. Three years ago, the artist was struck by the unique beauty of her neighbor's birds. Each morning, they'd wake her up with a bawk-bawk-burgawk.
"I was never a chicken person before then. My daughter got a chicken, which had two chicks. I got to really looking at them. I'd see them running all around the village of Arroyo Grande, and I took a million photographs," Lemoine said. "People were like, 'What are you doing painting chickens?' The whole time I was doing it, I was smiling. You can't paint them without smiling, and that makes your heart feel good."
Feeling depressed? Paint a chicken.
Lemoine's birds aren't precious or nostalgic. They aren't the kind of plump, ornamental hens you'd usually see stamped on dishcloths and welcome mats. These are "punk rock chickens." Their eyes are filled with intensity; their plumage wild and defiant. One painting in particular brings the mad characters together with a surreal kind of joy.
"I was inspired by the painting in the early '70s of dogs playing poker. I decided to do chickens having martinis," Lemoine said with a laugh. "I'm still painting chickens."
COME ON IN!: Visit Lemoine and view her art at her home on Oct. 10, 11, 17, and 18 from 10 a.m. to 5 p.m. at 363 Tejas Place, Nipomo. For more information, visit catherinesartandsoul.com or call 863-4287. For more information about the many other local artists participating in Open Studios, go to artsobispo.org.
Lemoine teaches painting classes at Trilogy in Nipomo and through the Nipomo Recreation Association, but you can also see her around town towing a very unusual trailer. The 26-foot travel trailer—which is home to the artist and her co-pilot/ex-husband/best friend during frequent trips to Big Sur or Montana—is covered in Lemoine's artwork. The back shows her take on a Pismo sunset. The front is an autumn day in Aspen.
It's evident that this artist isn't wasting a single moment of her life not doing what she was born to do. We could all take a cue or two from Lemoine and her chickens. What do you have to lose?
"If you want to do something, I say, 'start.' Put the brush in your hand. Put your color on it," Lemoine said. "You can't make mistakes."
Hayley Thomas is totally a chicken person at hthomas@newtimesslo.com.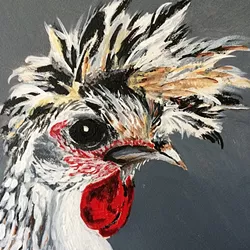 IMAGE COURTESY OF CATHERINE LEMOINE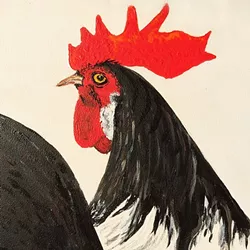 IMAGE COURTESY OF CATHERINE LEMOINE