A long-time local prosecutor with several high profile cases under his belt will now serve as SLO County District Attorney Dan Dow's second in command.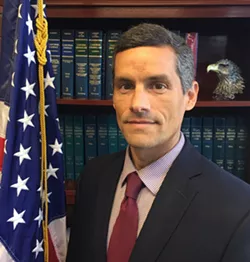 Photo Courtesy Of The SLO County District Attorney's Office
HIRED Deputy District Attorney Eric J. Dobroth was selected to serve as SLO County's Assistant District Attorney, beating out five other candidates to replace outgoing Assistant DA Lee Cunningham.
Dow announced on Dec. 27 that he'd appointed Deputy DA Eric J. Doborth as his office's new assistant district attorney. Dobroth, who has been with the SLO County District Attorney's Office for the last 12 years, will replace retiring Assistant DA Lee Cunningham effective Jan. 1.
"I was honored that I was selected," Dobroth said in an interview New Times. "I have some big shoes to fill."
Dobroth has been with the DA's Office since 2005. Notable cases he's worked on include the prosecution of San Diego gang member Clifford Scott Jr., who shot and wounded a CHP officer in 2012, as well as the case against five Cal Poly football players who committed an armed robbery at a fraternity house in 2014. He currently leads a team within the DA's Office that handles consumer protection, environmental protection, and major fraud cases.
Prior to working in SLO, Dobroth served as a prosecutor for the Ventura County District Attorney's Office.
"[Dobroth] has earned the admiration and respect of his peers, the defense bar, and the judges of the superior court because of his strong work ethic, his legal acumen, and his sound judgment," Dow said in a written statement.
According to Dow, Dobroth was one of six internal candidates who applied for the job. Cunningham, who had been employed with the DA's Office since 1985, announced his plans to retire in November. Δ