At 16 years old, Eric Jones had grown up drawing and was placed in art classes, thanks to his parents. At the time, he had some older friends who were interested in tattoos.
"[The tattoos were] more based around our faith, who we were, who we identified with, and the heaviness of being a teenager," Jones said.
Naturally, he started picking up tattoo magazines that showcased artists and various styles of permanent body art. He re-created the art that he saw on the pages, adding his own personal touch.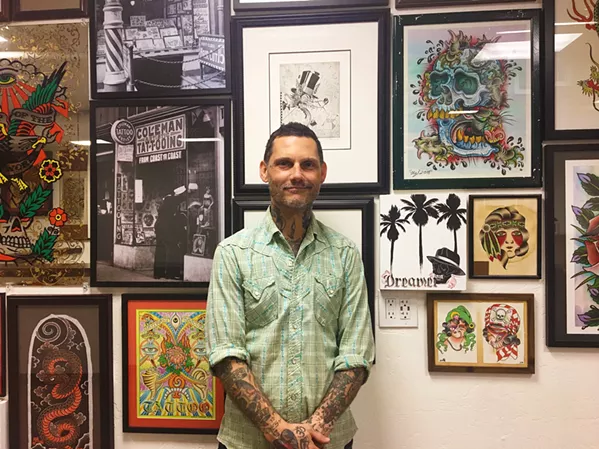 Photo By Karen Garcia
BODY STORIES True West Tattoo is creating a family of tattoo artists who bring the classic style of American traditional art to your skin.
Jones said he grew up in a household that wasn't very fond of tattoos, so when he turned 18, he asked his parents for permission to get his first tattoo. With some resistance they said yes, and Jones paid a visit to a tattoo artist named Sid who had tattooed Jones' friends in Santa Ana. Jones showed Sid his book of drawings, and his artwork became his first tattoo, a swallow on his shoulder. It wouldn't be the last one that he would get.
"Besides the permanence of the tattoo, just the whole experience and what it was giving me at that moment in my life," he said of their importance. "Maybe a sense of freedom or independence, you know, right as you're on the foreground of moving out and becoming an adult."
Several months after that first tattoo, Sid gave Jones a call and asked if he wanted to learn how to use his skills with a needle and ink. Jones became a tattoo artist at 19.
"You know those stories of fate interrupting your life; it was one of those," Jones said. "I had no idea that I would be interested in it, and once I did, it was all I wanted to do."
With 21 years of experience under his belt, Jones is the owner of True West Tattoo, a tattoo parlor that just opened its doors on Marsh Street in San Luis Obispo. This isn't his first business venture. Jones is the co-owner of a parlor in Costa Mesa called Port City Tattoo, but True West is the first parlor that he's the sole owner of. Six years ago, Jones moved to SLO with his wife because he was ready to leave Orange County and had fond memories of the Central Coast.
"I grew up camping in Big Sur, so this place was always a stopping point," he said.
Two years into their move, they had a daughter, which was all the more reason for Jones to lay down some roots in the community.
True West Tattoo is right next door to the Photo Shop. The parlor's glass door trimmed in red has a decal of a cowboy riding a wild horse. A staircase with an Asian-style dragon on the wall welcomes you to the world above. A parlor wall is lined with framed works of traditional American and Asian tattoo art. Jones said he hopes to showcase the cornerstones of tattooing with his parlor and his team of artists, because to him, tattoos are folk art.
Jones introduced himself and his team to the SLO community by hosting a grand opening and charity event from Feb. 14 to 17. He had $50 tattoo designs at the ready, and all the proceeds went to Stand Strong. He said he didn't know what to expect, but on the first day he had 10 people come in for the tattoos and several phone calls with the promise of more who would come in over the weekend.
True West is located at 1027 Marsh St., suite A, in SLO. Visit truewesttattoo.com for more info.
Fast fact
• February is American Heart Month—no not the pink cutouts you give to loved ones, but the red pumping heart in your chest. The month also serves as an annual reminder to check heart health. Arroyo Grande Community Hospital, French Hospital Medical Center, and Marian Regional Medical Center (Dignity Health Central Coast Hospitals) are offering a free online cardiac risk assessment. The completed, confidential assessment is given to individuals and their primary care physicians. It provides a rundown of the results, isolates key risk factors, and helps them understand what they can do to improve their heart health. To access the assessment, go to dignityhealth.org/centralcoast/cardiac. Δ
Staff Writer Karen Garcia wrote this week's Strokes and Plugs. Send tidbits to strokes@newtimesslo.com.