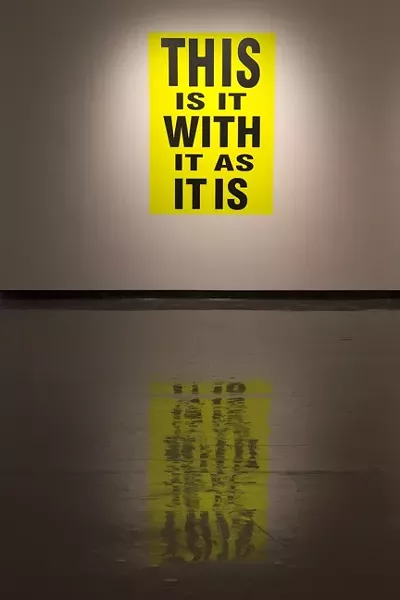 PHOTO BY ANNA BOUCHARD
WHAT DOES IT ALL MEAN!?: Gertrude Stein's 'Tender Buttons' was the inspiration for L.A. artist Eve Fowler's poster series, part of a current exhibit at the University Art Gallery.
Los Angeles artist Eve Fowler's current exhibit at the Cal Poly University Art Gallery offers two different yet related ideas, which seem to run parallel throughout the room—always close, never quite touching.
First, there are pieces from Fowler's project of posters containing phrases from Gertrude Stein's book-poem Tender Buttons. The quotes in themselves, like the work from which they originate, are senseless things; syntactically correct yet little more than word-music and passing imagery. Some are tautologies which frustrate the brain, such as "Anyone telling anything is telling that thing" and "This is it with it as it is"—the latter of which, when viewed against an aggressively yellow background, appears little more than a collection of symbols. Others, like "In the morning there is meaning," and "Please a pease" are bouncy and alliterative, like the world's vaguest advertising slogans. Printed out in black letters on neon colored posters, the phrases were originally placed around L.A., joining the urban conversation of graffiti, garage sale signs, billboards, and concert flyers. Comprised of common little words, the works seemed to change meaning depending upon their context. Their language is accessible, if not necessarily communicative.
Then there are several photographs selected from a series depicting gay and transgender people. The common denominator of this series seems to be the subjects' ambiguity when it comes to gender, and a look at more works on the series on Fowler's website seems to confirm this. Several women appear to be in the process of transitioning to men, as indicated by the mastectomy scars of several subjects who pose shirtless, dark hairs creeping newly up slender waists, the likely result of hormone therapy. (One such subject nonetheless wears red lipstick, further toying with the idea of sexual ambiguity; indeed, "her" gender seems to change before our eyes, as we make our way down from delicate face to surgically flattened chest to hand tucked mannishly into unbuttoned jeans.) Fowler describes Stein's words as "queer in both senses of the word," and this easily applies to the photographs as well. Neither series reflects a classifiable subject: The individuals in Fowler's photographs are not clearly masculine or feminine, just as Stein's Tender Buttons is neither poem nor novel—a little bit of both, but not enough of either.
Bridging both the physical and philosophical gaps between the photographs and the posters are photographs of the posters in various urban settings. A poster reading "Rub her coke" hangs on a phone pole below a sign indicating the direction of a garage sale. A street sign identifies our location as Sunset Boulevard. Elsewhere, "quiet words" seems ironic next to a sign stridently advertising a business, and "In the morning there is meaning" somehow assumes a more somber tone next to a billboard about AIDS prevention. Another poster is pink. That's it. Just a solid pink poster claiming its little space on phone pole.
Among other purposes, a fine art gallery on a college campus exists to educate. For this reason, Gallery Coordinator Jeff Van Kleeck seemed pleased by the unconventional example Fowler's work set forth, pointing out, on my recent visit to the space, that the artist hadn't bothered waiting for a gallery to validate her ideas—though the exhibit itself is proof that this "validation" did later occur. Indeed, one of the lessons of Fowler's exhibit seems to be that, hey, look, you can just make art and put it places!

PLEASE A PEASE: Eve Fowler's exhibit hangs at the Cal Poly University Art Gallery—located on campus in the Dexter Building (Room 34), next to the library—through Nov. 1. Gallery hours are 11 a.m. to 4 p.m. Tuesday through Saturday. Admission is free. Visit artgallery.calpoly.edu for more information.
That's not to suggest that Fowler is new to the art game—much to the contrary. The artist graduated from Temple University in 1986 with a BA in journalism, and from Yale in 1992 with an MFA in photography. Her work has been exhibited nationally since the late '80s, and is included in the collections of the Smithsonian Institution and the San Francisco Museum of Modern Art. Fowler's subject matter, too, is an extension of previous projects, which have included a series of collages using Stein's quotes and a project of class-portrait style photographs of male prostitutes.
I've gotten this far without mentioning the most "shocking" piece in the show, a photograph of a woman seated in a wide-legged stance, her facial expression relaxed, as if listening. The crotch of her jeans is cut out in a square, framing her genitals like a window. As exciting as this likely sounds, the photograph is strikingly un-erotic: cutting straight to the defining characteristic of one's gender without ritual or flirtation; indeed with a certain degree of indifference. The subject is otherwise quite boyish in her appearance, with her angular figure, closely cropped hair, and masculine attire. As if anticipating the need to defend the piece, a copy of Art and Queer Culture has been placed near the gallery entrance, opened to a page expounding on the work's significance. (It is appropriately compared to Austrian artist Valie Export's 1968 performance piece Aktionshose: Genitalpanik, or "Action Pants: Genital Panic.") Ironically, however, Van Kleeck observed that many visitors thus far had seemed not to notice the photograph's blatant-but-subtle nudity, which often takes a moment to register.
Though Fowler's posters and the photographs in this exhibit are linked by many common ideas, I found that once one has come this far in thinking about one series in this exhibit, it becomes hard to connect it to back to the other. It's the experience of building a bridge from one idea to the next, then turning around and realizing the bridge has dissolved. In discussing the photographs I seem to have wandered far away from the ideas of nonsense quotations and how they interact with an urban environment.
Yet perhaps I am not so far away after all: Directly across from the photo—you know, that photo; the action pants—a poster of similar size announces that "The difference is spreading," and I have to wonder if this alignment is coincidental.
Arts Editor Anna Weltner is occidental. Send other dentals to aweltner@newtimesslo.com.