Buried deep inside a steel and concrete cage, exiled from society to a place that houses thousands of the nation's most hardened criminals, the human heart still beats affectionately.
Of all the emotions, love may be the strongest. It can build you up and just as easily break you down. But, for some of the inmates incarcerated at the California Men's Colony in San Luis Obispo, love offers something even more powerful: a temporary escape from a cruel place where caring is sometimes considered a weakness.
For these men--and the intrepid women who stand by their side--this Valentine's Day represents hope.
Here are their stories.
'She's always made me feel like a king'
Edward Estrada killed a man when he was just 16 years old. A year and a half later, he was convicted of second-degree murder and has been locked up ever since.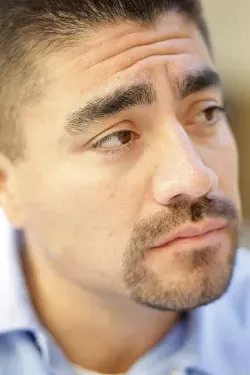 EDWARD ESTRADA : "When I get out, I want to give back to her what she has given to me. Our dreams are simple things like walking on the beach and one day waking up next to one another."
# "I violently took someone's life and, in turn, I've been in prison for life," said Estrada, now 34. "I take full responsibility for my actions, but there's a lot of good people behind these bars that are trying to make amends."
Despite living being behind bars for more than 16 years, Edward has been able to hold on to his one true love, his high school sweetheart and now wife, Marina.
"I came to prison with an attitude," Edward said. "But the more I changed, the more she loved me. She's always made me feel like a king."
The couple married in the San Diego County jail in 1995. The service was short and unceremonious they exchanged vows over the phone and were unable to consummate it with a traditional kiss--the newlyweds were separated by protective glass barrier. Nonetheless, for this couple, it was the stuff dreams were made of.
Now, 13 years later, Edward is serving his 15-years-to-life sentence at the California Men's Colony in San Luis Obispo. In an effort to see her husband, Marina makes the five-hour journey from San Diego to the Central Coast every other weekend. They're allowed a quick hug at the beginning and end of each visit. In between the brief embraces, they talk about what's going on in their respective lives and play board games.
Though the visits last only a couple of hours, the impact on their hearts is everlasting, they said.
"When I hear her voice, my day is wonderful," Edward said. "She is a gift from God. I don't think people could believe in this unless they saw it. They don't know how beautiful things can be behind these bars."
Marina expressed similar emotions.
"I can have a bad week, and when I see him, I just light up and I forget about all the stresses I have out here," she said. "I love him probably more than I love myself."
But, like most relationships, Edward and Marina's marriage comes with its own unique set of tribulations.
"Out of all the challenges," Edward said, "it's when she cries and I can't put my arms around her and I can't console her--that's the most painful. She's also doing this life sentence in prison. I've been very fortunate to have her as my wife. For me as a lifer, she has been very rare."
"It's sometimes difficult," Marina said. "You have to take it day by day. It takes a lot of patience, communication, and understanding. You have to have a lot of love for the person."
Edward said that it's very difficult for many inmates to hold a successful relationship while incarcerated.
"I've seen a lot of relationships fail because of these walls," he said. "So we don't take anything for granted."
"People with so-called normal lives and relationships sometimes take the stresses of everyday life out on each other instead of being happy to see each other," Marina said. "We try to make the best of what we have and not dwell on what we don't have."
And they're very optimistic about their future.
"If our marriage is possible in here, imagine what it's going be like when the walls are gone," Edward said. "When I get out, I want to give back to her what she has given to me. Our dreams are simple things like walking on the beach and one day waking up next to one another."
Edward and Marina will soon find out if their dreams can become reality. Edward is up for parole next year.
'Every moment with her is beautiful'
Prisoners at the California Men's Colony in San Luis Obispo make only a couple of cents an hour working such jobs as cleaning laundry, cooking food, and making registration tags for license plates. According to prison officials, convicts often spend their paychecks on cigarettes, magazines, and toiletries.
For this Valentine's Day, inmate Danny Allen saved his hard-earned money and bought a teddy bear for his wife. He hopes the gift will bring her some of the enjoyment that she brings him.
"Every moment with her is beautiful," Allen said. "She helps me escape from this place for a while."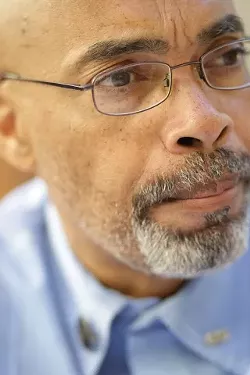 DANNY ALLEN : "Every moment with her is beautiful. She helps me escape from this place for a while."
# In 1979, Allen was found guilty of murdering a man in Los Angeles. Since then, he's been incarcerated in some of America's roughest penitentiaries, including the infamous San Quentin State Prison.
In spite of doing time for nearly three decades, Allen, 49, has been able to find love on several occasions.
He said that he's been married three times since his conviction of second-degree murder, exchanging his most recent vows on Aug. 25, 2000.
His current wife was an old friend, and the two reunited and fell in love when his brother brought her along on a visit. Since then, the couple has adopted a child, and they see each other at least twice a month.
During visits, Allen, his wife, and their son like to play dominos and talk about what's going on in their lives. Allen said the anticipation of the visits makes his life a little easier.
"This I what I look forward to," he said. "She's my motivation."
But, for Allen, the highs of the visits are almost dragged down by the lows of the departure.
"The biggest challenge is the end-of-day separation and not being able to play with my son the way I want to. I want to wrestle him to the dirt," Allen said with a cheerful smile. "But at the end of the day, I always take the memories back. It's sad and it's good."
Allen, who is serving a life sentence, knows that he may never get the chance to properly grapple with his boy. Still, he said that he's learned a lot about relationships since being imprisoned.
"When I was young, I was very immature in relationships and social settings," he said. "But I've been shown the mistakes I've made in the past, and I've learned compromise and communication is a central part to any good relationship."
With the teddy bear, it's apparent that Allen has learned well.
Rules and regulations
With more than 6,500 inmates calling the California Men's Colony home, visits with the public can get a little complicated.
Inmates are divided into two wings, East and West, depending on the amount of time they're serving and the severity of their crimes. Nearly 3,750 inmates--including 1,200 inmates serving life sentences--are stationed in the East, which is a Level 3 medium-security section. The other 2,750 prisoners are placed in the Level 1 low-security West section.
As far as visits go, inmates have to request to see specific people. Once requested, potential visitors are mailed a clearance form and have to pass a thorough background check. If they pass, they can attend visits Friday through Sunday, from 9 a.m. to 3:30 p.m.
Conjugal visits are allowed every 90 days for inmates with established release dates. That rules out Allen and Estrada. The visits can last for two consecutive days and family members are allowed to spend the night. Routine security inspections are made.
Mike Siebert, a CMC lieutenant and spokesman, said that the visits are positive for inmates.
"Visiting is their physical connection to the outside world and to their families," he said. "Staff recognizes maintaining family connections encourages the inmate's rehabilitation and the successful integration to society."
Siebert added that the No. 1 priority of the CMC is the wellbeing of the community.
"I feel we can make an inmate more successful upon his parole by giving him a venue to maintain family relations and his community connections," he said. "These relationships ultimately increase public safety."
The everlasting effects
For Allen and Estrada, love has helped set them free from a life of what may otherwise be filled with disappointment and despair. Imprisonment, especially without a chance of being released, can be a cold, lonely lifestyle. But for these two prisoners, the emotions they experience when they're with their wives warms their souls, fills their hearts, and gives them hope for a better future.
Both inmates say that, as the years go by, they appreciate their women even more and that they never take any time with their wives for granted.
Contact Staff Writer Kai Beech at kbeech@newtimesslo.com.