Oh, how the entertainment biz is incestuous! It's like a bed-hopping, '70s key party! Take, for instance, Uh Huh Her, the indie electro-pop duo whose name is taken from a PJ Harvey album, and whose two members will metaphorically hook up with anybody!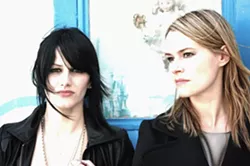 PHOTO COURTESY OF UN HUH HER
FOR THE LOVE OF MUSIC : Camila Grey (left) and Leisha Hailey are Uh Huh Her, an electro-pop dup playing July 29 at SLO Brew.
Camila Grey, formerly of lo-fi act Mellowdrone, has played keys and bass with everyone from Dr. Dre to Melissa Auf der Mauer to Busta Rhymes to—the horror!—no-hit wonder Kelly Osbourne! She's currently a band member of super vamping American Idol runner up and gay TV kisser Adam Lambert, a guy who single-handedly has bumped up stock prices on male eyeliner companies worldwide.
Then there's Leisha Hailey, formerly of The Murmurs and Gush, who for a time kissed the music biz sayonara to join the cast of Showtime's hit series The L Word as the character Alice Pieszecki.
The group formed in 2007 with a third member, Alicia Warrington, who's since left the band, and their claim to fame was their 2010 song "Same High," featured in the film The Kids Are All Right.
Uh Huh Her is currently touring in support of their second full-length album, Nocturnes, playing on Friday, July 29 (7:30 p.m.; all ages; $12 presale or $13 at the door), at SLO Brew.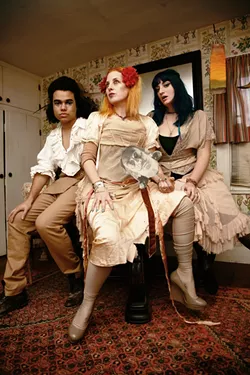 PHOTO COURTESY OF RASPUTINA
COLONIAL FEDERALISTS : Rasputina brings cello-driven songs about feral children, Anti-Rent Wars of 1844, early American portraiture, and giants to SLO Brew on July 30.
Also at SLO Brew, you can see cello-driven trippers Rasputina on Saturday, July 30 (8 p.m.; all ages), with opening act Smoke Fairies. Rasputina is touring in support of their seventh album, Sister Kinderhook. According to press materials, the album finds Rasputina directress Melora Creager "expressing a thematic fantasy of Colonial Federalism. Subject-wise, she also touches on feral children ('Snow-Hen of Austerlitz'), the Anti-Rent Wars of 1844 ('Calico Indians'), and early American portraiture ('The 2 Miss Leavens'), not to mention the theory that giants were indeed real, but killed each other off in a self-genocidal holocaust ('A Holocaust of Giants')."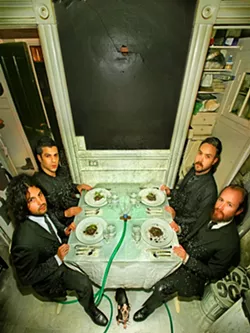 PHOTO COURTESY OF DREDJ
MELODY MEN : Melodic rockers Dredg return to SLO Brew on Aug. 3.
Finally, melodic alt-rocker Dredg plays Wednesday, Aug. 3 (8 p.m. all ages; $15 presale or $17 at the door), with opening act Fair to Midland. Dredg is touring in support of its latest release Chuckles and Mr. Squeezy, which is filled with hooky, infectious tunes you'll have a hard time prying from your heads.
Grammy Gerhard!
Virtue Records recording artist and Grammy Award-winning guitarist Ed Gerhard returns to Coalesce on Friday, July 28 (7 p.m.; all ages; $20; call 772-2880).
This master of six-string, slide, and Weissenborn (acoustic Hawaiian lap slide) guitars has entertained audiences from Tokyo to Rome, displaying virtuosity and down-home humor. He's equally adept playing a lush, sensual ballad or a haunting, bitter lap steel melody.
PHOTO COURTESY OF ED GERHARD
STRING KING : Grammy Award-winning guitarist Ed Gerhard returns to Coalesce on July 28.
He scored his Grammy for his inclusion on the compilation tribute CD, Henry Mancini: Pink Guitar, on which he arranged and performed "Moon River." His albums have also hit top 10 lists, and his music has appeared in the Ken Burns documentaries Mark Twain and The National Parks: America's Best Idea. It's no wonder Acoustic Guitar Magazine says, "His recordings and live performances have established him as one of the most exciting guitarist-composers."
As the Boston Globe notes, "Gerhard does not write instrumentals. He writes songs only a guitar can sing."
Check out this mesmerizing performer!
Songwriters still at play!
PHOTO COURTESY OF DYLAN TREES
MOODY! : Dylan Trees headlines two of Steve Key's Songwriters at Play showcases this week: July 28 at The Porch and July 31 at Sculpterra.
Steve Key continues to draw touring talent to the area with his weekly Songwriters at Play singer-songwriter showcases, which kicks off on Thursday, July 28 (6:30 p.m.; all ages; pass-the-hat), at The Porch with Dylan Trees, who will also play Sunday, July 31, at Sculpterra Winery (1 p.m.; all ages; pass-the-hat).
According to co-producer Bonnie Nelson, "Dylan Trees is an L.A.-based band led by British singer-songwriter Jeremy Simon. Long-term collaborator, versatile Monica Olive provides backing vocals, and various instruments, including glockenspiel and cymbal. Their sound has been described as 'a sweet amalgam of British psych-folk drenched in sunny California dreamin'.' Their song 'Henry Collapsed' was used in the 2008 film Fling and the 2011 Tribeca Film Festival winner The Dungeon Master."
All of Steve Key's showcases includes one featured act and others playing four-song sets.
On Tuesday, Aug. 2 (6:30 p.m.; all ages; pass-the-hat), the showcase comes to SLO Town when Valerie Johnson & Al B Blue headline the Kreuzberg. The Nipomo-based, blues, jazz, and gospel duo are well known locally, and both performers have enjoyed success outside the area: "Bay area native Valerie sang lead on tour with the band made famous by Janis Joplin, Big Brother, and the Holding Company. Al is a classically-trained pianist-turned-guitarist, who joined the Afro-funk band Big Black & The Congregation, then toured the West Coast with Curtis Mayfield," Nelson noted.
More music …
The Paisanos will bring their fun-loving style and varied repertoire of originals and covers to the Frog and Peach on Thursday, July 28. The Templeton-based band has recently reformed and been in the studio recording. Founder Joe DiVincenzo said, "This is the most talented, broadest range of musicians and 'goodfellas' yet!" Expect their own brand of "energy music," southern fried rock, R&B, "rock you can roll to, and their infamous Southern California sound."
PHOTO BY JENNIFER MANUELE
CONCERT IN THE TREES : Following a weeklong SLO Symphony camp for kids at Camp Ocean Pines, SLO Symphony conductor Michael Nowak will direct a free concert by the campers at the camp's new outdoor amphitheater on July 29.
Want to hear some student musicians performing classic music in the trees of Cambria under the baton of SLO Symphony conductor Michael Nowak? The SLO Symphony recently ran its first SLO Symphony camp for kids at Camp Ocean Pines. "It is one more of those amazing things that happen here," said the camp's executive director, Chris Cameron. "These students will be performing a concert this Friday, July 29, at 2 p.m., and the public is welcomed. This will be the second open-to-the-public concert in our new amphitheater, and it's free!" Call 927-0254 for details.
There's nothing better than sipping a delicious cocktail by the water while listening to top-rate jazz, and that's exactly what you can do on Friday, July 29, when the Bay Club at the Inn at Morro Bay is host to a jazz trio featuring Charlie Shoemake (piano), Dylan Johnson (bass), and Mike Raynor (drums) from 7 to 10 p.m.
PHOTO COURTESY OF VICTOR & PENNY
ANTIQUE POP : Mining obscure tunes from the '20s and '30s, Victor & Penny will deliver their antique pop at Linnaea's Café on July 29.
Chicago and Kansas City-based duo Victor & Penny will make an appearance at Linnaea's Café on Friday, July 29 (8 p.m.; all ages; pass-the-hat), as part of their three-week West Coast tour. "We're performing music of the '20s and '30s with a fresh approach, focusing on more obscure material—we're calling what we do 'Antique Pop,'" said duo member Jeff Freling, the Victor of their name. "Erin McGrane (Penny) is playing her father's ukulele that he purchased in 1951 in Germany. Erin's 'day job' is as an accomplished actress (she appeared alongside George Clooney in Up In The Air). My 'day job' is playing electric zither for Blue Man Group in Chicago." This one ought to be interesting!
Cowboy singer Dave Stamey is going to be doing what he does best—regaling listeners with songs and stories of the Old West—on Saturday, July 30, when he plays at Nipomo's Dana Adobe (671 S. Oakglen Ave.). Called "Come Ride With Me," the concert gates open at 2:30 p.m., and tickets are $20 (call 929-5679). Barbecue, beer, wine, and drinks will be on sale at the event. Please bring your own chairs to sit comfortably in a meadow and be prepared to be filled with the spirit of the west.
"We're proud to let everyone know that we're alive and well and have been rehearsing and adding new material and can't wait to play again for you," wrote Craig, Sally, and Tony of SLO Pokes (Ralph is off rambling until November). "We've been invited to play the Saturday, July 30, lunch set at Tognazzini's Dockside in Morro Bay. We'll play from noon to 4 p.m. If you've not been to T's, there's great seafood and a nice setting out on the dock. Hope to see you there." Check out this lively, all acoustic bluegrass, folk, and blues act with tight three-part harmonies.
The Court Street Summer Jazz Series continues its free concerts at the Court Street Terrace on Saturday, July 30, with Choro de Ouro from noon to 3 p.m. Choro de Ouro plays the traditional Brazilian style of jazz known as choro, and these jazz concerts are teasers for the SLO Jazz Festival, an organization dedicated to "inspire, promote, and nurture the human spirit through jazz-related education, events, and music productions."
If you're looking for a heapin' helpin' of music made by sensitive, thoughtful youths awash in creativity and talent, may I direct your attention to a show on Saturday, July 30, at the SLO Museum of Art. (These bands are so artsy they're in a freakin' museum!) That's when The Swan Thief (shoe gazing cinematic rock), The Ragged Jubilee (blues, soul, rock), Arabel (indie rock), and Oh My Land (indie rock) will perform (doors open at 6 p.m.; show at 7; all ages; $5). You'll want to squeeze them, they're all so darn cute!
Ready for the heat? Then light up to the sounds of Burning James and the Funky Flames, SLO County's newest funk quartet featuring Burning James on guitar and vocals; Scott Andrews on sax, vocals and percussion; Rick Pittman on old-school fatback drums and vocals; and Chaz Matisse on funk bass and vocals. Expect lively and tight versions of classic James Brown, New Orleans Meters, Marvin Gaye, and other soul, funk, and blues tunes. See them on Saturday, July 30, at 6:30 at the Atascadero Concerts on the Lake, and Sunday, July 31, in Grover Beach's Ramona Garden Park at 3 p.m. as a part of the Sizzlin' Summer Concert Series. Both events are free.
PHOTO COURTESY OF BILL MOODY
AUTHOR! AUTHOR! : Jazz drummer and mystery novelist Bill Moody will discuss his books and play music on July 31 at the Hamlet as part of the Famous Jazz Artist Series.
On Sunday, July 31, internationally acclaimed jazz mystery novelist (and professional drummer) Bill Moody is the next attraction at the Famous Jazz Artist Series at the Hamlet. Moody will discuss his many novels (Shades of Blue, Looking For Chet Baker, Bird Lives, Death of a Tenor Man, etc.) and perform (with Charlie Shoemake on piano and vibes, Luther Hughes on bass, and vocalist Sandi Shoemake) songs related to his books. As the New York Times Book Review notes, "When jazz mystery writer Bill Moody writes about jazz musicians, you can literally hear the blue notes bouncing off the walls." There's a 4 p.m. show for $15, a 7:15 p.m. show for $12, or see both for $20. Call 927-0567 for reservations.

Keep up with Glen Starkey via twitter at twitter.com/glenstarkey, friend him at Myspace.com/glenstarkey, or contact him at gstarkey@newtimesslo.com.