CELLPHONE PHOTO BY PATRICK KIRBY
LUCK OF THE IRISH : That's no pot of gold under that rainbow, but you'll find a golden liquor called Jameson. McCarthy's expects to go through as many as 17 cases on St. Patrick's Day. Usually they sell seven cases a week.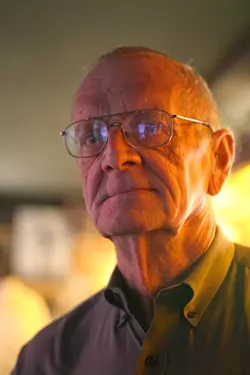 PHOTO BY GLEN STARKEY
AN INSULT MEANS HE LIKES YOU! : McCarthy's bartender and bouncer Jerry Bender, who'll soon be 70, is known for his off-color jokes and insulting demeanor.
I
already know what you're thinking: St. Patrick's Day at McCarthy's is not an art event and I'm just using it as an excuse to spend the day at the bar.
Well, you're only half right! So there!
St. Patrick's Day is an awesome costumed spectacle that promises laughter, drama, action, and hundreds of intersecting plotlines that unravel as the day lingers on. If that's not theater, I don't know what is. So I'm going to be there—at least until a couple hours before press time—to capture the madness this Wednesday, March 17.
Today it's Saturday, March 6, and I'm in McCarthy's right now doing "research." There's Ron Meier, one of the co-owners of Ash Management, which runs most of the bars in SLO.
"So, Ron," I say, "how much more Jameson are you going to buy for St. Paddy's day?"
PHOTO BY GLEN STARKEY
PUTTING ON HIS GAME FACE : Ash Management co-owner Ron Meier expects not only McCarthy's to be busy, but every Ash-run bar in town, including Frog and Peach, Bull's, and Mo/Tav, which all open at 6 a.m.
PHOTO BY GLEN STARKEY
DRINK SLINGERS! : Patrick Kirby and Brad Almond, two McCarthy's bartenders, will be delivering the goods on March 17.
"We usually go through about seven cases a week, but we can go through as many as 17 on St. Patrick's," he explains. "This holiday is great, but there's so much extra police presence, fire marshal presence, and then we get a lot of amateurs. Everyone thinks they're Irish on St. Patrick's Day and everyone thinks they can drink Jameson Whiskey, but it's an acquired taste."
"So can we expect some projectile vomiting?" I query.
"I don't remember the last time that happened," claims Ron. "We've gotten pretty good at spotting the watery eyes and the thousand-yard stare and cutting those people off."
Then Ron tells me how he misses the "little" McCarthy's location on Court Street, out of which would extend a long line all day.
"Back then, McCarthy's was the only bar open at 6 a.m., and then we started opening Bull's, and now all our bars except for The Library will be open at 6 a.m., so there aren't really long lines anymore."
It helps that the new McCarthy's location can fit 125 people, more than double the old location's occupancy.
Just then, Brad Almond, the day bartender gets off work and wanders over to Patrick Kirby, another bartender who's spending his day off playing cribbage.
"So Brad, how do you mentally prepare yourself to take on the hordes of St. Paddy's Day?" I ask.
"Drink … in excess," he retorts.
"So you're allowed to drink on the job?"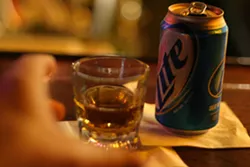 "Shhhh."
"What kind of crowd do you expect?" I ask.
"More rookies," states Brad.
"What about you, Patty?" I ask.
"I just know I'm going to walk into a full bar of people who've been drinking all morning," says Patty, who's working the 1 p.m. shift. "It's going to be a bunch of people yelling at me. Basically like crawling out of bed and into a drunken mob. But once the morning drinkers clear out it'll get better."
I wander over to the bar to get some more … um, research, and Colin Wenzl serves it up and explains his theory of St. Paddy's Day at McCarthy's: "It's our penance for working here. The other 364 days a year are great, but St. Patrick's Day … well, it's a good money day for the bar but a bad day for tips. Still, you bring it!"
Finally I spy Jerry Bender, the cantankerous icon at the bar who's best known for his off-color jokes and stinging insults. Now nearly 70, Jerry seems to be going for deceased McCarthy's bartender George "Duffy" Wheaton's record. Duffy, you see, worked until he was 88.
"What makes you think you'll live that long, Jerry?" I ask.
"I've gotta live at least that long," he shoots back. "I've got too many people to piss off and I can't do it in less time."
Jerry gave up drinking on May 25, 1985, and I can't help but wonder how hard that must be working at a bar.
"It's the best incentive in the world, seeing all these people making asses of themselves," quips Jerry.
"Did you act like that?" I ask.
"No, I was a fun drunk," claims Jerry.
"So why are you such a sourpuss now?"
"I don't drink anymore."
And that, my friends, is what passes for wisdom at McCarthy's. Wear green or die!
Glen Starkey takes a beating and keeps on bleating. Contact him at gstarkey@newtimesslo