PHOTO BY GLEN STARKEY
SING IT, SISTER! : Soul sister, American Idol diva, Broadway star, and Grammy nominee Frenchie Davis wowed the crowd with a blistering set of tunes that had the crowd jumping.
I'm still waiting for a cogent argument defending Prop. 8, the initiative that changed the California Constitution to limit marriage to a union between a man and a woman. Hmm? Same-sex marriage will lead to bestiality and pedophilia, you say? No, I mean "cogent," as in not idiotic, sensationalist, and fallacious. Anyone? Bueller?
It's Sunday, July 11, and I'm in Mission Plaza listening to Rick Jacobs, who heads couragecampaign.org, who noted that in the recent court case challenging Prop. 8, the defense brought only two witnesses to the stand. Two? That's it? They could only find two people who had anything to say in defense of Prop. 8?
As far as I'm concerned, the initiative is hateful, misguided, and ultimately doomed. Want to know why? Because gay people are just like you and me. Well, not me—I'm a special one-of-a-kind snowflake—but they're just like you.
"We all care about the same things," Jacobs announced to the crowd, "love, family, education, jobs, health care."
Even the guy in a custom leather-clad cop outfit who's checking IDs in the beer line, Jacobs? Even that guy? How about the cross-dresser in the psychedelic black-and-white pantsuit with the pink boa and matching cotton-candy-like pink Afro? Her too?
Yes. The answer is yes. Gay and straight, transgendered and bi—we all share similar hopes and dreams. The difference is, straight people are free to fully pursue theirs.
The people around me right now, they want that same freedom, and they deserve it. Some of us—gay and straight—are willing to fight for it, and speaking of fighters, there's Janet Allenspach, who I met at Live Oak Music Festival. She's excited to tell me about her smackdown with gay basher Dr. Laura Schlessinger, the talk radio maven who was in Morro Bay to hawk handbags she was selling to support our troops by giving 20 percent of the proceeds to soldiers' families.
"She was at Top Dog coffee yesterday," said Janet, "so I went over and said, 'I have a gay niece who's married, legally married, to a wonderful woman, and I feel they have a right to be happily married and to love one another without discrimination."
Dr. Laura apparently didn't like being confronted.
"She said, 'If you're going to be impolite, please move away from my table.' I said, 'I'm not being impolite, but you used to be so liberal. What happened? Did you sell out for the money?'"
Oh, snap!
"I also asked her why she was only giving 20 percent of the handbag profits, which didn't seem like very much. I told her we support the troops, too; we just support them by not wanting them to be at war. Then the bodyguard came over and told me I had to leave."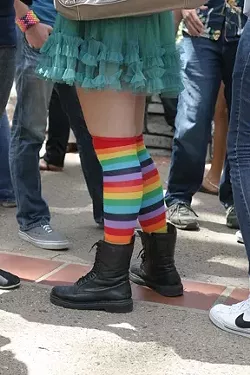 Dr. Laura needs a bodyguard? Hmm. Maybe it's to protect her from swallowing her own tongue when she's spewing her bile.
Then I saw poet Dian Sousa, who was attending the event to support her gay son Charlie, who came out to her by telling her a "lurid story" about a heterosexual experience with the punch line, "'or I would have if I wasn't gay.'"
Continued Dian, "What's funny is I knew he was gay since he wore a pink hat in kindergarten and a dress every Thanksgiving. He's telling me this story and I'm looking at my pretend watch, waiting for the punch line I knew was coming. I'm super proud to be with him here today."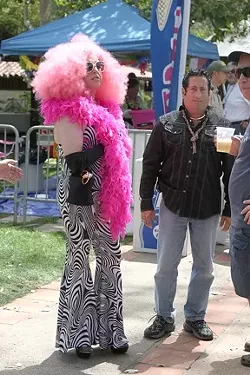 Proud. Yep, that's the word I'm thinking of too. I'm proud that gay-bashing douche bags didn't show up to "protest" the event. I'm proud that people of all sexual orientations can hang out together and enjoy this awesome day and awesome music (Go Frenchie Davis!).
I'll be even prouder if the Prop. 8 trial judge sees through the hysteria and rules that Prop. 8 is indeed unconstitutional.
"A decision will be coming any day from Judge Walker on the Prop 8 trial that just ended in San Francisco. We may only get a few hours' notice, so I am sending this email as the Chair of the Coalition of Welcoming Congregations to everyone who wishes to come to Mission Plaza at the amphitheater area at 5:30 p.m. on the day of the decision to either celebrate our victory or mourn another loss. We will need each other and will want to celebrate our community at that time," wrote Gina Whitaker.
Keep track of the decision at equalityevents.ning.com. If fairness prevails, we'll be celebrating what makes America great: freedom for all.
Glen Starkey takes a beating and keeps on bleating. Keep up with him via twitter at twitter.com/glenstarkey, friend him at Myspace.com/glenstarkey, or contact him at gstarkey@newtimesslo.com.