PHOTO BY STEVE E. MILLER
PLAYING A HAPPY TUNE : Thanks to a grant from the South County Education Foundation, the music program at Judkins Elementary was able to clean and repair district-owned loaner instruments.
What motivates children to learn, and what do they remember best long after graduation? Do they remember perfect scores on spelling tests; the day they were introduced to the Pythagorean theorem; or do they remember best such activities as a hike to tide pools during science camp?
Hands-on experiences can ignite curiosity far better than textbooks. But in the current climate of teacher layoffs and program cutbacks, such projects are too often sacrificed.
Enter the South County Education Foundation, a local nonprofit with one goal: enabling teachers in the Lucia Mar Unified School District to provide outside-the-classroom student activities. The foundation provides small grants, up to $500, to make possible such activities as quilting projects, introducing children to ethnic foods, and transportation to the SLO Symphony.
The foundation was formed six years ago by a group of community members—current and retired teachers, superintendents, and parents—who were concerned that students' needs were not being met because of degrading finances. The district had retained a grant writer to help teachers secure small stipends for field trips, classroom supplies, art supplies, and music education, which were hard hit by the budget. But the grant writer had little success. However, the foundation has raised approximately $150,000, which it has spread throughout the district as mini grants (usually amounts up to $250) and matching grants, which match up to $500 raised through private donations from individuals and organizations.
Matching grants, according to president Arlene Sackman, have encouraged residents to pitch in when a project requires more than the $500 the foundation can allocate. "These grants go to projects the district simply cannot fund," Sackman said. "What they don't cover are things that the students and their parents could pay or donate items for. Like class parties, for instance; pretty much most of the kids can bring something in for something like that." Last year, the foundation awarded more than $27,800 to classrooms within the district; at least $17,300 of of which was matched by the community.
The Judkins Middle School band received a matched grant in the spring. The school has a small collection of loaner instruments for students who can't afford their own. But as the parents of student musicians well know, instruments wear out, periodically need repairs, and from time to time need a good cleaning.
"Our instrument loaners are not bad, but they have been used for many years," Judkins music instructor Dina Myers said. "We would clean and adjust them as we could, but just because I can change the oil in my car, that doesn't make me a mechanic, you know? Between the money we were awarded and the money we got from the district, we were able to repair those instruments that most needed it. Without it, we would have kids who wouldn't be able to play." The foundation was able to grant about $5,000 for instrument repair, an exceptionally large amount for it.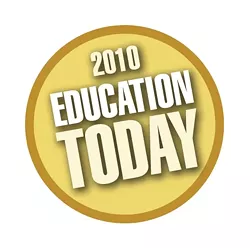 "We try to emphasize the need for those kinds of grants a bit more because in times of financial difficulty the fine arts seem to suffer the most," Gary Thompson pointed out; he's a board member, and retired music teacher. "The foundation believes very strongly that a viable arts program is absolutely essential in a well-rounded education. Math and science of course are important, but the arts, music, and poetry make life worthwhile."
Though art and music projects received most of the grants during the past school year, every subject benefitted. Grover Beach Elementary special education instructor Maria Hannosh received a $100 mini grant to fund an earth-science project for her class, which helped her students learn about plants by cultivating succulents on the campus. "They totally loved it," Hannosh said. "Thank you so much to the foundation for supporting these special projects that we couldn't do without a little help, because unfortunately science projects can be expensive. A hundred dollars may not sound like much but we can make it go a long way."
Nipomo Elementary sixth-grade teacher Suzi Zambo was able to send three of her students to the historic Camp Ocean Pines in Cambria for three days and two nights, thanks to a $250 grant. The children hiked to tide pools, learned about Native American culture, were introduced to archery, and had dedicated arts and craft activities: "basically all that hands-on stuff that is difficult to provide inside a class setting," Zambo said.
"Without [the foundation's] generosity, our kids otherwise wouldn't be able to attend something like a trip to Camp Ocean Pines," Zambo said. "With many in our population down here it's difficult to be able to afford it; in some cases, we're talking poverty-level kids. We used to ask the parents for help, but with the economy these days, we can't even ask. I know I've pulled from my own pocket."
Classroom projects are also funded by the grants. Dana Elementary fourth-grade teacher Merilee Mahoney-Statom was able to underwrite a dramatic presentation to her class titled "Walk Thru California." The students traveled through state history as an actor portrayed famous characters."Without the grant from the foundation, the students could not have had this enriching educational experience, which literally made California history come alive for them," Mahoney-Statom said.
Last year, the foundation received the Ken Talley Award from the Arroyo Grande Valley Chamber of Commerce. The Talley Award is given annually to an organization or individual recognized for building youth character. The chamber accompanied the award with a $500 donation to the foundation.
The foundation gets the most of its donations from three annual fundraisers—the next is right around the corner. The seventh annual benefit golf tournament is scheduled for Oct. 16 at the Pismo State Beach Golf Course. To participate in the fundraiser, volunteer, or learn more about how to help the foundation help the students of Lucia Mar Unified School District, call board member Dick Blankenburg at 489-7156.
Staff writer Matt Fountain can be reached at mfountain@newtimesslo.com.