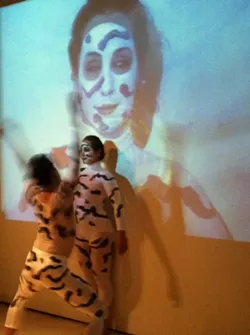 PHOTO BY ANNA WELTNER
PRIME PARTICLE GETS DOWN: For all intents and purposes, the story of Prime pARTicle should be its own article. However, seeing as the interdisciplinary art collective debuted its first event/experience/happening at the California Sculpture SLAM's opening reception, I'm putting that story in this box here. Pretend the main article is the museum, where the sculptures are, and this box is the Nybak Wing (a.k.a. the museum's classroom), where the party is. You just wandered in and have no idea what's going on in here. There's live music, and you see several sculptural "pods" on which films are being projected, and there are people dancing in leotards. It's humid in here. Almost tropical. One of the dancers is gesturing for you to join her. -- Prime pARTicle (get it? There's ART involved) is headed by sculptor and musician Timo Beckwith. The group is comprised of multimedia artist and sculptor Ted Emrick; dancer, poet, and writer Amber Strong; dancer Shelly Kilkoyne; dancer and choreographer Annika Johnson; digital artist and musician Billy Clayton; and computer animator James Satoru Straus. This unique combination of disciplines forged to create what Beckwith called "an interdisciplinary experiential event collaborative." -- "One of our primary motivations is to stimulate and activate the creative imagination of our community," explained Beckwith. "Because I know from experience that when you go out and do things that are different, it affects people in a really positive way … We're doing this because we feel that there is something bigger going on than just a show. It's an event. I really want to get away from that whole idea of performance, so that people have this access to something in a totally different way than they've ever had before. I you know, shake things up a bit. Jar things. And do something new. Do something different. … We could go do this in an alley. We could go do this on a beach. We could go do this in a forest." The event at SLOMA is the first of a series of interactive, improvisational events, which the group plans to do in unconventional places at no cost to the public. -- "There's not going to be any stage, where you sit here and look there. It's 360," said Beckwith. We're going for it, and we feel like this thing has a life of its own."
ARTWORK BY CHRISTOPHER CHINN
ENCOUNTER #4:
Three hundred and three pieces were submitted to the 2nd biennial "California Sculpture SLAM," an exhibit of fine sculpture by California artists. Thirty-eight made it in, and are currently on view at the San Luis Obispo Museum of Art. The SLAM, it would seem, requires a great deal of painful cutting away to reveal its true form—much like the medium it represents. Unless you're working in paper, like Goran Konjevod. Or twigs, like Tamara Mason. Or blown glass, like George Jercich. Or zip ties, like Chris Beards. Then I don't have a metaphor for you. Sorry!

The truth is that contemporary sculpture is incredibly varied, making jurying difficult, and easy comparison between works impossible. I do not envy this year's juror, Los Angeles-based sculptor Coleen Sterritt, in the slightest. I have no idea, for instance, how one judges the deliberate rudimentariness of Jonna Ramey's Crude (a lumpy crow rendered in encaustic wax and sandstone) or the sheer audacity of Mason's Unction (essentially a dead plant on the wall) against the imagination and technical skill on display in Earth Mother in Flight, a bronze work by Donald Ajello. With no prescribed theme or other guidelines, each piece in the SLAM appears to have fulfilled a very different goal. Some works are conceptual. Others respond to natural forms. Some have a message, while others are simply playful, innovative, and intriguing to the eye.
ARTWORK BY GORAN KONJEVOD
COMPANIONS:
Sculptors from Long Beach to Mt. Shasta are represented here, as well as Central Coast locals George Jercich, Robert Oblon, Autumn Jennings, Timo Beckwith, Marcia Harvey, and David Settino Scott.

The exhibit shows a great deal of care in the way works are presented and allowed to interact within the space. Larger, freestanding pieces such as Jercich's Abatoir and Adon Valenziano's Loxodonta daliensis—a fantastically surreal piece seeming to combine a mammoth and a praying mantis; humorous, prehistoric, strange—dominate the floor space in one half of the room, and are among the first to catch the eye. Wall sculptures are largely kept to this side, among them Settino Scott's Mortality, a shark head with its mouth open wide, revealing layer within layer of teeth—some of them human. It's both nightmarish and totally ridiculous; laughable in its extreme ferocity, like something out of a pulp horror film.

The other side of the room has been bisected with a divider. On one side, several smaller objects can be seen on pedestals. Of particular poignancy are L.A. artist Christopher Chinn's maquettes of homeless people, part of a bigger project for which the artist placed site-specific, life-sized ceramic statues of the homeless throughout Skid Row. Even in miniature, Chinn's pieces confront our conscience by commemorating a class of people we try to forget exist; a class many people would sooner let suffer and die than touch. Chinn shows the humanity of the forgotten—ironically, by rendering them as objects.
ARTWORK BY ADON VALENZIANO
LOXODONTA DALIENSIS:
On the other side of the divider, the first side you see upon entering the space, a few mid-sized works hold their own. Architect Marvin Armstrong's abstract wood sculpture Temple is a lovely example of an artist's reaction to natural forms, in this case a manzanita shrub. The work's amiable, almost bulbous curves create a crouching, elegant shape that's different from every angle—although, thanks to some relatively tight quarters, it's not always possible to walk all the way around such pieces.

Jenne Giles' fiber work Dead Hare is immediately compelling; a piece that could almost be a stuffed animal, if it didn't appear to be frozen by rigor mortis. How to explain pictures to it?Autumn Jennings has created a twisty, angular column of rusty screws and nails that shines like more precious metal in the right light. Goran Conjevod's wonderful work Companions is architectural and somehow creature-like; two folded paper constructions complementing one another. It's a piece that manages to appear significantly heavier than it is (in publicity photos, it resembles metal) and its delicate nature reveals itself only when seen up close.

GRAND SLAM: The California Sculpture SLAM is on view at the San Luis Obispo Museum of Art (SLOMA) through Sept. 29. Museum hours are 11 a.m. to 5 p.m. every day but Sunday. Admission is free. For more information, visit sloma.org or call 543-8562.
Juror Sterritt presented awards at the show's opening reception, while admitting that determining a winner among such a strong yet varied group is something of a fool's errand. Ajello's aforementioned Earth Mother in Flight took third. Kathy Allen's wall sculpture Bed Wax—wax pushed oozily through bedsprings; evocative, brave, gross, awesome—took second. Luis Moreno's The Raw and the Chewable placed first, a freestanding mixed-media piece of what looks like wood and paper being consumed by an organic, viscous substance.

With no thematic guidelines other than those in implied in its title, the California Sculpture SLAM is about as varied as it gets, showing us how San Luis Obispo County fits into the cross-section of contemporary West Coast sculpture. The SLAM is a showcase of the artist's struggle—as well as the juror's.

Arts Editor Anna Weltner can be reached at aweltner@newtimesslo.com.