Ah, the '80s! That decade of excess brought on an economically debilitating recession, made neon clothing and cocaine popular (Connection? You decide!), and, musically, took a sharp turn away from '70s classic rock and disco into a fecund era of wild creativity, fueled by the rise of MTV. I can barely remember it!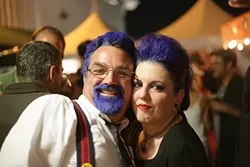 PHOTO BY GLEN STARKEY
BLUE RULES! : Bill Findley finds a kindred spirit in Inky Wine (her real name, she swears!), who both went blue for the night.
PHOTO BY GLEN STARKEY
HEADBANDS! : Kyle (left) and Francis, two members of the local Beliza Sol Mardi Gras krewe, rock the headbands!
Well, it's Saturday, Oct. 22, and I'm at the OPTIONS benefit concert "That '80s Thing" at the Alex Madonna Expo Center, and it's déjà vu all over again. The sounds of Bow Wow Wow are pumping out of the cavernous venue as I arrive on my bicycle. Right off the bat, I see KZOZ DJ Joe Alvino, who shoves a wad of drink tickets into my hand before disappearing into the night. Good on you, Joe!
Then I see my motorcycle buddy Ted Thayer, who's rockin' a headband, a fashion trend that keeps popping up over the course of the night. And there's Monique Grajeda and Anthony Bolin of the goth-metal-rock act Ragg. And holy crap, there's Sylvia Desin, who's Ansel Adams' great granddaughter. Sylvia went to Cal Poly and now lives in Pleasanton, but she had to come down to see Dave Wakeling and The English Beat.
I make my way to the outside bar (Gotta use Joe's tickets, baby!) and keep seeing more people I haven't seen in ages. Music is swelling out the doors, and then I'm sneaking a sip off of the Wedding Industrial Complex band members Melanie and Derek Senn's flask.
"What is it?" I ask.
"It's Jameson," claims Mel, but as I take a sip I know it's not. Too sweet, with a sherry cask finish. Makers Mark! Phooey!
"Derek couldn't tell the difference," Mel says.
Then I see my hairstylist Sherry Jiminez of Salon 544 with her guitar-maker husband Mario, of National Resophonic, and wow, do they ever look the part! Mario's got the whole Two Tone mod thing down to a tee, and Sherry's sporting a totally '80s hairdo. All she's missing are shoulder pads!
PHOTO BY GLEN STARKEY
TWO-TONE MODS! : Husband and wife Mario and Sherry Jiminez, he of National Resophonic Guitars and she of Salon 544, relive their youth.
PHOTO BY GLEN STARKEY
MOVE OVER CYNDI! : Penelope Jasmin (not her real name, Stephanie!) went the full Lauper.
And then here comes Bill Findley, whose hair—mustache and goatee included—are dyed a bright blue! He's here with his paramour Stephanie, who's dressed up like Cyndi Lauper, but Bill poses for a photo with someone I just met, who tells me her name is Inky Wine, and whose hair is the same dyed color as Bill's. Inky has awesome plugs in her earlobes, big enough to stick a finger through, and she's working on tattoo sleeves.
"People ask me what I'm going to do when I get old, and I tell them I'm going to be the coolest chick in the nursing home," she laughs. "I want one of those walkers, but with pipes and flames."
Then I see Ray Lee, who seems to be everywhere something cool's going on, from Burning Man to Live Oak to That '80s Thing. He refuses to Facebook friend me until we have at least an hour conversation, but I figure I've another five minutes in the bank, and added to our five minutes at Live Oak, we should be friends in about four more years.
The crowd swells and recedes in the beer garden, and I realize I haven't actually watched any of the acts perform. I heard The English Beat through the doors, then Berlin, then The Fixx. Oh well, I'll dash in and hear Missing Persons … what? They cancelled?
"Beloved singer and fashion icon Dale Bozzio of Missing Persons is currently being treated for severe dehydration and under a doctor's orders to cancel all performances for the next 10 days," says a press release I finally get in my e-mail on Monday. "As a result, Dale and Missing Persons are canceling their upcoming performance at 'That '80s Thing.'"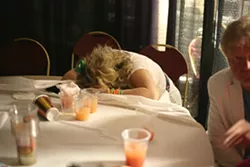 PHOTO BY GLEN STARKEY
PARTY LIKE IT'S 1984! : One unidentified reveler discovered she can't party as hard as she used to.
Wahhh!
"It saddens me to cancel my performance because this show is for such a great charity; however, I need to prioritize my health at this time," said Ms. Bozzio.
Well, that's funny. I mean, I'm missing a person from Missing Persons?

Glen Starkey takes a beating and keeps on bleating. Keep up with him via twitter at twitter.com/glenstarkey, friend him at Myspace.com/glenstarkey, or contact him at gstarkey@newtimesslo.com.