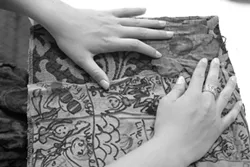 PHOTO BY ENRIQUE ESGUERRA
PRAYER FLAG IN THE MAKING :
B

y public consensus, artists are full of strange quirks and fancies. It's impossible to predict what commonplace item or philosophy may seize hold of their imagination and demand creative interpretation. In the case of local artist Pacha Hornaday, that might be a pregnancy test strip that came back positive, a plethora of photo IDs—she moved to the United States from Germany at the age of 24—or fabric blinged out with feathers and rhinestones, a sort of contemporary teen interpretation of Tibetan prayer flags. She explores all three in her exhibit at Linnaea's Café, along with a depiction of the seven levels of consciousness ascending from egocentric to kosmocentric.
If there were a pageant for such things, Hornaday might easily carry the title for most active local artist. She's the founder of the Holonic Arts Movement, a member and volunteer for ARTS Obispo, member and former president of the ART Center's Oil, Pastel, and Acrylic Group, and a founding member of the San Luis Obispo Arts Critique Group. So, when she discussed the possibility of putting up a show at Linnaea's with café owner Marianne Orme earlier this year, it was difficult to decide what to show: her personal work, much of which she completed while working out of CorkStop Studios, or the collaborative pieces produced by artists from around the world as part of the Holonic Arts Movement. Unexpectedly, Hornaday was offered still another possibility: Momentus International.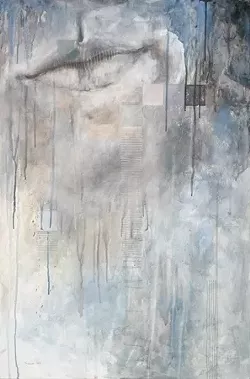 IMAGE BY PACHA HORNADAY
SPEAK NO EVIL :
Two years ago Nipomo native Anya Kandel founded Momentus with the mission statement of "[facilitating] a cross-cultural and international conversation through art." Kandel has traveled through Ghana, the Netherlands, and Angola, mobilizing the community's youth to create art that expressed their worldview, posed questions to youth in other countries about their own life and, perhaps most importantly, made statements as to how they could shape their community for the better. The most recent workshop included a group of 14 students, aged 14 to 18 and living between Santa Maria and San Luis Obispo, who spent a week working with local artists on various projects. Primarily, the students worked with performance artists who utilize music, dance, and speech to convey their point. Hornaday was among the artists to lead a workshop; she helped the students construct their own prayer flags, which they did enthusiastically. The vibrant multimedia banners are on display in the café's front room, along with photos by Enrique Esguerra depicting the flags' creation.
Looking ever towards the future—and seeing possibilities that many might overlook—Kandel and Hornaday are anxious to expand their flag lines. With that aim in mind, they have invited community members to construct their own flags, expressing their intentions to better the community and world. While the flags were created locally, the display has an international flair, which Hornaday's own work exudes as well.
"There are a lot of young people that I know all over the world," said Kandel, considering her organization's growth potential. "And a lot of artists that Pacha knows all over the world."
IMAGE BY PACHA HORNADAY
INTEGRAL EMBRACE :
Moving towards the café's back room, after the bar but before the outdoor garden, the flags and photos become faces and bellies, more specifically one face and a growing belly. While taking an art class at Cuesta College several years back, Hornaday was challenged by an instructor to create a project that had previously scared her, or that she hadn't had time to attempt. She began a self-portrait. That was in 2007, and the process interested her to such a degree that last year she set herself the challenge of creating a series of self-portraits. The resulting Inside/Out series occupies an entire wall. The artist's face smiles out of two of the paintings, and the other three depict her growing belly, beginning with a blank canvas with two thin red lines running down the right side. It may be a first for the local art world—a rendering of a pregnancy test strip on display.
CREATIVE MOMENTUM: Paintings by Pacha Hornaday, along with pieces created in conjunction with the Momentus International project, will be on display at Linnaea's Café through Aug. 30. For more information visit linnaeas.com, purelypacha.com or momentusinternational.org. Community members are welcome to create their own prayer flags, in conjunction with Momentus International and the Holonic Art Movement. Flags must be 10 x 10 inches. To submit a flag visit momentusinternational.org, holonicarts.com or call (510) 847-4837.
Hornaday's Spirit Unfolding series on the opposite side of the wall was created, in part, out of necessity. Last May, CorkStop Studios hosted an art exhibit based on the theme "Print." Each image in the seven-part series (five of which are in the exhibit) features some element of print on canvas, either astrological symbols or photos of the artist doing yoga and smiling. Then, because the canvases were larger than the printer could accommodate, she added fabric to the mix. Because each level of consciousness is associated with a particular color, the wall resembles a rainbow spectrum, purple to orange to green to turquoise, with a tri-color German flag thrown in for good measure.
According to Hornaday the seven levels aren't simply a spiritual or religious quest; they are phases that mark an individual's development and awareness of the world beginning at birth. It's important to note that Hornaday's purpose in creating the series includes neither preaching nor judging; she simply wants to create dialogue and share the pieces of her world.
"You have to be able to include everybody," she insisted. "Higher doesn't mean better. It just means having a different worldview." ∆
Arts Editor Ashley Schwellenbach has achieved a level of consciousness that scares her friends. Send blue trees and green skies to aschwellenbach@newtimesslo.com.