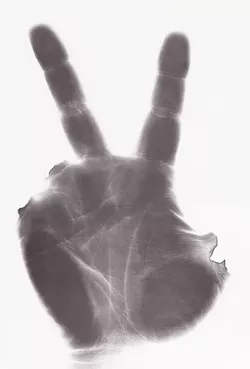 IMAGE BY FANG CHEN
DESIGN OF DISSENT: The Cal Poly University Art Gallery featured The Design of Dissent—an assemblage of political posters and paraphernalia based on a 240-page book featuring more than 400 political posters and slogans. The exhibit ran from Jan. 11 to Feb. 23. Pictured above is Victory by Fang Chen.
Whatever your personal take on 2008 might be, there's no denying that it was chock full of singing, dancing, acting, painting, writing, filming, hula hooping, and just about any other creative endeavor that haunts the recesses of your imagination. Unless you didn't make an effort to attend any local exhibits, shows, or concerts, in which case, I hope your relationship with your television is satisfying. Philistine.
But if you did happen to make the gallery rounds or pack the theater seats, here's an overview of 2008 in art, with which to reminisce. And, perhaps—hopefully, dare I say?—inspire you to seek out more art in the coming year.
PHOTO BY STEVE E. MILLER
THE VINE GALLERY: In June of 2007, Marni Mutrux moved from Oregon to Paso Robles. Within less than a year, the painter established The Vine Gallery, a rooftop affair where abstract paintings mingle with such unlikely company as portraits, landscapes, and nudes. Pictured is Marni Mutrux.
*In May the Central Coast Shakespeare Festival received word that Bellevue Charter School, its home of more than five years, was terminating the relationship, rendering the festival homeless a mere two months before opening night in July. The festival's Artistic Director, Zoe Saba, decided to cancel the summer's festival, and announced in December that the festival will relocate to River Oaks Hot Springs in 2009.
*In June Pacific Repertory Opera co-founder and General Director Jill Anderson abdicated her throne as the reigning monarch of local opera. In her stead, Robert Ashens—a San Francisco resident serving as Artistic Director of an opera company in Eugene—assumed the role of Artistic Director and long-time PRO employee Mikele Hushing-Kline increased her work load as Managing Director.
*In September Cal Poly Arts introduced Steven Lerian as its new director. He officially stepped into the role on Oct. 31, replacing Cal Poly Arts Program Manager Peter Wilt, who had been serving as Interim Director since 2006.
*In December the SLO Little Theatre announced that Kevin Harris would be replacing Wendy-Marie Foerster as Executive Director of the SLO Little Theatre. Foerster assumed the role in October of 2007.
---
Arts Editor Ashley Schwellenbach has some New Year's resolutions for the local arts community. Send vows to stage performance art in public spaces to aschwellenbach@newtimesslo.com.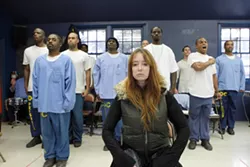 PHOTO BY STEVE E. MILLER
LONDON SHAKESPEARE WORKOUT: The inmates of California Men's Colony's West facility performed In a Kingdom of One's Own: An Original Celebration of the Works of William Shakespeare Feb. 20, 21, and 22 under the auspices of the London Shakespeare Workout Prison Project. Pictured are Lucinda Clare and the men's colony performers as they issue a thundering "Hail Caesar."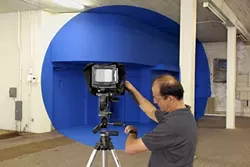 PHOTO COURTESY OF BENDING SPACE
SLOIFF: For 10 days in March, the San Luis Obispo International Film Festival continued its trend towards growth, screening nearly 100 films in various venues across the county. Peter Fonda, of Easy Rider fame, received the King Vidor Award for Outstanding Achievement in Filmmaking and special guests included Josh Brolin and Keith and Robert Carradine. Pictured is French photographer George Rousse from the film Bending Space.
PHOTO BY LARRY RHODES
PYROMETAGRAPHS: When a fire struck Larry Rhodes' Laguna Beach home in 1993, the photographer was witness to the birth of a new visual art genre—the pyrometagraph—after 100 or so of his Kodachrome 25 slides were baked in a fire safe. Rhodes was convinced that he had struck creative gold, and at the beginning of 2008 began to sell limited editions of the series.
PHOTO BY BARRY GOYETTE
RHYTHMS: After a year of dancing in competitions across the country, on April 5 and 6 the performers of American Dance in SLO had the opportunity to perform at Cal Poly's Spanos Theatre. Titled Rhythms, the dance show featured tap, ballet, contemporary, hip hop, and jazz, including several award-winning competition pieces. Pictured is Sarah Chavez as Sister Sarah.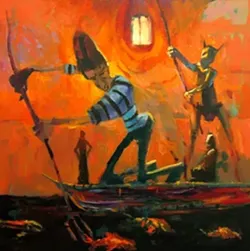 IMAGE BY MIKE TRACY
TALES, TOYS 'N TOONS: Wind-up toy Godzillas invaded the Art Center between April 11 and May 25. The provocation? Los Angeles-based artist Mike Tracey's paintings and pen-and-ink drawings captured the dark and fanciful creatures, presenting them in an exhibit that mirrored a scene from Toys. Pictured is Night Fishing.
PHOTO BY LAURA KRIFKA
WE, MONSTERS: Cal Poly art students Laura Krifka and Cassie McFarland gravitate towards unusual subject matter, a fact made clear during their April exhibit at the Steynberg Gallery. Titled We, Monsters, the exhibit featured Krifka's paintings of innocence, extravagance, the pastoral, and the erotic, and McFarland's sculpted tableaus depicting albinos, barren women, pageant girls, and furries, outcasts and sexual deviants who inspired her curiosity.