There are three kinds of people in this delicious world: Those who farm or ranch, those who eat, and those who bridge the gap between the two. Nancy and John McDevitt are the third kind: the servers of the season; the refillers of napkins; the braisers of the beef.
Without these fearless food connectors, we'd be left to fend for our own, and our world would we be a slightly less delectable place. Pull up a seat at their new Farmstead Kitchen and Catering in downtown Paso Robles, and you'll get the idea.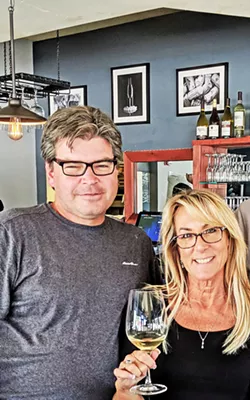 Photo Courtesy Of Farmstead Kitchen
OLD AND NEW Farmstead Kitchen and Catering owners John and Nancy McDevitt have decades of restaurant experience under their belts, and it shows.
You will come hungry. And you will be served.
What, exactly? Well, it's hard to pin down: a mix of tried-and-true comfort and unexpected world flavors, a jolt of old and new. Each ephemeral menu centers on seasonal, local produce of the Central Coast area, East Coast delicacies, American favorites, and wines from around the globe.
These two have been in the restaurant industry for most of their lives, and it shows in their dedication (John's got more than a few burn scars on his creased hands, and Nancy's biceps are strong from carrying tiers of plates to hungry patrons).
After decades of throbbing feet, aching backs, and more headaches than you can imagine, they're still at it (and pretty darn jolly, to boot).
Perhaps this is because restaurants have always been part of their story.
John, who serves as Farmstead executive chef, is a New Jersey boy who grew up on Long Beach Island. His early life was awash in fresh seafood: monkfish, crab, lobster. The seafood stew on the restaurant's current summer menu is a testament to the chef's seafaring memories. Imagine a bowl steaming with plump shellfish, tomato saffron broth, leeks, and fennel served with a warm hunk of herbed ciabatta.
Photo By Hayley Thomas Cain
LABOR OF LOVE A portion of wild mushroom rainbow chard offers a tender, earthy bite in contrast with flavorful seared Pacific salmon topped with syrah barbecue sauce.
Note: You'll also find a chilled soup of the day—good news on those triple-digit Paso Robles afternoons.
"We use local seafood as well, but we definitely pull from our East Coast roots," John says. "We're not all fish, but there's always fish on the menu. We also have a New York sirloin steak, and we do game meats as well. Right now we're doing antelope striploin, quail, or elk sausage. We always have game meat on the menu, but what we serve is constantly changing."
The couple met and fell wildly in love on Long Beach Island, where Nancy spent her summers. John had returned from a stint in San Francisco, where his main mission in life had been chasing The Grateful Dead.
"We met at my brother's restaurant," Nancy says. "I was a waitress and he was my busboy. It is a pretty cute story."
Indeed. The couple eloped in Monterey back in 1997. Then, they had no idea how illustrious their restaurant dreams would become.
John studied at the Restaurant School of Philadelphia, and went on to work with such renowned chefs as Robert Long of the Frenchtown Inn, and Bobby Trigg of the Ferry House.
A big break came knocking when John became sous chef for Restaurant Associates, located on the campus of Princeton University. After several years with RA, the corporate office took note of his strengths and moved him up to The Time Warner Building at Rockefeller Center in New York City. It was a hectic job: John was tasked with managing the executive dining rooms, and his creativity and business savvy shined.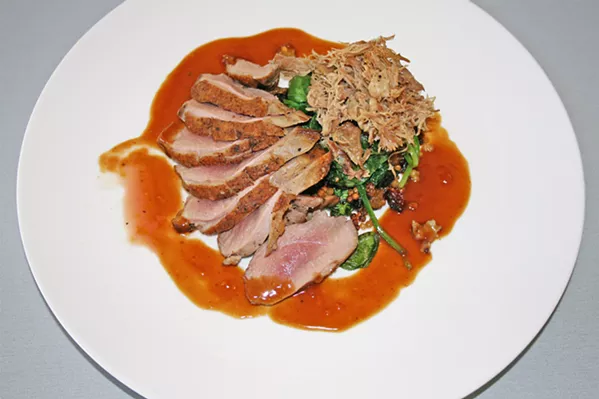 Photo By Hayley Thomas Cain
DUCK DUCK OOH You'll want to drag each piece of succulent pan rendered duck breast through its own cardamom cinnamon demi-glace juices.
In 2004, the couple changed gears and opened their first restaurant, High Street Grill, in Mount Holly, New Jersey. Together, they ran it for about 10 years before selling in 2016.
By then, both John and Nancy had already begun following a tingly gut feeling. The feeling said that their next life would begin in California.
"We always knew we'd come back here," Nancy says. "We didn't come out here to search out another restaurant. We came out here to figure out what we wanted to do next."
With dogs in tow, they drove cross-country to find out. It was a two-week journey in the fall of 2012—one that still inspires them to keep going when the long nights and paperwork pile up.
Once settled on the Central Coast and looking toward the next chapter, John began Farmstead Catering while Nancy threw herself into her lifelong love of wine.
With more than a decade of experience in wine sales and distribution (plus a Certified Specialist of Wine designation under her belt), Nancy found that she was a natural working at local wineries like Still Waters Vineyards in Paso Robles.
Now, she runs her own wine tour company in addition to running the restaurant and ensuring that the wine list is always on point.
Coming from a wine-loving Italian family, she believes wine and food should not be mutually exclusive.
"I really love Paso's food-friendly Rhone wines, that's what in our cellar. Here, we sell Paso Robles and European wines, plus lots of different flights," she says. "Wine really is my life."
Still, a restaurant in wine country was never part of the plan.
"The original plan was to get a house on the coast, and do a vacation rental," John says. "We were supposed to be here for a few months after we bought the house, and we just never left."
The chef says he'll never forget the stunned silence on the line when he called his old restaurant staff back East and broke the news. Sometimes, you just need a change, and this was their leap of faith to take.
The "Farmstead Catering" portion of the operation eventually took shape into an anchor restaurant once John tired of renting commercial kitchen space. Panolivo had just come on the market, and it had all the bells and whistles both in front and back of house.
Although John still caters quite a bit, you can now find him in his own massive restaurant kitchen, a dish towel draped across one shoulder, a beautiful duck breast simmering in a pan of citrusy juices.
Photo By Hayley Thomas Cain
PARK IT HERE Farmstead Kitchen and Catering has transformed the former Panolivo restaurant into a whole new animal. At night, the dining room glows blue. By day, lunch is served on the sunny Park Street patio.
The space actually features two kitchen areas, one with a roll-up door perfect for continuing the catering side of the biz, often seen at wine pick-up parties and local events. The revamped 40-seat dining room gleams with blue light in the evening, and the sunny 15-seat patio is usually filled with casual lunchtime diners noshing on Farmstead burgers laden with syrah caramelized onions or veggie pad thai. A private 15-seat room in the back is popular for rehearsal dinners and larger parties.
The doors opened in December 2017, and John and Nancy have yet to take a break. Perhaps, one day, they'll get that long, idle vacation they thought they wanted. However, something tells me they'd be right back at the restaurant the moment they touched down in Paso Robles.
"John kind of dragged me back into the restaurant business for a second time, but I'm so glad he did," Nancy says. "We stripped the place down, and we really rebuilt it in our own vision. I guess we had more energy than we thought."
That's an understatement.
"This is how we grew up and how we met," Nancy says. "Restaurant work and restaurant life will forever be in our blood." Δ
Hayley Thomas Cain doesn't mind having a little wine in her bloodstream at hthomas@newtimesslo.com.